Backstreet Boys – This is Us (A J!-Ent World Groove Album Review)
October 13, 2009 by Michelle Tymon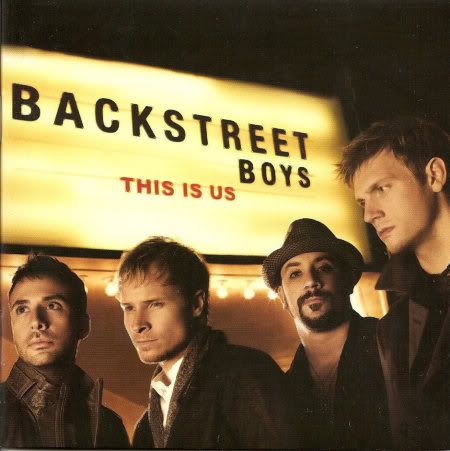 "Backstreet's Back again! In their latest album, "This is Us", the group shows they have staying power and that they can pull off a new sound. Fun and Energetic! ".
ARTIST: Backstreet Boys
ALBUM: This is Us
LABEL: Jive Records
DURATION: 40:12
RELEASE DATE: 10/6/2009
BUY THIS ALBUM
1. Straight Through My Heart
2. Bigger
3. Bye Bye Love
4. All of Your Life (You Need Love)
5. If I Knew Then
6. This is Us
7. PDA
8. Masquerade
9. She's a Dream
10. Shattered
11. Undone
Backstreet's Back once again with their 7th full-length album, "This is Us" and this time, they were brave and experimented with a brand new sound.
This is the second album with only four members, since Kevin Richardson left the group in 2006 and they are showing that they can still stand strong as a group. Just like in their last album, "Unbreakable", you get to hear a lot more solo voices from all four members as well as their trademark harmonies.
This album is the first time they have tried something completely new instead of their usual formula of having an album with a majority of mid-tempo songs, some ballads, and a couple of fast-tempo dance songs. They didn't completely depart from their pop sound, but this time around they tried their hand at techno pop and some R&B influenced pop songs.
In this album, they collaborated with big names like Max Martin (who they have collaborated with many times in the past), T-Pain, Ryan Tedder, RedOne and quite a few others.
Experimenting with different sounds can prove risky with pop music but I think this will prove to be a hit with fans and for those new to the Backstreet Boys.
Straight Through My Heart is the upbeat first single from this album and is a glimpse of how the rest of the album sounds.
Bigger is a track produced by Max Martin, and incorporates the new sound while keeping the nostalgic BSB sound that fans love.
Bye Bye Love is a song with a catchy beat and a great pop sound.
All of Your Life (You Need Love) is one of the most techno influenced songs on the album and is a great pop song with a great beat.
If I Knew Then is a mid-tempo R&B with a very interesting flow of lyrics.
This is Us is another R&B influenced song on the album. It is a nice mid-tempo ballad and one of my favorites on the album.
PDA is a fun song with some interesting lyrics and a slight carnival sound incorporated into it. It's one of the more different songs on the album.
Masquerade is a high tempo R&B dance number that fans can expect some great choreography to.
She's a Dream is another very interesting song on the album with writing credits that go to all the Boys as well as T-Pain.
Shattered is a wonderful ballad that has a similar feel to "Unmistakable" from their last album, "Unbreakable".
Undone is a nice mid-tempo song and a great way to close the album.
As a fan of the Backstreet Boys, I love this album. As a music fan… I love this album. As I mentioned above, this is the first time they have completely experimented with a different sound. In past albums, they would only change their sound a tiny bit, but still following the formula of half mid tempo, 1/4 ballads, and a dash of upbeat dance songs.
Of course the music on this album is still pop. But in my opinion this is the first time they have delved into this kind of sound. In the past when they say they were trying something "new", it was always the same formula of songs with a little bit of change. As much as I enjoy the usual formula, I always wished they would try something a little different as well. As mentioned above, this album is definitely more techno and R&B pop.
I think like a lot of other fans, I was a little hesitant when I first heard "Straight Through My Heart" because even though it was pop, it was a different sound than their past singles. However, it didn't take long for me to enjoy the song and it made me pretty excited for the upcoming album. I will admit though I wasn't expecting the whole album to sound like "Straight Through My Heart". It was a surprise, but a pleasant surprise in the end.
Some of my favorite songs in this album are "Bigger", "This is Us", and "Shattered". "Bigger" is a track that they made with Max Martin and is somehow both nostalgic and something new. "This is Us" is a great R&B mid-tempo ballad that proves that the Boys can take on a new sound. "Shattered" is by far one of my favorite songs on the album. The lyrics and music are fantastic and I absolutely love the bridge of the song. The song was beautifully executed.
I think with this album, fans can expect some great choreography at the live shows because of all the great beats on many of the songs. Choreography and dancing is another big part of Backstreet's appeal so this album should help them put on another great show.
There are many strong points to this album, but there are some minor weaknesses. I think the weaknesses in this album is the fact that there's some overproduction in some of the songs. They are all very talented vocalists so there's no need to mask those skills with too many voice effects. Another weakness is that it might have strayed too much from their usual sound for some listeners. I know I said that that was also a strength, but at the same time it could prove to be risky. The song "PDA" may be a bit too much for some listeners because of the lyrics but I'm sure some fans will enjoy the song because so many fans also enjoyed their song "If You Want It To Be Good Girl (Get Yourself a Bad Boy)" from the Backstreet's Back album. And finally, because this album relied a lot on techno beats and a lot of production, it was hard at first to remember each song individually because it all sort of blended together.
Changing your sound is always a hard thing to do, it can be a huge success or it could prove to backfire, causing the artist to lose some fans. I think this was a great effort by the group though, and I think evolving your sound is needed as an artist. But maintaining remnants of the sound that everyone relates your name to is important as well. I really do think that this was a great move by the group. They worked hard and they produced a great album. It's different from what fans may be used to, but it's still a wonderful record.
I hope fans give this record a chance despite the changes they have made. The Backstreet Boys have produced another great record that I hope that the fans as well as those new to Backstreet will enjoy.
General Disclaimer:
J!-ENT has not received any compensation from the company for this post. J!-ENT has no material connection to the brands, products, or services that are mentioned in this post.

For Product Reviews:
For product reviews, J!-ENT has received one or more of the products or services mentioned above for free by the company which in no way affects our reviews positive or negative. We only recommend products or services we have tested/reviewed and believe will be good for our readers.

For Advertising:
Some of the links in our posts are "affiliate links." This means if you click on the link and purchase the item, J!-ENT will receive an affiliate commission.

J!-ENT is disclosing this in accordance with the Federal Trade Commission's 16 CFR, Part 255: "Guides Concerning the Use of Endorsements and Testimonials in Advertising."