I can't recommend "Wolf's Rain" enough for those wanting a deep, captivating story with wonderful animation.  It's a classic anime series for sure!  Yes, it may not be perfect but it's still one of the shining gems from the early 2000's worth owning on Blu-ray!  Recommended!
Image courtesy of © 2017 FUNimation. All Rights Reserved.
---
TITLE: Wolf's Rain: The Complete Series

YEAR: 2003
DURATION: Episodes 1-30 (750 Minutes)

BLU-RAY INFORMATION: 1080p High Definition, 4:3, Dolby TrueHD English 5.1, Dolby TrueHD Japanese 2.0, English Subtitles

COMPANY: FUNimation
RATED: TV 14

Release Date: February 7, 2017

---
Originally Creator: Keiko Nobumoto
Directed by Tensai Okamura

Script by Keiko Nobumoto

Music by Yoko Kanno

Character Design by Toshiro Kawamoto

Art Director: Atsushi Morikawa

Mechanical Design by Shinji Aramaki

Anime Production by BONES
---
Featuring the following voice talent:
Akio Suyama/Joshua Seth as Hige
Hiroki Shimowada/Mona Marshall as Toboe
Kaho Kouda/Kari Wahlgren as Cher Degre
Kenta Miyake/Crispin Freeman as Tsume
Mamoru Miyano/Johnny Yong Bosch as Kiba
Arisa Ogasawara/Sherry Lynn as Cheza
Atsuko Tanaka/Mary Elizabeth McGlynn as Jagura
Mayumi Asano/Jessica Straus as Blue
Mitsuru Miyamoto/Robert Buchholz as Hubb Lebowski
Takaya Kuroda/Steven Jay Blum as Darcia
Unshō Ishizuka/Tom Wyner as Quent Yaiden
---
Paradise-a legend, a myth, and a hopeless dream in a world that has become a wasteland. It is not meant for everyone, only the wolves thought to be extinct yet still roam the lands. When the Flower Maiden awakens, the path to the end will open.
Kiba, a lone white wolf, wanders into a poverty stricken city on a quest. The scent of Lunar Flowers and the will to find Paradise is all he has. Along the way, he runs into other outcast wolves: Tsume, Hige, and Toboe, each with their own story and troubles. Fate bringing them together, and together they seek out the Flower Maiden, Cheza, and their way to Paradise. But, doing so is no simple matter.
Up against a world that fears them and a man with mysterious abilities, their journey is overrun with challenges and worse-sacrifices. With limited time, they must fight to protect Cheza against everyone who seeks her and discover the hidden path to their destiny. This group of broken souls will form a pack and take their journey to the doors of Paradise. But is it worth the end of the world?
---
Back in 2003, BONES anime studio released the 26-episode + 4 OAV anime series "Wolf's Rain" on Fuji TV.  The series would receive a short two-volume manga retelling by Keiko Nobumoto and Toshitsugu Iida (illustrations) and serialized in "Magazine Z".
The anime series was done well in Japan but when the anime series was released on Adult Swim, needless to say, it would attract many America viewers.  So popular that the DVD release sold well in North America .  And now 15-years later, the series will be released on Blu-ray as a complete series courtesy of FUNimation.
The series begins with a telling of an old legend that when the end of the world is coming, Paradise will appear.  But only wolves can find Paradise.
While wolves have been extinct on Earth for nearly 200-years, they still exist, but now casting illusions onto themselves to make them appear human to the public.
The anime series first introduces us to an injured lone white wolf who is going to Freeze City (where the majority of people are living in poverty).
As Kiba, the lone white arctic wolf is going to Freeze City following the scent of the Lunar Flower, Kiba is in search for this flower as it is a key to open Paradise but most of all, to protect Cheza, the flower maiden.
Kiba is rescued by a Mexican wolf named Hige, who loves to eat and talk to women.  While he feels comfortable living in human society, he decides to join Kiba in his mission to find Paradise.
Toboe is a red wolf and the youngest of the group.  He is considered the runt of the group and was raised by an old woman who found him outside the city and wears bracelets that she gave him.  He is friendly and protective towards most humans and he was saved by the rash Tsume.  He is not much of a fighter and is quite naive.
Tsume is a grey wolf with a X scar across his chest.  He is a strong fighter, rash, rude and seems as if he is mad at the world.  After his human gang leaves him, he decides to join Kiba, Tsume and Hige in their quest of paradise, even though he is skeptical that it exists.
Meanwhile, an ex-sheriff named Quent Yaiden is on the hunt for wolves, whom he blames for killing his wife and son.  Quent has developed a pure hatred towards wolves and despite hunting them, humans don't believe that wolves exist but Quent has suspicions that wolves are disguising themselves as humans after he comes across Toboe.
He is approached by a police detective named Hubb Lebowski, who is investigating that wolves are involved, despite being skeptical.
His ex-wife Cher Degre is a scientist studying Cheza and her dedication of learning about Cheza has taken over her life, and thus her divorcing her husband.  But when Cher disappears, Hubb tries to find her.
When Hubb discovers the banned book "Book of the Moon" in Cher's apartment, he joins forces with Quent in hopes it would lead him to his ex-wife, who he still loves.
Will any of these four wolves searching for Paradise find what they are looking for?
---
VIDEO:
"Wolf's Rain: The Complete Series" is presented in 1080p High Definition. With this being an older anime series, it's important to note that this is an SD Remaster.  While colors are vibrant, there is softness as one could expect for a TV series.  But for the most part, this classic anime series features wonderful animation and art backgrounds and watching it nearly 15-years later, you can't help but feel that BONES did a marvelous job with this anime series.
AUDIO & SUBTITLES:
"Wolf's Rain: The Complete Series" is presented in English Dolby TrueHD 5.1 and Japanese Dolby TrueHD stereo. Both soundtracks are well-acted but I felt the English dialogue had the advantage of the use of the surround channels when it comes to lossless audio utilization.
Subtitles are in English.
SPECIAL FEATURES:
"Wolf's Rain: The Complete Series" comes with the following special features:
Cast Interview 1 – (6:57) Featuring an interview with Japanese voice actors: Mamoru Miyano (voice of Kiba), Kenta Miyake (voice of Tsume) and Hiroki Shimowada (voice of Toboe).

Cast Interview 2 – (8:18) Featuring an interview with Unshou Ishizuka (voice of Quent Yaiden), Takaya Kuroda (voice of Darcia), Kaho Kouda (voice of Cher Degre), Mitsuru Miyamoto (voice of Hubb Lebowski), Arisa Ogasawara (voice of Cheza).
Staff Interview – (6:08) Behind-the-scenes recording with the producers and staff about the creation of "Wolf's Rain".
Pilot Film – (2:18) Japanese pilot film for "Wolf's Rain".
Promo Film 1 & 2 – Japanese promotional videos for "Wolf's Rain".
15-Second Promos

Textless Opening and Closing Songs
EXTRAS:
"Wolf's Rain: The Complete Series" comes with a Blu-ray and DVD version of the series.
---
Back in 2004, "Wolf's Rain" was no doubt a hit anime series that captivated not just Japanese audiences but also American audiences.
An anime series that managed to have wonderful, dark visuals plus fascinating characters and a lot of action, I enjoyed "Wolf's Rain" for its originality and also how the series ended.
Similar to feudal Akira Kurosawa series, where you never know if the protagonists are going to survive to the end, "Wolf's Rain" is a series that shows that in this dismal world, these wolves that dream of paradise have made the decision to move forward, whether or not paradise exists or not.
All I can say is have the tissue box nearby, you'll be shedding a few tears watching this anime series.
As much as I enjoyed this series, as most people who followed the series back then are aware that "Wolf's Rain" did suffer production problems.  And episodes 15-18 were recap episodes told from the perspective of Tsume, Toboe, Hige and Hubb expanding the series to 30 episodes.
With the release of "Wolf's Rain: The Complete Series" on Blu-ray/DVD you get the full series for a lower price.  Back in 2004-2005, people had to purchase all seven volumes to watch the entire series until the limited edition box set was released in late 2005 and a Perfect Collection (Anime Legends) release came out in 2009.
This release is essentially the Perfect Collection but with an SD Remaster onto Blu-ray.  So, for those wanting the better picture quality and lossless soundtrack will want to opt for this version.
Overall, I can't recommend "Wolf's Rain" enough for those wanting a deep, captivating story with wonderful animation.  It's a classic anime series for sure!  Yes, it may not be perfect but it's still one of the shining gems from the early 2000's worth owning on Blu-ray!  Recommended!
"Vividred Operation: Complete DVD Set" features a series that was no doubt a fun, upbeat sci-fi action anime series.  Unfortunately, its use of underage nudity and its numerous fan service scenes of young junior high girls was unnecessary and hindered the series.
Images courtesy of ©Vividred Project/MBS. All rights reserved.
DVD TITLE: Vividred Operation: Complete DVD Set

TV SERIES RELEASE DATE: 2013
DURATION: Episodes 1-12 (300 Minutes)

DVD INFORMATION: 16:9 widescreen,Japanese Dolby Digital 2.0, English Subtitles

COMPANY: Aniplex of America

RATED: Suggested 16 and Up

RELEASE DATE: December 17, 2013

Directed by Kazuhiro Takamura

Series Composition by Hiroyuki Yoshino, Kazuhiro Takamura
Script by Hiroyuki Yoshino, Shigeru Morita, Tensai Okamura

Character Designs by Kazuhiro Takamura

Animation Director: Atsushi Nishigori

Mecha Design by Kazuyuki Asaga
Music by Hideyuki Fukasawa

Anime Production: A-1 Pictures

Featuring the following voice talent:
Aya Uchida as Himawari Shinomiya
Ayane Sakura as Akane Isshiki
Maaya Uchida as Rei Kuroki
Rie Murakawa as Aoi Futaba
Yuka Ōtsubo as Wakaba Saegusa
Asuka Ōgame as Momo Isshiki
Haruka Yamazaki as Mizuha Amagi
Masaki Terasoma as Kenjirō Isshiki
Mie Sonozaki as Crow
Mika Doi as Yuuri Shijo
Sakura Nakamura as Mashiro Isshiki
On an artificial island, Akane Isshiki, an innocent 14-year-old girl, lives a simple but happy life with her level-headed little sister Momo and their genius inventor grandfather. On clear days just over the water, everyone on the island can see the revolutionary invention that solved all the world's energy problems, the Manifestation Engine. Thanks to the Manifestation Engine, the peaceful days that everyone had dreamed of had arrived.
But suddenly, a mysterious enemy called the "Alone" appear out of nowhere aiming to attack the Manifestation Engine, jeopardizing their quiet way of life. Equipped with incredibly powerful Palette Suits designed by her grandfather, Akane and her friends must rise up together in this desperate situation. Their friendship is the only hope to save the world.
In early 2013, A-1 Pictures produced the 12-episode TV series "Vividred Operation" aired in Japan.
Having received two manga adaptations plus a PlayStation 3 video game, the anime series "Vividred Operation: Complete DVD Set" has made its way to American shores courtesy of Aniplex, Inc.
The series is directed and features character designs by Kazuhiro Takamura ("Strike Witches" series and film, "This Ugly Yet Beautiful World", "Queen's Blade"), series composition by Hiroyuki Yoshino ("Guilty Crown", "My-HIME", "Dance in the Vampire Bund") and Kazuhiro Takamura ("He is My Master", "Magical Shopping Arcade Abenobashi", "Mahoromatic" series) and music by Hideyuki Fukasawa ("Yatterman", "Flowers of Evil").
A series that features a combination of sci-fi action, magical girl-style transformations and for the otaku, plenty of fan service.
"Vividred Operation" is set in the future of Japan and the future is quite peaceful thanks to the Manifestation Engine which creates energy from the sky and has averted significant energy crisis that the planet was facing years prior.
Living on the island of Izu Joshima, teenager Akane Isshiki and her fifth grade sister Momoko live with their grandfather Kenjiro Isshiki, a renown scientist who was one of the great minds that have developed the Manifestation Engine.
Kenjiro typically locks himself in the house working on his research, while Akane works a part-time job to keep the family afloat and tends to the garden to feed the family.
As Akane is awaiting her friend Aoi Futaba, who is traveling to Izu Joshima for medical treatment, Akane and Momo hear an explosion takes place in their home and when they go to check, their grandfather has switched bodies with a stuffed otter doll and showing his research has progressed, so it seems.
But all of a sudden, the planet is attacked as an alien race known as the "Alone" has showed up on the seas near the island.  As the military try to fight against it, they are destroyed.
Worried about her friend Aoi, Kenjiro gives Akane his latest invention, an Operation Key that can access the Vivid System.  Meanwhile, Akane hurries as she sees Aoi's plane crashing.  Close to the ledge, she and her grandfather (in otter form) rush to the area, but Akane is scared of heights and she sees the plane about to fall from the edge.  As Akane and Aoi scream for each other, the plane falls and the scared Akane, decides to run after her.
As she dives off the cliff in order to save Aoi, the Operation Key glows and activates the Vivid System which transforms Akane into a super-being, sporting a Pallet Suit and saving Aoi from death.
Sensing power within Aoi, Kenjiro gives Aoi an Operation Key giving her the opportunity to transform using the Vivid System and together they must use their new abilities to fight against the Alone.  And both work together to destroy it.
Because their new school was destroyed in the attack, Akane, Momo and Aoi begin attending New Oshima Academy and through their new friendships, they end up adding kendo student Wakaba Saegusa and computer hacker Himawari Shinomiya to the group and all four become part of the Vividred Operation to protect humanity from the Alone.
But unaware that working with the Alone is another student in their class named Rei Kuroki, who is intent in working with the Alone to destroy the Manifestation Engine.
VIDEO & AUDIO:
"Vividred Operation:  Complete DVD Set" is presented in 16:9 widescreen and presented in Linear PCM Stereo. To keep the compression artifacts to a minimum on DVD, Aniplex Inc. features all 12 episodes on three DVD's. For the most part, characters are well shaded and background art is well-painted.  There is a good amount of detail in the mechanical designs from the Alone to the detail on the characters Pallet Outfits.
But this is a vibrant anime series on DVD.
The soundtrack is in Japanese and I would not be surprised if Aniplex does release "Vividred Operation" on Blu-ray with an English dub soundtrack. It's quite an enjoyable series that I do hope it does receive an HD release. But voice acting is well done and dialogue and music is front-channel driven.
Subtitles are available in English.
SPECIAL FEATURES:
"Vividred Operation: Complete DVD Set" comes with the textless opening and endings and the web version previews.
EXTRAS:
"Vividred Operation: Complete DVD Set" comes with a slipcover case and a five postcard set. Also, the DVD cover is 2-sided and reversible.
"Vividred Operation" is a sci-fi action series about a group of friends, each with their own personal quirks and also weaknesses that become part of the Vividred Operation to defend the Manifestation Engine that has helped the planet from an alien race known as The Alone.
As each episode focuses on Akane meeting friends or new people from her school who eventually obtain an Operation Key and to transform via the Vivid System to fight against the Alone, each must face their weaknesses and put their friendship to a test in order to become teammates.
And as Akane is able to get Aoi, Wakaba and Himawari to join them, they each try to get Rei Kuroki on their team, not knowing that she is working with the Alone and trying to destroy the Manifestation Engine.
The series is quite intriguing as it tries to combine sci-fi action with magical girl transformations.
And while the series is more on the fun, humorous spectrum versus more serious and deep, the series also incorporates quite a bit of fan service and also nudity (which gives it a Suggested 16 and Up rating).
But as much as I enjoyed the series for its storyline and characters, the fan service and nudity, in my opinion, was a significant hindrance.
And this is probably the difference between American and Japanese culture in which certain things just don't happen.
The camera tends to end up shooting under the legs of a character and or focusing on a character's rear end, may they be standing or riding a bike, it's one thing to have fan service, especially for older characters but  it definitely makes one feel uneasy considering the characters are 14-years-old and in junior high.
In fact, the character of Rei Kuroki is shown nude during her shower sequence and and a bathing sequence and what may work in Japan, is definitely not going to work in the U.S.
I know there are anime fans that will say, "Well, this is a Japanese anime and it's not real, so it's OK." or " It goes by Japanese culture, Americans must see things in the Japanese perspective not American, so it's OK".
Having covered Japanese entertainment for over two decades, while I agree that there are certain entertainment where one should expect to see a different side of Japanese culture, it becomes dangerous if underage nudity of an anime character featured in an anime series becomes a cultural norm.
I don't agree with people who have the mindset of it being OK but that is my opinion and as a parent it's not something I can or will support.  And as a reviewer, it was unnecessary to have those scenes as the series could have done without it.
Nudity of children in anime and manga has been a debatable topic for a long time, from "Crayon Shin Chan" (and his elephant) to even the "Dragon Ball" manga being released in grade school libraries.  It's a long debate that will always continue as debates from the old anime BBS forums to present anime forums on the Internet.  Even Usagi's transformation scene in "Sailor Moon" was also a big discussion at the time.
So, as a parent and a longtime anime reviewer, it's important for me to let parents and anime fans know that this anime series features under-aged nudity and unnecessary fan service for characters that are of a young age.
In the case of "Vividred Operation", for the young characters, was it necessary to have so many shots of Akane's butt while she rides on the bike?  Was it necessary to shoot a horizon between a character's legs?  Was it necessary for the animators to show a naked Rei in the shower?
I'm sure there are otaku that would scream, "Yes!" but I felt the series could have done without it.  I did enjoy "Vividred Operation", four friends who have their own personal weaknesses, joining together for the greater good to defend humanity from an unknown alien force.  The characters are enjoyable, the anime series entertaining but it's unfortunate that certain decision to make these young junior high characters more sexual appealing, had to be incorporated to the series.
As for the DVD, the picture quality is colorful and vibrant and one would expect it to look even better in HD, if Aniplex decides to release it on Blu-ray in the future.  Voice acting in Japanese is well-done and as always with an Aniplex release, you get anime swag with a five postcard set.
Overall, "Vividred Operation: Complete DVD Set" features a series that was no doubt a fun, upbeat sci-fi action anime series.  Unfortunately, its use of underage nudity and its numerous fan service scenes of young junior high girls was unnecessary and hindered the series.
A great balance of action and drama, the sequel to the popular series "Darker than Black", "Darker than Black – Gemini the Meteor" features a much deeper storyline and for fans of Hei and Yin, you'll definitely love the four OVA's also included in this combo pack.  Overall, I enjoyed this Blu-ray release but watching the first season is important.   Hopefully, FUNimation Entertainment considers releasing the first season on Blu-ray for fans who are interested and curious about the series.  
Image courtesy of © 2011 FUNimation Entertainment. All Rights Reserved.
TITLE: Darker than Black: The Complete Second Season

DURATION: (Episodes 1-12 + OAV 1-4)
BLU-RAY INFORMATION: 1080p High Definition (1:78:1), English Dolby TrueHD 5.1, Japanese Dolby TrueHD 2.0, Subtitles: English
COMPANY: FUNimation Entertainment
RATED: TV PG
Release Date: November 8, 2011

Originally created by Tensai Okamura
Original Character Designs by Yuji Iwahara
Directed by Tensai Okamura
Scenario by Hiroyuki Yoshino, Mari Okada, Shinsuke Onishi, Shotaro Suga, Tensai Okamura
Music by Yasushi Ishii
Character Design Takahiro Komori
Art Director: Takashi Aoi
Chief Animation Director: Takahiro Komori
Anime Production: BONES

Featuring the following voice talent:
Hidenobu Kiuchi/Jason Liebrecht as Hei
Ikuya Sawaki/Kent Williams as Mao
Kana Hanazawa/Alison Viktorin as Suou Pavlichenko
Kiyomi Asai/Cherami Leigh as July
Houko Kuwashima/Lindsay Seidel as Shion Pavlichenko
Kaho Kouda/Jennifer Greene as Madame Oreille
Kenta Miyake/Newton Pittman as Genma Shizume
Kozue Yoshizumi/Tia Ballard as Yōko Sawasaki
Masaya Matsukaze/Gregory Lush as August 7
Mitsuki Saiga/Kara Edwards as Mina Hazuki
Nana Mizuki/Kate Oxley as Misaki Kirihara
Ryûzaburô Ôtomo as Gorou Kobayashi
Sanae Kobayashi/Monica Rial as Kanami Ishizaki
Tomoyuki Shimura/Christopher R. Sabat as Yuusuke Saitou
The intrigue and danger continues in Darker Than Black: Gemini of the Meteor. Hei – aka the masked killer, BK-201 – encounters Suo, a young Russian girl whose life changed the night a meteor fell to Earth. With Contractors attacking from all sides and the mysterious organization Section 3 closing in, Hei must fight to keep Suo alive.
In 2007, Tensai Okamura's anime series "Darker Than Black: The Black Contractor" premiered on television in Japan.
Featuring music by Yoko Kanno and receiving a manga series adaptation, the anime series won "Best Original Anime of the Year" by GoGoPlex.  Two years later, its sequel "Darker Than Black: Gemini of the Meteor" made its premiere in Japan in Oct. 2009 and now, the sequel receives its Blu-ray and DVD release via combo pack titled, "Darker than Black-Gemini the Meteor: The Complete Second Season".  Also, included with this Blu-ray release are the four OVA's which take place between the first and second series.
In the first season of "Darker than Black", a mysterious territory known as Hell's Gate appeared in Tokyo and it immediately altered the sky and the landscape.  All the stars were replaced by false stars and people started to emerge with new special abilities.  These people are known as "Contractors" and each fake star above corresponds to a Contractor.
And Contracts are kept a secret from the masses and many are known to murder people and also known for changing one person full of life and energy to a person with no emotion.  But there is a price that the Contractors must pay for their use of power.  Each time they use it, they must pay by either eating certain foods or completing tasks.
Certain organizations and governments around the world have used these Contractors as spies and assassins which led to "Heaven's War" in which the United States lost their position as the country of dominance against a mysterious organization known as the Syndicate.
The main protagonist of the first season focuses on elite Contractor Hei who takes on espionage missions in Tokyo for the Syndicate.  But later on, he and others are kicked out by The Syndicate and contracts have been taking out on all their lives.  And he discovers secrets regarding the Contractors that he and his Doll (emotionless "mediums" which were created to mimic the form of humans) Yin are in hiding from the Syndicate and the many Contractors that are after them.
This leads to the sequel "Darker than Black: Gemini of the Meteor", Hei is still in hiding from the Syndicate but now he has become an alcoholic working on jobs for the CIA.  He comes into contact with Suou Pavlichenko, a 13-year-old girl who is the brother of Shion Pavlichenko (who was born a contractor at birth). Shion can produce an object from nothing and this includes making clones of himself.  He has the ability to communicate with Suou when he is far and he teaches her or tells her how to fight, what to do and also learn self-defense.
And now there is a search for both children and Hei ends up kidnapping Suou.  But when she sees her childhood friend being killed by a her good friend, turned Contractor, she loses her emotions and becomes a contractor herself and now Hei mus train her.  But unlike other Contractor's who lose all emotion, Suou has emotions which she can't fully understand.
Meanwhile, a group of hired Contractors have captured a weapon named "Izanami" which turns out to be Yin (who used to work with Hei), who can disable a Contractor's abilities and kill them.
Trying to hide from the Syndicate, Hei, along with Suou, July and Mao (who is in a flying squirrel's body) escape from Russia to Tokyo.
But with Contractors going after them, will these four have any chance of surviving?  And when they discover sensitive documents that state that disaster will take place if  the Izanami weapon, Yin and the Izanagi weapon, Shion are to meet, the four do what they can to prevent this from happening.
For the four OVA episodes of "Darker than Black Gaiden", for those who wondered how Hei and Yin were separated after running and hiding from the Syndicate will find out how the two were separated, but also how Hei became an alcoholic.  The OVA's are also a primer that helps introduce people to the sequel.
VIDEO:
"Darker than Black – Gemini the Meteor" looks fantastic on Blu-ray.  Typically, TV series tend to lack a lot of detail but the series is presented in 1080p High Definition (1:78:1) features crisp animation, especially with the character designs with real nice shadowing and well-saturated colors, while a lot of the focus is on the details of the painted backgrounds. And as expected, the OVA's for "Darker than Black Gaiden" even look better with the colors, detail and is much sharper and even more details on the background.  I didn't detect any artifacts or banding, in fact, this is a beautiful anime series!
AUDIO & SUBTITLES:
"Darker than Black – Gemini the Meteor" is presented in Japanese Dolby TrueHD 2.0 and English Dolby TrueHD 5.1. Dialogue is crystal clear, voice acting for both Japanese and English soundtracks are well-done and interesting enough, for the OVA's, FUNimation Entertainment even brought out Johnny Yong Bosch and Stephanie Sheh (typically known to be voice actors for Viz and Bandai) for the OVA's.   But as the English soundtrack was well-done, what I enjoyed about the Japanese soundtrack was more of the emotional voice acting by voice actress Kana Hanazawa.  She really brings out the emotion and pain out of Suou quite effectively.
But as expected from this anime series, with a lot of action, there is good use of the surround channels.  Of course, the English soundtrack is much better because it is a 5.1 lossless track but still, the Japanese soundtrack also sounds great (and if you have a receiver capable of playing stereo on all channels, that was my preference when watching with the Japanese lossless soundtrack).
Note: The English subtitles are forced (no option to turn them on or off) if you watch the series in Japanese.  Some Japanese companies do request this from time-to-time (usually for near-simultaneous releases and sometimes even eliminate the Japanese soundtrack).
SPECIAL FEATURES:
"Darker than Black-Gemini the Meteor" comes with the following special features:
DISC 1:
Audio Commentary (Episode 4) – Audio commentary features Zach Bolton (ADR Director), Alison Viktorin (voice actor for Suo) and Kate Oxley (voice actor for Misaki).
Textless Opening Song "Tsukiakari no Michishirube" by Stereopoony
Texless Closing Song "From Dusk Till Dawn" by Abingdon Boys Club
DISC 2:
OVA Part One Commentary – Featuring audio commentary with  Zach Bolton (ADR Director), Brina Polencia (voice actor for Yin) and Jason Liebrecht (voice actor for Hei).
FUNimation Entertainment Trailers
EXTRAS:
This is a combo-pack as FUNimation Entertainment has been doing with many of their anime series on Blu-ray recently.  So, for those who want to share with friends or watch the series during a long commute or plan to purchase a Blu-ray at a later time.  Also, one can easily compare the picture quality between the Blu-ray and DVD release.
An intriguing anime series with a lot of twists and turns, action and cool characters galore!
"Darker than Black – Gemini the Meteor" is an enjoyable anime series featuring cool character design, beautifully painted backgrounds but when it comes to its storyline, its important that viewers watch the first season.  And I think this is where things may become problematic in some ways.
Typically, FUNimation Entertainment has released the first season of a series before its sequel.  Granted, not so with "Full Metal Panic" (the third series was released first, followed by the first series months later) but in the case of "Darker than Black – Gemini the Meteor", unlike "Full Metal Panic" which season 1 and 3 are more connected and season two was more comedy-driven, to understand the "Darker than Black" sequel, you need to watch the first series.  So, I'm a bit surprised that the first season was not released on Blu-ray at all, to help those who are not familiar with the series know what's going on.
But fortunately, FUNimation Entertainment did include the four OVA's of "Darker than Black Gaiden" which takes place between both series and to tell you the truth, is a much deeper storyline as it focuses on the relationship between Contractor, Hei and Doll, Yin.
While the first season explains why Hei is unlike other Contractors (I don't want to confuse anyone who hasn't watched the first season but he is not a true Contractor, he was "merged" with his sister's powers before she died), we also learn how Yin is not a typical "Doll" and that she may not have emotions like humans but there is something special about her that hints that both she and Hei have some bond.
And the same can be said with "Darker than Black – Gemini the Meteor" as the young Suou doesn't understand her emotions that she feels towards a guy that she thinks she liked and also her feelings towards Hei, because she is a Contractor.
If anything, the addition of Suou brought a bit of sympathy towards a contractor like her because she just wants to be a normal girl.  She has a vibrant attitude and if anything, I think some viewers may find it difficult to see this character being mistreated in a way.
It wouldn't surprise me if some fans started to look at Hei much differently because he has changed quite a bit since the first series.  He's become an alcoholic and I guess you can say, abusive.   Especially his treatment towards Suou as everytime she doesn't listen to her, he tends to smack her.  Hei was a real kindhearted person in the first series but eventually, he has gone through a lot since then and some may feel that he's turned out too much of a jerk.
But fortunately, instead of the focus on the violence by Hei, the story eventually gets better with each episode.
But needless to say, if you are familiar with the first season, the OVA's and the sequel are pretty entertaining and feature a good blend of action and drama.  Definitely one of the better anime TV series I have seen on Blu-ray released in 2011, not just in story but also overall look and performance.
The Blu-ray release as mentioned is quite solid in terms of picture quality and audio quality.  While not the most immersive anime lossless soundtrack out there, it's still pretty good.
Sure, I would have loved a 5.1 Japanese lossless soundtrack but still, I enjoyed both soundtracks for this series.  Voice acting in Japanese and English were fantastic.  I wish there were more special features but granted, I'm glad that FUNimation Entertainment added two audio commentary tracks and also included the four OVA's instead of releasing it separately.  And also, because this is a combo-pack, you do get the Blu-ray and DVD release.
If you do own the first season of "Darker than Black" on DVD, you'll find the sequel to be quite compelling and the sequel and OVA's to be captivating.
But for those who are going to hold out in hopes that FUNimation Entertainment does release the first season on Blu-ray, hopefully FUNimation Entertainment will release the first series on Blu-ray in the near future.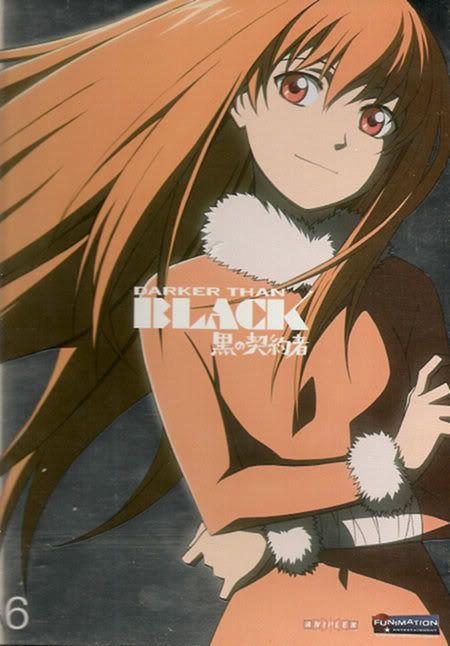 "Darker Than Black DVD 6 is the amazing conclusion to a wonderful and dark action series. A must-see!"
Image courtesy of © BONES/Tensai Okamura/DTB Committee. All Rights Reserved.
DVD TITLE: Darker Than Black DVD 6
DURATION: 100 Minutes
DVD INFORMATION: 16:9 WIDESCREEN, ENGLISH 5.1 DOLBY DIGITAL SURROUND SOUND, JAPANESE STEREO
COMPANY: BONES/ANIPLEX/FUNimation Entertainment
RATED: TV-MA
Release Date: August 11th, 2009
Original Story by BONES/Tensai Okamura
Directed by Tensai Okamura
Music by Yoko Kanno
Music Production by Toshiaki Ota (Border Line)/Keiichi Tonomura (Sony Music Entertainment)
Art Direction by Takashi Aoi (Green)
Original Character Design by Yuji Iwahara
Character Design by Shotaro Suga
Produced by Hiroo Maruyama (MBS)/Ryo Ohyama (Aniplex)/Yoshihiro Oyabu (BONES)/Osamu Hosokawa (Hakuhodo DY)
Featuring the following voice talent:
Hidenobu Kiuchi/ Jason Liebecht as Hei
Misato Fukuen/ Brina Palencia as Yin
Ikuya Sawaki/ Kent Williams as Mao
Masaru Ikeda/ John Swasey as Huang
Nana Mizuki/ Kate Oxley as Misaki Kirihara
Tomoko Kawakami/ Laura Bailey as Amber
Shinichiro Miki/ Chuck Huber as Eric Nishijima
Kaori Nazuka/ Larissa Wolcott as Pai
Yasunori Matsumoto/ Brandon Potter as Gai Kurasawa
Emiri Kato/ Brittney Karboski as Kiko Kayanuma
Yuna Inamura/ Leah Clark as Mayu Otsuka
"A NEW AND DEADLY BREED of covert agent walks the streets. Known as Contractors, these assassins and spies wield bizarre supernatural powers to carry out the dirty work of others. One among these operatives is more mysterious than the rest — The masked killer BK201, the Black Reaper.
The mysteries of his violent past have been revealed, but the future is still in question. Something big is on the horizon for those who dwell in the shadows. As the spotted sun rises over Hell's Gate, the clock ticks toward imminent destruction. The final battle in the war between humanity and the Contractors has begun. Should the Black Reaper survive, reality will be his to mold."
"Darker Than Black – Kuro no Keiyakusha" is a dark, action mystery series that takes place in Tokyo in an unspecified time but seemingly a not so distant future. An inscrutable and abnormal area called the Hell's Gate appeared in Tokyo and in result, it altered the sky and changed the landscape. The original stars as we knew them, disappeared and were replaced with false stars. At the same time, a number of people with supernatural powers appeared in correspondence to the fake stars. Contractors, as their title suggests, must do something in return for their power. The tasks the Contractors must perform after using their powers vary for trivial little tasks (ie: having to kiss someone, having to smoke) to much more harsh ones (ie: aging, becoming younger, harming one self). They also lose their humanity at the cost of using their powers and because they lack emotions, various government organizations all around the world starting training and hiring them as spies.
One particular organization is known as the Syndicate. The main character, Hei, aka The Black Reaper, and his team work for the Syndicate. They carry out various missions which mainly involve disposing of other Contractors. While going on these missions, Hei realizes that everything is not as black and white as it seems and even though he is a Contractor, he starts to act on his emotions rather than his orders…
In this last volume, all of the questions that Hei as well as the viewers have are finally answered.
This particular volume, "Darker Than Black DVD 6" contains the last 4 episodes of the first season of "Darker Than Black".
"Darker Than Black DVD 6" focuses on the following main characters:
Hei (Black) – Hei is the main character of the story and he is the Contractor known as the Black Reaper with the star code BK201. He works for the Syndicate and works with 3 others in his team: Yin, Mao, and Huang. His cover is a Chinese exchange student named Li Shengshun who is known to be rather responsible and kind. He is extremely skilled at what he does as a Contractor, but unlike most Contractors, he seems to also act on his emotions. While he is working for the Syndicate, he is looking for clues on what happened to his sister, Pai, in South America along with all of the other people who disappeared at Heaven's Gate. Despite his cool exterior and slim but built physique, he eats enough to feed a small army…
Yin (Silver) – Yin is a member of Hei's team. She is the Doll of the team. Dolls are emotionless spiritual mediums, therefore you don't ever see her show any sort of emotion. Her job in the team is to track and eavesdrop using water. She sends her observer spirits through water so she needs to be around water and what they're tracking or investigating needs to have presence of water as well. She has the exterior of a teenage girl with silver hair (hence the name) and her history suggests that she may have had a normal life before…
Mao (Cat) – Mao, as his name suggests, is literally a cat. He is a Contractor and his power is to be able to switch bodies with animals. The only issue is his price for his power was his own body. He usually acts as the distraction and gathers intel for the team. He is literally a talking cat so if he's not watching what he's doing, he can bring unwanted attention to himself.
Huang (Yellow) – Huang is the only human in Hei's team and is pretty much the field supervisor. He gets the orders from the Syndicate and makes sure that they are carried out no matter what. He doesn't seem to like Contractors or Dolls, calling them freaks but the more he is around his team his view may be changing.
Misaki Kirihara – Misaki is the chief of Section 4 of the Tokyo Metropolitan Police Department who is investigating Contractors. She is very dedicated in her job and has a very strong sense of justice (which carries into her personal life as well). She is able to see Contractors as people rather than things and really only concentrates on if someone has done something wrong or not, not if they are a Contractor or human. She is fair, caring, but a little dense at times. She has an interest in BK201 and has been tracking him for some time.
Amber – Amber is the first Contractor that appeared. She once worked for not only the Syndicate, but for MI6 under the codename February. She disappeared along with Hei's younger sister Pai, as well as many others during the incident in South America. She re-emerges in front of Hei as the leader of Evening Primrose, a small group of Contractors going against the Syndicate. Hei pursues her for answers on what happened to her sister an believes that she is responsible for it. Amber's powers deal with being able to control time to an extent. She seems to also be the antagonist of the series, but she may be something more…
Eric Nishijima – Nishijima is the leader of Pandora and acts as the antagonist at the end of the series.
Pai – Pai is Hei's younger sister that disappeared with many others with many others at the Heaven's Gate incident. Hei has been searching for clues on what exactly happened to her, but she may be closer than he realizes…
Gai Kurasawa – A private detective that Hei and his team run into from time to time. He does a series of odd jobs for money.
Kiko Kayanuma – Kiko is the pink-haired otaku girl that works for Kurasawa Gai. She would rather be doing otaku things than helping Kurasawa out… regardless she helps him out at times.
Mayu Otsuka – Mayu works at Section 4 with Misaki. She plays a big part in the last episode and is an otaku who writes anime and manga fanfiction.
"Darker Than Black DVD 6" features a total of 4 episodes. Here is a spoiler-less summary of each episode:
DVD 6:
EPISODE 23- God is In His Heaven… – The one night a year where the old stars may be visible arrives…
EPISODE 24- Meteor Shower… – The End Game starts for both Evening Primrose and Pandora, resulting in a meteor shower…
EPISODE 25- Does the Reaper Dream of Darkness Darker Than Black? – Will the Contractors disappear at the sake of humanity… or does another end await?
EPISODE 26- Beneath Cherry Blossoms in Full Bloom… – A bonus episode that's a pleasant little side story.
VIDEO & AUDIO
"Darker Than Black" is presented in 16:9. The production work in this series is absolutely wonderful. The character designs and artwork don't falter once throughout the whole series. The whole series for the most part is a bit on the dark side (not just in story, but the colors used), but that is to fit the mood of the story. Some CG is used but it doesn't detract from the rest of the animation but it's subtle that it doesn't stand out either.
For audio, you have the option of either Japanese or English. The Japanese cast is absolutely flawless. They got amazing seiyuu for each role and I didn't feel that any character's voice felt out of place. The English version works great as well, they did a great job matching the original voices and the pronunciations were done well. FUNimation usually takes some liberties with the translations in the dubbed version (if you ever watched a FUNimation series in dub with the Japanese set of subtitles you'll know what I mean…) but it's done rather well and doesn't take away from the original script.
There are only English subtitles available.
SPECIAL FEATURES:
Special Features on this disc include: Episode 26 Commentary (with the American director, recording engineer, and Mao's English Voice Actor), Production Artwork, Textless Songs, and Trailers.
"Darker Than Black – Kuro no Keiyakusha" is a superb series and this DVD includes the final three episodes and one bonus episode of the series. There are many mysteries throughout this series and everything gets answered in this final volume.
The series overall is rather serious with humor snuck into most of the episodes. The chemistry of dark, seriousness, comedy, and action work wonderfully in this series. The series never becomes too silly and the humor that comes into play acts more like a breath of fresh air. If you think about it, there's a talking cat… also, the reoccurring characters Kurasawa and Kiko also act as comic relief throughout the series and make an appearance in the final volume as well right before the end game.
The story is deep and has a lot of underlying themes that are presented throughout the series up until the last volume. Without spoiling things that happen in the last volume, I thought the ending was handled very well and the viewers will not be disappointed. Contractors are supposed to act solely on reason, but throughout the series and especially in this last volume, you see that the Contractors start to act on emotions as well, just like humans. By the last volume, you see the evolution of all of the characters: humans, Contractors, and even Dolls who are not supposed to have any emotion.
Hei is a great protagonist. He's ridiculously strong and skilled, mysterious, cool… and has the appetite of a small army. Despite being a Contractor, he acts on his emotions which makes him rather different from the other Contractors. He is definitely not the full-on "I serve to preserve justice at all costs" hero, which makes him even more worth watching. Misaki, who is the one who strives for justice (but is still genuine towards anyone) contrasts quite a bit with Hei, but it's great to see their interaction. In the end, they sort of want the same thing and we also get to see significant interaction between her and Li in the last volume which was nice to see.
This is a series that you definitely do not want to skip around episodes on. There is a lot of terminology that exists in this series such as Contractors, Dolls, Heaven's Gate, Hell's Gate, Pandora, etc. This is not a series where you can just pick up a random DVD and start watching and understand what's going on so I highly recommend watching it from the beginning. It is definitely worth it.
Fans of such series as the "Ghost in the Shell – Stand Alone Complex" series (which is slightly similar in the seriousness with subtle humor) or even "Full Metal Alchemist" (which does a great job of combining a heavy storyline with extremely funny parts like this one) will probably enjoy this series.
I highly recommend this series to anyone who enjoys anime series that are a bit more on the darker side but still has some funny elements tucked in. This series quickly became one of my favorites and the last volume does not disappoint whatsoever. "Darker Than Black DVD 6" is a must-see!