""Vampire Knight Guilty Volume 2″ is the second to last volume of the series and the most exciting yet. The many secrets that filled the series are finally revealed in this volume. A must see!"
Image courtesy of © Matsuri Hino, Hakusensha/Vampire Knight Project, Studio Deen, VIZ, All Rights Reserved.
DVD TITLE: Vampire Knight Guilty Volume 2
DURATION: 100 Minutes
DVD INFORMATION: 16:9 WIDESCREEN, JAPANESE & ENGLISH STEREO
COMPANY: VIZ
RATED: 16+
Release Date: May 17 2011
Original Manga by Matsuri Hino
Directed by Kiyoko Sayama
Music by Hozumi Goda
Art Direction by Kazuhiro Ito
Character Designs by Asako Nishida
Produced by VAMPIRE KNIGHT PROJECT
Featuring the following voice talent:
Yui Horie/Mela Lee as Yuki Cross
Mamoru Miyano/Vic Mignogna as Zero Kiryu/Ichiru Kiryu
Daisuke Kishio/Ethan Murray as Kaname Kuran
Hozumi Goda/Christopher Corey as Kaien Cross
Junichi Suwabe/Troy Baker as Akatsuki Kain
Jun Fukuyama/Bryce Papenbrook as Hanabusa Aido
Junko Minagawa/Dorothy Elias-Fahn as Ruka Souen
Susumu Chiba/Spike Spencer as Takuma Ichijo
Souichiro Hoshi/Steve Staley as Senri Shiki
Eri Kitamura/Carrie Savage as Rima Touya
Hiroki Yasumoto/Travis Willingham as Toga Yagari
Risa Mizuno/Colleen O'Shaughnessey as Seiren
Kana Ueda/Stephanie Sheh as Sayori Wakaba
Mariko Kouda/Michelle Ruff as Juri Kuran
Hirofumi Nojima/Tony Oliver as Haruka Kuran
Tarusuke Shingaki/Patrick Seitz as Rido Kuran
Fumiko Orikasa/Wendee Lee as Shizuka Hio
Continually haunted by visions of blood, Yuki is determined to discover the secrets of her past, but Kaname repeatedly evades her questions. Zero confronts Kaname at the Moon Dormitory, and the two end up fighting. Then Kaname advances his relationship with Yuki to an entirely new level, which has the members of the Night Class in a bit of a tizzy. But Yuki's dreams only intensify – will her past be forced into the light at last?
"Vampire Knight Guilty Volume 2" contains episodes 5-8 of the second season of the popular anime series by Matsuri Hino. Many secrets surround the students of both the Day and Night Classes of Cross Academy, and many of them get revealed in this volume. Yuki is haunted by nightmares where she and her surroundings are covered in blood. Soon she starts seeing these visions when she's not asleep.  Meanwhile Ichiru Kiryu enrolls into Cross Academy, with full intention of killing those who he believes is responsible for Shizuka Hio's death, even his own twin brother, Zero.  The school gets one more visitor, Rido Kuran, Kaname's uncle who seems to be after something Kaname has been protecting from him for years…
"Vampire Knight Guilty Volume 2" focuses on the following main characters:
Yuki Cross – Yuki Cross is one of the main characters of the series. She is a member of the Day Class and is one of the members of the Disciplinary Committee in charge of keeping the Day and Night Classes separate. She is cute and clumsy despite being a member of the Disciplinary Committee. Yuki is the headmaster's daughter and one of the only ones that knows the identity of the Night Class. Her earliest memory is of her about to be attacked by a vampire but being saved by Kaname Kuran. She has very strong feelings for Kaname Kuran but she also deeply cares about Zero, but more as a best friend. In this volume, she is constantly haunted by terrifying nightmares where everything around her is covered in blood. She gets much closer to Kaname in this volume and is finally able to unlock her mysterious past… but what is revealed may destroy her relationship with Zero.
Zero Kiryu – Zero is a member of the Day Class. He is also a member of the Disciplinary Committee with Yuki. The headmaster brought him in four years ago after his parents were killed by a vicious vampire. Because of that fact, he hates vampires and clashes with the members of the Night Class quite a bit. He is rather cool and sarcastic, but can manage to drop a few jokes with Yuki, who he's rather close to. Despite being a hunter who hates vampires, ironically because he was bitten as a child, he is a vampire himself.  Over the course of the series, Yuki and Zero have gotten closer… but something that happens in this volume may change their relationship once and for all.
Kaname Kuran – Kaname is a member of the Night Class. He is the leader and the most powerful out of the Night Class. He saved Yuki from a vampire when she was a child and is even still very protective towards her. He has very strong feelings for Yuki even though she's rather oblivious to that fact. For the most part, he keeps the other vampires out of trouble and is the one who helped establish this school with Kaien Cross. There is a lot revealed about Kaname's past in this volume and what happened to his parents. His relationship with Yuki and her past is also revealed and exactly how much he really cares for her.
Kaien Cross – Kaien is Yuki's father as well as Zero's adoptive father. He is the headmaster of Cross Academy and a former vampire hunter. He opened Cross Academy in hopes to bring peace between humans and vampires. His personality for the most part is rather eccentric. In this volume, it becomes a bit more apparent why he gave up hunting in this volume.
Akatsuki Kain – Akatsuki is a member of the Night Class. He is a pretty calm and loyal vampire who seems to always get in trouble only because he's around his cousin, Hanabusa who causes trouble. He never loses his temper and seems to have insight on all of his friends and their feelings.
Hanabusa Aido – Hanabusa is a member of the Night Class. He is considered an idol (which is also a pun off of his name) by the girls of the Day Class. He is cute like a child but can be very jealous and throws tantrums just like a child would as well. He is very protective of Kaname and gets jealous of anyone that gets too close to him. He is Akatsuki's cousin.
Ruka Souen – Ruka is a member of the Night Class. She is sophisticated and beautiful and she is the idol of males of the Day Class. She has very strong feelings for Kaname.
Takuma Ichijo – Takuma is a member of the Night Class. He is from an aristocratic family and is one of Kaname's closest friends. He is rather cheerful and friendly unlike most other vampires.
Senri Shiki – Senri is a member of the Night Class. He rarely speaks and when he does, it's usually a single sentence. He works as a model with Rima. In this volume, we get to see a bit more out of Senri and we find out a lot more about his family.
Rima Touya – Rima is a member of the Night Class. She is petite and pixie-like and works as a model with Senri. Also like Senri, she doesn't speak very much and is not very energetic.
Toga Yagari – Yagari is a renowned vampire hunter and is sent to Cross Academy by the Hunter Association to see if everything is running as it should be. He is also Zero's mentor as a vampire hunter from when he was younger. He saved Zero from a Level E vampire (humans that were bitten by vampires who turned into violent monsters that thirst for blood) which resulted in him losing his right eye. Despite being ruthless in killing vampires and knowing about Zero's situation, he still seems to have hope in him.
Seiren – Seiren is another member of the Night Class and Kaname's unofficial bodyguard.
Sayori Wakaba – Sayori is a member of the Day Class as well as Yuki's best friend and dorm-mate. She is kind and always worries about her best friend.
Ichiru Kiryu – Ichiru is the younger twin brother to Zero. Years ago when Shizuka killed their parents, she turned Zero into a vampire and took Ichiru. Since then, he had been serving her until her death. Even before he was taken by Shizuka, he had always held a strong grudge against Zero. Ichiru was a sickly child and even though Zero and his parents loved him very much, he always felt inferior and slowly that overwhelming love just made him resent them even more. Despite being with Shizuka, he is still human which is another reason he hates Zero. Despite being reunited with his brother, the only thing on his mind is to avenge Shizuka's death and kill anyone who he thinks is involved, including Zero.
Juri Kuran – Juri Kuran is a pure blood vampire, Kaname's mother, Haruka's wife and sister, and the sister of Rido. She was also very close to Kaien and was the reason he stopped hunting. She died when Kaname was younger along with her husband.
Haruka Kuran – Haruka Kuran is a pure blood vampire, Kaname's father, Juri's husband and brother, and the brother of Rido. He died when Kaname was younger along with Juri.
Rido Kuran – Rido is a pure blood vampire, the brother of Juri and Haruka Kuran, Uncle to Kaname Kuran and the father of Senri Shiki. He appears at Cross Academy looking for something he wasn't able to obtain from Juri and Haruka Kuran at the time of their death, something that is very precious to Kaname.
Shizuka Hio – Shizuka is the pure blood vampire that killed Zero and Ichiru's parents and turned Zero into a vampire.
"Vampire Knight Guilty Volume 2" features a total of 4 episodes on one DVD. Here is a spoiler-less summary of each episode:
Volume 2:
Episode 5- The Subordinate's Trap – Cross Academy gets a new student: Zero's twin brother, Ichiru.
Episode 6- Fake Lovers – Yuki and Kaname are supposedly a couple now, but they seem to have completely different ideas about their relationship…
Episode 7- Kiss of Thorns – Senri comes back to Cross Academy, but seems like a totally different person…
Episode 8- Spiraling Recollections – Yuki's true past is finally revealed.
VIDEO & AUDIO
"Vampire Knight Guilty Volume 2" is presented in 16:9 and audio options include both Japanese and English. Just like the rest of the series, the art in this volume is pretty but the character designs are indeed Shojo so that may attract or detract viewers. But overall, the art is great and the animation is smooth and backgrounds look great. Everyone is very pretty in this series.
Throughout the series, the Japanese cast as well as the American cast both do a wonderful job.  All of the voices seem fitting and don't seem out of place. The Japanese cast includes big names like Yui Horie, Mamoru Miyano, Daisuke Kishio, Jun Fukuyama, and many others. The American cast is also full of big name voice actors including Mela Lee, Ethan Murray, Vic Mignogna, Troy Baker, Stephanie Sheh, and others.
SPECIAL FEATURES:
The only special features available on the discs are Viz Trailers and DVD Credits.
Drama, angst, revenge, and questionable relationships sum up this volume of "Vampire Knight Guilty".  If you love soap operas, then you'll love this series and particularly this volume.  Secret pasts revealed, plot twists, revenge, love triangles… (Maybe even love squares): all happen.
The main event that happens in this volume is Yuki's mysterious past is finally revealed and that throws her relationships with Kaname and Zero into a tailspin… This is the exciting volume where everything changes.
I won't reveal the big secret in my review, but if you're watching this volume before any other volume: stop.  Nothing will make sense and too much has happened in the story. "Vampire Knight Guilty" is the second season and prior to the four episodes in this season, there are thirteen episodes in season one.  This volume starts off seventeen episodes into the whole series.  This series is very story driven and for the most part the story is linear, so it's not a series you can pick up a random volume to start watching.  Not to mention there are a lot of main characters to keep track of and this particular volume reveals one of the biggest secrets of the series.  If you have been watching the series, this is the volume you want to watch.
The "Vampire Knight" series pretty much has non-stop drama.  The whole story is rather dramatic and serious, so I am very happy that they have the breaks with the funny little moments, which I probably enjoy the most out this series.  There are a lot of great characters as well and they vary in types so most viewers can find at least one character they like and or can relate to.  I personally like the banter between Yuki and Aidou as well as the moments where Zero, who is usually rather serious, can have a silly moment.
The target audience for this series will probably be mostly girls, considering it's full of drama, angst, romance, and pretty vampire boys… (of course guys can like that too) the series does have some action in it, but this particular volume is full of drama.
This was also a very big character development volume.  Yuki's past is revealed, bringing much more depth to her character.  Kaname's past is revealed a bit more and we get to see more of exactly who he is and what exactly Yuki means to him.  Zero's self-loathing continues in this volume, but seems better when he is with Yuki… until her secret is revealed.  Ichiru… still hates his brother (as well as pretty much everyone else), and is still annoying.  On the other hand, one thing I enjoyed a lot was the fact that we got to see a little more of the background characters like Senri and Rima, instead of them just being in the background all of the time.  They are two of my favorite characters so it was nice to see them get a little more spotlight.
As I've mentioned, this volume is exciting story wise, but brings to light some very, very questionable relationships among the pure blood vampire folk… I know that there are some Shojo manga series fans that LOVE this kind of stuff… but it might be a little too much for me.  With that being said, if you are looking for a series full of pretty vampire men, messy love triangles, angst, revenge, drama… congratulations!  You have found the perfect series for you.  If you're not looking for any of the above, this series does offer some action and quite a bit of comedy too, and the funny parts are truly funny, but the other themes are still much stronger and may be too much for some.
This volume is the final step before the conclusion of the anime series, so most of the secrets throughout the series get answered in this volume so if you have been watching the series up until this point, it's very exciting. If you have not seen the rest of the series up to this point or know nothing about the series, I emphasize again that this volume will be confusing and full of spoilers so I definitely recommend watching the rest of the series first.
Team Kaname or Team Zero: one of them definitely takes the lead in this volume and you'll have to watch to see which one it is.  All of your questions will be answered in this volume.  Be sure to pick up this climactic volume leading up to the exciting conclusion!
An incredibly perverted, yet hilarious anime series!  "Girls Bravo – The Complete Series" is an anime TV series which features a lot of fan service, nudity and perversion to the nth degree without becoming a hentai (adult) anime series.  The "chikan" behavior featured in the anime series may be offensive to some.

Image courtesy of © Kaneda Mario/Kadokawa Shoten Publishing Co., Ltd/Girls Bravo. All Rights Reserved.

DVD TITLE: Girls Bravo – The Complete Series
DURATION: Episodes 1-24 (600 minutes)

DVD INFORMATION: 4:3, English Stereo/Japanese Stereo
COMPANY: Kadokawa Pictures/FUNimation Entertainment

RATED: TV MA

Release Date: November 23, 2010

Originally created by Mario Kaneda

Director: Ei Aoki
Series Composition: Akira  Watanabe
Music: Noriyasu Agematsu
Character Design: Ryuichi Makino
Art Director: Yasutoshi Kawai
Chief Animation Director: Ryuichi Makino, Yuu Nobuta
Animation Producer: Yoshiyuki Matsuzaki
Anime Production: A.I.C Spirits

Featuring the following voice talent:
Ayako Kawasumi/Michelle Ruff as Miharu Sena Kanaka
Mamiko Noto/Yuri Lowenthal as Yukinari Sasaki
Ayaka Saito/J-Ray as Tomoka Rana Judo
Chiwa Saito/Lulu Chiang as Kirie Kojima
Masayo Kurata/Carrie Savage as Koyomi Hare Nanaka
Ryotaro Okiayu/Liam O'Brien as Kazuharu Fukuyama
Tomoko Kaneda/Karen Thompson as Ebi
Yuki Matsuoka/Hunter MacKenzie Austin as Risa Fukuyama
Ai Shimizu/Tara Platt as Hakana
Aya Hisakawa/Erica Shaffer as Hijiri Kanata
Yukinari's got major girl problems – the poor guy is literally allergic to them. He can't even be in the same room as a girl without getting a rash. It's enough to put any red-blooded male in an awful mood.
Here's the good news: things start looking up for Yukinari when he accidentally plays peek-a-boo with the naked girl next-door. She freaks out and boots him in the face, magically transporting our hero to the coolest place ever: Seiren, a mystical land populated mostly by girls. As soon as he gets there, he meets Miharu, a super-bouncy, carefree cutie who can touch Yukinari without causing a rash! She becomes his roomie on Earth and… Well, then it's all bathtubs, swimming pools, hot springs, and you're not even reading this anymore, are you?
In 2000, mangaka Mario Kaneda's shounen manga "Girls Bravo" was serialized and printed in Kadokawa Shoten's "Shonen Ace" magazine and for five years, readers have enjoyed the sexual perverted anime series.  In 2004, the sereis received its anime adaptation courtesy of AIC and the first 11-episodes (first season) was featured on Fuji TV and the second series aired on WOWOW in 2005 feature 13 episodes.  In the US, Geneon Entertainment licensed the series for an English-dubbed release and in Nov. 2010, FUNimation Entertainment has released the complete series on four DVD's.
The 24-episode anime series was directed by Ei Aoki ("Petite Princess Yucie", "Blood+", "Coyote Ragtime Show") and series composition by Akira Watanabe ("Goshusho-sama Ninomiya-kun", "Tokimeki Memorial ~Only Love~", "Zillion"). Music is by Noriyasu Agematsu ("ChronoCrusade", "Kamichu!", "My-HIME"), character design by Ryuichi Makino ("Battle Athletes", "GUNXSWORD" and "Hourou Musuko") and art direction by Yasutoshi Kawai ("Pokemon 3", "Tytania", "Suzuka").
The mature-themed anime harem series revolves around a shy teenager named Yukinari Sasaki who suffers from an allergy to girls (possibly because he has always been bullied by them).  Whenever he is near them, he gets a rash.
His neighbor, the well-endowed and feisty Kirie Kojima has been using his bathroom to shower and one day, Yukinari accidentally walks in on her nude.  Yukinari is so upset that she punches him and he falls into the bathtub.  But when he disappears, Kirie starts to cry (we realize that she actually cares for Yukinari but she tends to get pissed of quite easily).
As for Yukinari, for some mysterious reason he has ended up in another area to be discovered by Miharu Sena Kanaka who is happy that she has found an Earth boy.  Miharu takes him home and immediately he is hit on by her older sister and all the females in the area.  She explains to him that he is in a planet called Seinen where men comprise less than 10% of its population.  So, he is highly desirable by the women of the planet.
What shocks Yukinari even more, he is not allergic to Miharu at all but also how in her planet, she is so free when it comes to nudity and being naked around him (which he tends to suffer a nosebleed).  When he finds out about her power to go from Seinen to Earth by using her powers on the water, he sees Kirie crying and missing him.  So, he knows he has to go back home.
As Kirie regrets slugging Yukinari, she is happy when he appears back from the shower (although naked), but to her chagrin, she is even more pissed off when she discovers a naked girl right behind him.  It appears that Miharu has accompanied Yukinari back to Earth.
Now Yukinari has to take care of Miharu while she is in Earth and as for Kirie, she feels the need to watch over Yukinari and make sure there is no funny business between him and Miharu.
Also, because the resident and uber-pervert, the rich and powerful Kazuharu Fukuyama, will fondle and grab any girl's breasts wants to get close to Kirie and now Miharu.  And will do anything it takes to get close to them.  And his sister Lisa, a person studying the black arts will do anything to get close to Yukinari.
Throw in Koyomi Hare Nanaka (from Seiren) who has a fear of men especially Fukuyama and the young Tomoko (from Seiren) who was hired by Miharu's sister to find her a husband on Earth and life for Yukinari is going to become quite interesting!
The main characters of "Girls Bravo" are:
Yukinari Sasaki – The main protagonist who is allergic to girls except Miharu.  Because of that, he cares for her a lot.  He cares for Kirie but because she mistakes his actions as perverted, she tends to beat up on him a lot.
Miharu Sena Kanaka – The pink-haired girl from Seiren.  The first person in Seiren that Yukinari meets and is very naive about Earth's culture.  She also happens to have a very fast metabolism and thus she loves to eat a lot.  Because Yukinari is not allergic to her, she is the only female he allows to get close to him.  She has the power to travel from Seiren to Earth and also shoot blasts when she's upset.  She also likes to be naked around Yukinari to Kirie's chagrin.
Kirie Kojima – Kirie is Yukinari's neighbor and classmate.  She is very good at martial arts and she also cares about Yukinari.  But she has a short temper and mistakes his actions as perverted, so she often beats him up (even though she likes him).  She is also well-endowed and is often having her breast grabbed by the pervert Kazuharu Fukuyama.  Because she likes Yukinari and knows the Seiren custom of nudity, she feels she needs to make sure that Yukinari is not up to any funny business with the other ladies.
Kazuharu Fukuyama – A very rich student from the powerful Fukuyama family.  He is also the biggest pervert there is.  Always thinking about breasts and grabbing on to them.  He only thinks about having sex and getting close to Kirie and now Miharu.
Lisa Fukuyama – Kazaharu's younger sister who is into the black arts.  She is in love with Yukinari and feels that he is her soulmate and thinks Miharu is her rival.
Koyomi Hare Nanaka – A resident of Seiren and has a fear of men.  And it's made worse when Kazuharu Fukuyama starts feeling her up.  She is sent to Earth to find Miharu and to find Miharu's older sister Maharu, a husband on Earth.
Tomoka Lana Jude – From Seiren and also selected by Miharu's sister to find her a husband.  She is a young girl that can transform things.  Despite being young, she hates being treated like one.
Other characters:
Maharu Sena Kanaka – Miharu's well-endowed older sister who is looking for a man and loves fondling Yukinari despite it upsetting Miharu.
Kosame – A martial-arts fighting attendant attendant who is attracted to Kirie and her large breasts.  Whenever Kirie is around, she goes crazy.
Hayate – A stealthy attendant of Lisa who gets information for Lisa whenever she needs it.
Lilica Stacy – The Fukuyama's chief maid who is very tough and has fought in many military operations.  She is also highly intelligent and uses a spy satellite to finding what Yukinari and friends are doing.  She is very loyal to Kazuharu Fukuyama.
"Girls Bravo" is 24-episode series and is presented on four DVD's. Here is a basic synopsis of each episode:
DISC 1:
EPISODE 1 – Bravo from the Bathtub – Yukinari is accidentally punched by his neighbor Kirie and when he falls into the tub, he ends up in the planet Seiren and meets the naked Miharu.
EPISODE 2 – Bravo at School – Miharu is very hungry and goes to look for curry bread and discovers the shopping district and bananas.
EPISODE 3 – Cooking is Bravo! – Kazuharu Fukuyama's sister Lisa kidnaps Yukinari and wants to marry him.
EPISODE 4 –  Bravo in the Mansion! – Fukuyama has taken Miharu and now Yukinari and Kirie go to rescue her.
EPISODE 5 – Bravo on a Rainy Day! Part 1 – A girl named Koyomi is found in Yukinari's bathtub…who is she?
EPISODE 6 – Bravo on a Raindy Day Part 2 – Koyomi observes Miharu and knows she has to take her back to Seiren.  But receives new orders from her sister Maharu.
DISC 2:
EPISODE 7 – Look For a Groom Bravo! – Koyomi and Tomoka must find Maharu a husband.  But can Koyomi find a man despite her fear of men.
EPISODE 8 – Lots of Bravo! – Miharu drinks a liquid and somehow many Miharu clones are created.
EPISODE 9 – Bravo at the Great Magic War! – Tomoka and Lisa fight each other for the creature Ebi.
EPISODE 10 – Bravo at the Hot Spring! – Yukinari and friends go to a hot springs and meet a ghost.
EPISODE 11 – Ping Pong is Bravo! – The Fukuyama's buy the hot spring resort and Kazuharu and Koyomi get into a ping pong battle.
EPISODE 12 – Bravo at the Pool! – Fukuyama buys a pool and makes it into a resort but the problem is that Yukinari and Fukuyama mysteriously get stuck in each other's bodies.
DISC 3:
EPISODE 13 – Fight Bravo! – Fukuyama forces Kiries to fight in an all-girl kickboxing tournament.
EPISODE 14 – First Date is Bravo! – Yukinari and Miharu go out on their first date.
EPISODE 15 – Clean Up Bravo! – Yukinari's classmate Mamoru loves to keep the school clean and Miharu introduces him to Fukuyama's maid Lilica.
EPISODE 16 – As Long as Were Together Then Bravo! – Tomoko searches for a man for Maharu but tries to help Kirie who is having some problems.
EPISODE 17 – Bravo at the Part-Time Job! – Miharu, Kirie and Koyomi get a job at a video game convention.
EPISODE 18 – Bravo at Mah-Jong! – Fukuyama creates a "unique" mahjong game.
DISC 4:
EPISODE 19: Rabbit Ears Bravo! – An alternative story in which the group plays a part in a movie about thief rabbit girls and two detectives going after them.
EPISODE 20: School Festival is Bravo! – The school festival has begun and Maharu comes to Earth.
EPISODE 21: Sunny Afternoon Bravo! – Koyomi believes she sees her long lost father in a news report on TV.
EPISODE 22: Present is Bravo! – Miharu goes shopping for everyone.
EPISODE 23: Bravo to Seiren! –Miharu is taken back to Seiren by Hijiri Kanata.  Yukinari and friends try to rescue her.
EPISODE 24: Final Bravo! – Yukinari and friends fight their way to save Miharu from Yukina.
VIDEO :
"Girls Bravo – The Compete Series" is a TV series that was created back in 2004 and it is a mature-themed series.  The focus is typically on close-ups and body shots and fan service.  You'll notice that in the first season, the perversion and nudity was much more featured (as it was shown at the wee hours of the morning on Fuji TV) while the second season was shown on WOWOW.   So, while the first season was more risque, the second season is where you get to see the characters outside of Yukinari's home and see more utilization of artistic backgrounds which are painted quite well.
Animation is quite simple in terms of less detail, more focus on colors when it comes to the characters.  Also, it's good to know that the characters wear different clothes in each episode (many anime series tend to have their characters wearing the same thing all the time).
AUDIO & SUBTITLES:
"Girls Bravo – The Complete Series" is presented in Japanese and English Stereo.  Dialogue is clear and understandable and voice acting are well-done for both the Japanese and English soundtrack, but the English soundtrack is a bit more mature, especially when it comes to Kirie who tends to get a bit mouthy and pissed off.  But overall, the series is front-channel driven.
Subtitles are in English.
SPECIAL FEATURES:
"Girls Bravo" comes with the textless opening and ending theme and FUNimation Entertainment trailers.
EXTRAS:
"Girls Bravo" comes with a slipcover case.

"Girls Bravo" is incredibly perverted but yet a hilarious anime series.
Having reviewed a few of these perverted anime seris from FUNimation Entertainment, needless to say with the success of "Sekirei", it goes to show that sex does sell and when it comes to "Girls Bravo – The Complete Collection", I wouldn't be surprised if this series sells well.
But while "Sekirei" attracts people due to its more action-based storyline, "Girls Bravo" relies on its perversion and in some cases, it's made for the otaku male viewer in mind.  While I can see some female viewers feeling the sexual harassment of the character of Fukuyama to be too overboard.
The first half of the series featured more sexual mature themes while the second half is toned down (both seasons aired on different networks).  The first half, one will notice the nudity but also certain suggestive themes.  For example, there is an episode in which Miharu goes to look for curry bread but she ends up at a vegetable/fruit stand and has her first banana.  She strokes it and starts licking it and seeing the saliva connect from the banana to her mouth and while the owner of the shop is talking, we can see her eating the banana in a certain way.
I have to admit that when I started seeing this, the first thing that came to my mind is seeing how far the director wanted to take this series on television with its perversion.  And of course, throughout the series, we see the antagonist, Kazuharu Fukuyama grabbing as many female breasts as he can while the girl's are screaming for him not to.  Sure, its a mentality that works in an anime series but in Japan, with problems with "chikan" (perverts who grab on to girls body parts in the crowded public trains), these type of scenes reinforce that behavior in Japan which many groups are trying to fight against (as it is a problem in Japan).
But this series is about T&A.  It's a series designed to be perverted, hilarious and there is a demographic that loves this type of anime. For those who love it "Girls Bravo" features a lot of fan service, nudity and sexual themes that is not a hentai anime porn.  But for those who are sensitive towards sekuhara (sexual harassment), this anime series is not for you.
The characters for the most part are quite fun to watch and part of the series revolves around seeing how the girls defeat the antagonist Fukuyama and his schemes to fondle them.  It's not a full-on harem anime series but there are three females who vie for the protagonist Yukinari's attention but the others are there to find a husband for Maharu (since the planet of Seiren doesn't have many men on their planet).  The episodes are quite fun and hilarious and as mentioned, there is a difference in how much was presented in the first season versus the second but where the first season employed nudity, the second season still utilized a lot of fan-service.  So, for those who are into that…this series has a lot to offer.
Overall, "Girls Bravo – The Complete Series" is an anime series that features 24-episodes on four DVD's and for those wanting more pervertd/fan-service driven anime series like "Master of Martial Hearts" and "Sekirei", "Girls Bravo" is definitely for you!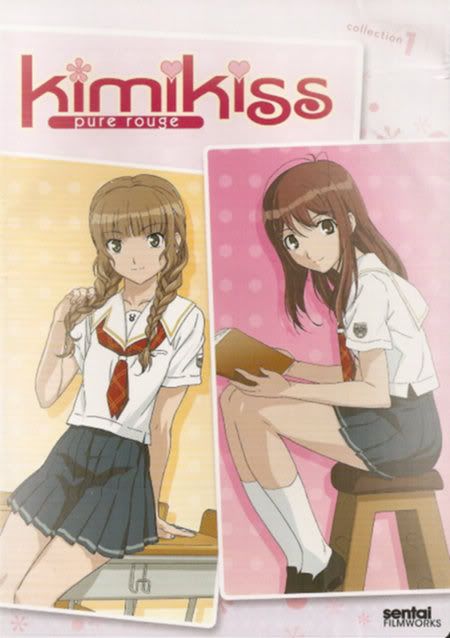 "A cute and funny love comedy. "KimiKiss – pure rouge Collection 1 will appeal to a variety of viewers."
Image courtesy of © Enterbrain, J.C. STAFF, "KimiKiss" Committee. All Rights Reserved.
DVD TITLE: KimiKiss – pure rouge Collection 1
DURATION: 325 Minutes
DVD INFORMATION: 16:9 WIDESCREEN, JAPANESE 2.0 STEREO
COMPANY: Sentai Filmworks
RATED: TV 14
Release Date: October 5th, 2010
Original Work by Enterbrain
Directed by Kenichi Kasai
Music by Hikaru Nanase, Masaru Yokoyama, Noriyuki Iwadare
Art Direction by Shinichiro Kobayashi
Character Design by Kazunori Iwakura
Produced by J.C. STAFF, "KimiKiss" Committee.
Featuring the following voice talent:
Satoshi Hino as Kouichi Sanada
Takahiro Mizushima as Kazuki Aihara
Haruna Ikezawa as Mao Mizusawa
Rie Tanaka as Eriko Futami
Ami Koshimizu as Yuumi Hoshino
Ryou Hirohashi as Asuka Sakino
Takahiro Sakurai as Eiji Kai
Sakura Nogawa as Nana Aihara
Jun Fukuyama as Akira Hiiragi
Mamiko Noto as Mitsuki Sijyo
Kaori Mizuhashi as Narumi Satonaka
Mai Nakahara as Megumi Kuryu
Ayako Kawasumi as Tomoko Kawada
Kouichi always thought of Mao as his little sister, but when he wakes up from a dream and she walks into his house, he doesn't even recognize her. It's probably because after living in France for several years, Mao is definitely not anyone's little sister anymore!
To further complicate things, Kouichi's mom has invited Mao to stay at their house while she attends the same high school as Kouichi and their mutual friend Kazuki. But given that Kouichi's been trying to build a relationship with Yuumi, the revelation that he's now sharing accommodations with a non-related girl is definitely going to cause some emotional waves – or maybe a tsunami by the time Kazuki's sister Nana, her best friend Narumi, and all the other kids at school get overly involved.
"KimiKiss – pure rouge Collection 1" is based off the dating simulation game by the same name and this collection has the first 13 episodes of the series. The major difference between the anime and the game would be that a set male protagonist exists (in the game, there is a male protagonist but the player can change the name of the character to his own name and the game changes depending on the player's actions).
The anime actually has two male protagonists: Kouichi Sanada and Kazuki Aihara (The default protagonist's name in the game happens to be Kouichi Aihara). As to be expected from an anime based on a dating sim for guys, there are a lot of girls in the series… lots (6 girls actually… so 3 for each? I kid, I kid…) Mao Mizusawa is one of those girls, and a childhood friend of Kouichi and Kazuki who went away to Paris a couple of years ago and just came back to Japan to spend her last year in high school in Japan instead of Paris. So what will this year hold for Kouichi, Kazuki, and Mao's love lives? Watch and find out.
"KimiKiss – pure rouge" focuses on the following main characters:
Kouichi Sanada – Kouichi is one of the two male protagonists in this series. He's pretty much a normal high school student who grew up with Kazuki and Mao. Mao goes away to Paris two years ago and shows up at his house and at first he doesn't recognize her, but as soon as he does, he finds out that she's going to be living at his house and going to his school while her parents are still in Paris. He sort of dreams of becoming a novelist. He has feelings for a girl named Yuumi Hoshino but has trouble talking to her at first. With the help of Mao, he's able to finally talk to her and starts building a relationship with her, but he may also have feelings for someone else…
Mao Mizusawa – Mao is somewhat the female protagonist of the series. She is a childhood friend of Kouichi and Kazuki and is a year older than the two. Two years ago, she moved away to Paris and just came back to Japan to complete her last year of high school there. She shows up at Kouichi's house, but he doesn't even recognize her at first and she randomly just barges in like it's her house. He finally realizes who she is and she reveals that she is staying there while she finishes her last year of high school since her parents are still in Paris. Her first few days at school are a little rough considering she's suffering from jet lag and forces Kouichi to stay up and play video games with her. She also meets a guy named Eiji Kai in her class who is first cold to her but soon those feelings change. However, there might be someone else she may have feelings for as well…
Kazuki Aihara – Kazuki is a friend of Kouichi and Mao and the older brother of Nana. He loves playing soccer and he is determined to find a girlfriend within the school year. By chance, he runs into Eriko Futami and he quickly develops some feelings for her… but he's uncertain how she feels about him.
Akira Hiiragi – Akira is a friend of Kouichi and Kazuki and forces them to be in his movie research club in which they are the only three members… For some reason, he has data on all of the girls who go to their school…
Nana Aihara – Nana is the younger sister of Kazuki who starts to also go to their school this year. She loves her green frog accessory named Iwao that she keeps on her bag. Her best friend is Narumi, who she meets at school who also has an obssession with frogs.
Yuumi Hoshino – Yuumi is Kouichi and Kazuki's classmate and is very quiet and very kind. She works in the school library. She has feelings towards Kouichi but she has trouble opening up to people, but soon it's apparent that the feelings may be mutual between her and Kouichi.
Eriko Futami – Eriko is an extremely introverted girl who has an IQ of 190. She is rather cold to others and usually just loiters on the roof or the science lab. She performs an "experiment" with Kazuki when he stumbles into the lab one day and she kisses him, leaving him confused. She says the experiment failed, but she eventually opens up to others including Kazuki. There seems to be something wrong with her taste buds.
Asuka Sakino – Asuka is an energetic girl in the soccer club along with Kazuki. Over time, she begins having feelings for Kazuki.
Mitsuki Sijyo – Mitsuki is a very rich girl who plays piano and excels in various other skills. Her life may seem privileged to other people, but in reality it may not be as great as it seems…
Narumi Satonaka – Narumi is Nana's classmate and they bond as soon as they meet because they both love frogs: she has a pink frog accessory named Julietta and apparently Julietta is Iwao's girlfriend. She loves udon and is an expert in making it (She also carries Julietta around in a udon strainer).
Eiji Kai – Eiji Kai is Mao's classmate and at first, he is quite and cold toward Mao. He plays the saxophone and at first he doesn't want to get along with Mao but he gradually opens up to her…
Megumi Kuryu – Megumi is in the same class as Kouichi and Kazuki and the self-appointed prefect and member of the disciplinary group.
Tomoko Kawada – Tomoko is a teacher at their school and Mao's homeroom teacher.
"KimiKiss – pure rouge Collection 1" features a total of 13 episodes on two DVDs. Here is a spoiler-less summary of each episode:
DISC 1:
#1- meet again – Mao comes back from France and back into the lives of Kouichi and Kazuki.
#2- cool beauty – Kazuki confronts Eriko about their kiss and what it meant.
#3- book mark – The group goes to karaoke and Mao tries to bring Kouichi and Yuumi closer.
#4- step in – Various relationships develop.
#5- jump up – Eiji and Mao go on a date and Kazuki and Eriko continue their experiment.
#6- each melancholy – The group holds a study session.
DISC 2:
#7- dear actress – The group tries to find the main actress for the script Kouichi wrote.
#8- close to you – Mao doesn't know what to after her and Eiji's last encounter.
#9- water girls – The group attends the school's swimming competition.
#10- miss tone – Mao has a weird dream involving Kouichi and Eiji…
#11- tear drops – The group goes to Mitsuki's mansion to try to find shooting locations for their movie.
#12- passing rain – Kouichi and Yuumi go on a date.
#13- crossroad – Yuumi has a secret.
VIDEO & AUDIO
"KimiKiss – pure rouge Collection 1" is presented in 16:9. The character designs are nice and I think that the art will appeal to various audiences. There aren't any ridiculously big boobs or excessive fan service in this series. I did notice that all the backgrounds seemed to be drawn/painted in a rough sketch type design… but it doesn't look cheap, it looks artistic.
They do also incorporate some CG in here and there. Like many other Sentai Filmworks releases, this series only has Japanese for the audio option, so for people looking for English dub, they will be disappointed. However, they got a great cast for this series including a lot of well known names including Rie Tanaka, Jun Fukuyama and Takahiro Sakurai. All of the voices fit the characters well and no one seemed out of place. The opening and ending themes are also cute and catchy.
SPECIAL FEATURES:
The only special features available on the discs are Sentai Filmwork Trailers, Clean Opening and Ending Animations, and DVD Credits.
I have to admit that while I'm watching this series, I can't help but feel that I'm watching a dating sim being played right in front of me (it is a dating sim, duh. I know.) KimiKiss is definitely a series for guys… but at the same time, it's not… The series is indeed based off of a dating sim, but the story elements are something that would attract a female audience as well.
KimiKiss has a good mix of romance and comedy without being too over the top romantic and doesn't have an excess amount of fan service. There is obviously some conflict, but it's not as dramatic as many other shojo series. So… it's pretty much a good mix.
I believe that it's because of the comedy and no over-the-topness that makes this series accessible to a much bigger audience. The love expressed in this series so far is more pure than fan service. I know that there's a bunch of girls in this series, but Mao is pretty much a protagonist as well so that also balances things out. Despite the huge amount of girls and the few guys in the series, it doesn't have the usual harem anime aspects where everyone is after one person like in "Love Hina" and "Tenchi! Muyo".
It's slightly weird because it almost seems that with Kouichi, Kazuki, and Mao put together you have one full main character. Kouichi and Kazuki are indeed split from the original protagonist, but in the anime, Kouichi definitely doesn't stand out too much, at least in the beginning. Mao is definitely a strong personality in the series and she is probably my favorite. She is straight forward, funny, and has many other
Romances in shojo mangas can get very malicious… this doesn't really have that aspect which is appealing to me. Any conflict that seems to happen doesn't happen because someone is trying to hurt someone else… it just happens out of circumstance. No craziness, which is nice.
Obviously, this is not an action series no matter how you look at it, so if that's what you're looking for, you're not gonna get it. This series is slightly reminiscent to other harem type anime like "Love Hina", "Tenchi! Muyo", and "Ai Yori Aoshi" so fans of those series I think would enjoy this one as well. You won't find much fan service though if that's what you're looking for. A series that I think is very similar to this one is a Shonen Jump series called "I"s" so for people who enjoyed that series, I think they'll enjoy this too.
To sum up everything, this series is funny and cute. It's based off a dating sim but the anime has a lot of aspects that would attract more girls than guys… but I think guys may enjoy it too considering there's tons of cute girls in the series. Not to mention the demographic for this is supposed to be shonen/seinen…
If you're looking for a funny and cute love comedy series, give "KimiKiss – pure rouge Collection 1" a try. You won't be disappointed.
"Kenichi Season 2 Part 2 is the exciting conclusion to a great action comedy series. A must-see!"
Image courtesy of © Syun Matsuena/FUNIMATION. All Rights Reserved.
DVD TITLE: Kenichi: The Mightiest Disciple Season 2 DVD Part 2
DURATION: 280 Minutes
DVD INFORMATION: 16:9 WIDESCREEN, ENGLISH 5.1 DOLBY DIGITAL SURROUND SOUND, JAPANESE STEREO
COMPANY: FUNIMATION Entertainment
RATED: 13+
Release Date: May 25th, 2010
Original Comic Books Created by Syun Matsuena
Chief Direction by Hajime Kamegaki
Music by Joe Rinoie
Sound Director by Akiyoshi Tanaka
Art Direction by Nobuhito Sakamoto
Character Design by Masatomo Sudo/Junko Yamanaka
Produced by Susumu Matsuyama/Satoshi Kojima/Kenichi Project/TMS Entertianment, LTD.
Featuring the following voice talent:
Tomokazu Seki/ Josh Grelle as Kenichi Shirahama
Tomoko Kawakami/ Carrie Savage as Miu Fuurinji
Takumi Yamazaki/ Todd Haberkorn as Haruo Niijima
Tomoe Sakuragawa/ Cherami Leigh as Honoka Shirahama
Hiroshi Arikawa/ R. Bruce Elliott as Hayato Fuurinji
Unsho Ishizuka/ Christopher Sabat as Shio Sakaki
Hiroya Ishimaru/ Sonny Strait as Apachai Hopachai
Mamiko Noto/ Trina Nishimura as Shigure Kosaka
Issei Futamata/ Vic Mignogna as Kensei Ma
Jurota Kosugi/ Kent Williams as Akisame Koetsuji
Mika Kanai/ Kate Oxley as Renka Ma
Ken Narita/ Jerry Jewell as Odin
George Nakata/ Robert McCollum as Berserker
Atsuko Tanaka/ Stephanie Young as Freya
Keiji Fujiwara/ Travis Willingham as Loki
Mitsuaki Madono/ Chris Cason as Siegfried
Ryo Horikawa/Eric Vale as Hermit
Naomi Kusumi/ Bob Carter as Thor
Minami Takayama/ Colleen Clickenbeard as Valkyrie
Akio Ohtsuka/Jason Douglas as Ishinsai Ogata
Kenichi's a lot tougher than he used to be – living in a dojo with six martial arts masters will do that to you. But thanks to his reputation as a skilled fighter, the guy's got more problems than ever.
The goons in Ragnarok are gunning for him in a big way, especially the gang's leaders: the Eight Fists, a dangerously unpredictable crew known to play dirty. Luckily, Kenichi's got allies like Miu by his side. She's as tough as she is hot, and even if he still hasn't scored with the blonde brawler, her very presence makes Kenichi train harder to be the best.
Yeah, he's come a long way – but Kenichi's fight to be the mightiest disciple isn't over yet.

"Kenichi: The Mightiest Disciple Season 2 Part 2" starts off as a direct continuation from Season 2 Part 1, and the first episode of this collection concludes what happened in episode 38. Kenichi is still working under the masters of the Ryozanpaku dojo to become the best fighter in the world. The story concentrates around Kenichi, who is training to become the best fighter in the world. This section of the series deals with Kenichi's fight with the members of Ragnarok, concentrating on the battle against the last 3 Fists of Ragnarok. Kenichi's grueling training from the Ryozanpaku masters continue while he attends high school with Miu, and in this collection of episodes, he has to train with the Elder of Ryozanpaku to become strong enough to defeat the strongest fighter of Ragnarok. Meanwhile, Niijima is still trying his best to recruit more members into the Shinpaku Federation so he can take over the world. Kenichi must face someone from his past and is put to the ultimate test in the exciting conclusion of "Kenichi: The Mightiest Disciple".
This particular volume, "Kenichi: The Mightiest Disciple Season 2 DVD Part 2" contains the last 12 episodes of the second season of "Kenichi: The Mightiest Disciple".
"Kenichi: The Mightiest Disciple" focuses on the following main characters:
Kenichi Shirahama – Kenichi is the main character of the series and is a high school student that is training at the Ryozanpaku Dojo and learning multiple martial arts at once from the masters at the dojo. He is very loyal and very dedicated to his art and has a crush on Miu. Even though he seems to be a mediocre fighter to most at first, somehow he manages to defeat everyone in his path.
Miu Furinji – Miu is the very well endowed 16 year old that is the granddaughter of Hayato Furinji and the classmate of Kenichi. Despite her cute looks, she is rather shy… and also quite a skilled fighter.
Haruo Niijima – Niijima is the self-proclaimed leader of the Shinpaku Federation who has the appearance of an alien and acts like one as well. He and Kenichi call each other bad friends, but are somewhat friends nonetheless despite not wanting to admit it. Niijima dreams of taking over the world one day.
Honoka Shirahama – Honoka is Kenichi's very energetic and hyper young sister. She is saved from thugs one day by Hermit and since then, she has a very strange but cute bond with him.
Hayato Fuurinji – Hayato is the grandfather of Miu and the undefeated elder of the Ryozanpaku Dojo. He is rather, tall, muscular, and loves lollipops. He is a giant and powerful.
Shio Sakaki – Sakaki is the karate master of the dojo. He is rather tall and rugged, has a scar on his face and is usually wearing a leather jacket.
Apachai Hopachai – Apachai is the master of Muay Thai of the dojo. He is very strong, but can be rather childish and says "apapapa" alot. He also likes the game, "osero".
Shigure Kosaka – Shigure is the weapons master of the dojo. She is the only female master of the dojo and is rather quiet and has a pet mouse named Tochumaru.
Kensei Ma – Kensei is the Chinese Kenpo master of the dojo. He is rather short and balding and is usually seen holding a pervy book.
Akisame Koetsuji – Akisame is the Jujitsu master of the dojo. He is also the master of various other arts including calligraphy, go, painting, etc. He likes making inventions that serve a certain purpose… as well as training Kenichi at the same time.
Ragnarok
Odin – Odin is the strongest of the members of Ragnarok and seems to have some sort of connection with Kenichi's past.
Berserker – Berserker is the second fist of Ragnarok who is rather quiet and usually seen chewing gum.
His name is rather self-explanatory.
Freya – Freya is the second fist of Ragnarok and is the leader of the Valkyries. She firmly believes that for women to win against men in fighting, they must use weapons.
Loki – Loki is the fourth fist of Ragnarok, and one of the main antagonists of this section of the series. Just like his namesake, he is somewhat of a trickster and doesn't play very fair. In this part of the season, his true intentions come to light.
Siegfried – Siegfried is another member of Ragnarok who by rumor is immortal. He is obsessed with music and hopes to use his fighting experiences in making new symphonies. After being defeated by Kenichi, he joins the Shinpaku Federation.
Hermit/Natsu Tanimoto – Hermit was the sixth fist of Ragnarok and can probably be seen as Kenichi's biggest rival. Despite being his rival and wanting nothing more than to defeat Kenichi, through the series it's evident that he's not that bad of a character. He is a very fair fighter and has a weird yet cute bond with Honoka, Kenichi's younger sister. He also seems to be a bit bi-polar…
Thor – Thor is the sumo fighter and the seventh fist of Ragnarok. He is best friends with Siegfried.
Valkyrie/Kisara Nanjo – Valkyrie is the eighth fist of Ragnarok. She tries to act tough but seems to have a soft spot for cats. She leaves Ragnarok because she feels differently about the direction the group is headed.
Isshinsai Ogata – Ogata is the person who saves Kenichi in the wilderness when he gets lost… but he ends up being someone who we least suspect.
"Kenichi: The Mightiest Disciple Season 2 Part 2" features a total of 12 episodes on two DVDs. Here is a spoiler-less summary of each episode:
DISC 1:
EPISODE 39- Shigure's Personal… Lesson! – Kenichi has to fight… girls.
EPISODE 40- The Place the Promise was Made! Everything Started Here! – Kenichi recalls events that happened in the past that connect to what's happening now..
EPISODE 41- Terror of the Sphere of Control! A Dragon Descends! – Kenichi faces off with a childhood friend, Niijima tries to recruit Tanimoto in the Shinpaku Federation.
EPISODE 42- Elder's Super Express! Do-or-Die Secluded Tour in the Mountains! – Kenichi starts his training with the Elder, but it's not the training he expected at all.
EPISODE 43- Limiter! Invitation to the World of Bloodshed – Kenichi continues his training in the woods, where he encounters the possibility of changing his life forever.
EPISODE 44- Collapse of the Shinpaku Federation! The Crazy Fist Stealthily Approaches! – Kenichi continues his training with the Elder, meanwhile Berserker and Freya draw closer to the Shinpaku Federation.
DISC 2:
EPISODE 45- The Decisive Attack! Kisara Dances! – Kisara has her showdown with Freya.
EPISODE 46- Farewell! A Determined Niijima joins the Fray! – Kenichi goes to find Niijima after recieving a concerning email. The Shinpaku Federation's HQ is found out, and they are helped by unlikely allies.
EPISODE 47- The Weakness of the Genius! Effort Surpasses Talent! – Kenichi finally arrives to help his friends. Hermit and Berserker fight.
EPISODE 48- Showdown between the Leaders! The Man with the Legendary Spear! – Kenichi and Odin start their final showdown.
EPISODE 49- The Mightiest Transformation! The Ryozanpaku Rhythm! – Kenichi and Odin's battle continues.
EPISODE 50- The Mightiest Disciple, Kenichi! – Kenichi and Odin's battle comes to a close. Will Kenichi and his kindness win or will Odin and his power win?
VIDEO & AUDIO
"Kenichi: The Mightiest Disciple" is presented in 16:9. As I mentioned in my review for the first half of season 2, the animation honestly isn't the best that I've seen, especially considering the fact that this series came out in the last few years, but the characters and story make up for it. The production of the art itself isn't bad… but it's not a series that you'll probably be watching for the amazing animation. The character designs for the female characters = fan service and more fan service. The boob sizes ranged from big to bigger, so I'm sure there are some fans that will definitely enjoy that. The music is average but in some parts of the series, there is 8-bit game type music which I personally like.
For audio, you have the option of either Japanese or English.
There are only English subtitles available.
SPECIAL FEATURES:
The only special features available on the discs are textless songs and FUNIMATION trailers.
"Kenichi: The Mightiest Disciple" is a great action series filled with great characters and comedy. This particular volume deals with the last 12 episodes of the anime series, and takes off right where Season 2 Part 1 left off. Just like the rest of the series, there's plenty of action and great comedic moments throughout. This particular volume seems to be a bit more concentrated on action though than the last.
This series deals with themes such as what's more important: power or kindness? Power or Love? Kenichi is a decent main character: he doesn't really have too many annoying traits and his determination to learn about five different styles of martial arts at once is commendable. Each of his mentors have their own characteristics and are all fun to watch. In this collection, we get to see more training with the Elder vs. any other person of the dojo.
In Season 2 Part 1, Kenichi's main rival was Hermit; in Season 2 Part 2, Kenichi's main rival is Odin, who happens to be someone from his past. We didn't get to see much of the top 3 of Ragnarok in the previous volume, but they get plenty of action in this volume. Kenichi continues his training and must get stronger to defeat Odin. The Shinpaku Federation has grown quite a bit since and everything in this volume leads to the final dramatic conclusion.
Just like the previous volumes of this series, there is a great cast of voice actors both Japanese and American. There are a lot of veteran seiyuu including Toshihiko Seki, Ryo Horikawa, Minami Takayama, Atsuko Tanaka, Ken Narita, Keiji Fujiwara, Jurota Kosugi, just to name a few. Overall the characters all seemed to have voices that fit their personalities and the English dub was well done as well. The English dub also featured the usual popular FUNIMATION cast including Vic Mignogna, Christopher Sabat, Travis Willingham, and Todd Haberkorn.
Like I previously stated, I think that the main audience that would appreciate this series is shonen manga fans, martial art fans, and comedy anime fans. I'm not sure how many girls will enjoy watching this considering the boob fan service… but despite it being there, it's definitely not what the series is mainly about… but it does stick out.
Getting to this point in the series, I really don't recommend watching this collection if you haven't seen previous episodes. There are so many characters, story lines, and this is the final collection of episodes so there's almost no point in watching just this one. Without prior knowledge of the series, you probably won't know what's going on and also it's the end of the series so it'd be spoiling the rest of the series if you just see this one.
I definitely do recommend this series for those who enjoy entertaining characters, comedy, and a lot of fighting. Even though this concludes the anime series, for those who want more Kenichi, the manga series is still going on. For those who have watched the rest of the anime, be sure to check out the exciting conclusion of "Kenichi: The Mightiest Disciple"!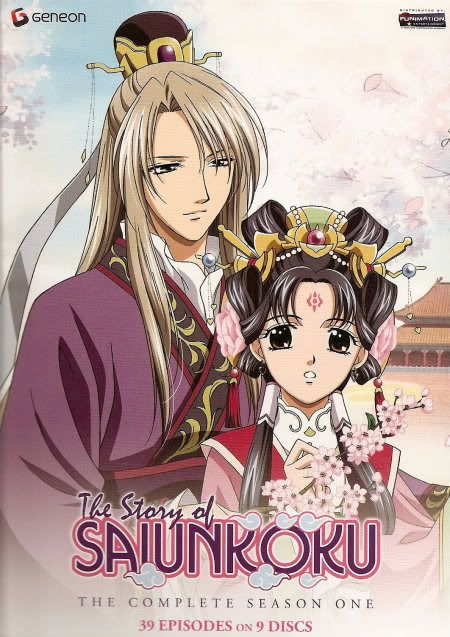 "The Story of Saiunkoku" is a beautiful, piece of work about love, dreams, and that anything is possible with perseverance.
Image courtesy of © Sai Yukino, Kadokawashoten/NHK, SOGOVISION. All Rights Reserved.
DVD TITLE: The Story of SAIUNKOKU – The Complete Season One Box Set
DURATION: 975 Minutes
DVD INFORMATION: 16:9 ANAMORPHIC WIDESCREEN, BILINGUAL DOLBY DIGITAL 2.0 (ENGLISH & JAPANESE)
COMPANY: GENEON/FUNimation Entertainment
RATED: 13+
Release Date: October 9th, 2009
Based on the Original Story by Sai Yukino
Directed by Jun Shishido
Music by Kunihiko Ryo
Music Director by Fusanobu Fujiyama
Character Design by Miwa Oshima
Produced by Yuji Shibata
Featuring the following voice talent:
Houko Kuwashima/ Kelly Sheridan as Shurei Hong
Tomokazu Seki/ Brad Swaile as Ryuki Shi
Hikaru Midorikawa/ Andrew Francis as Seiran Si
Shuichi Ikeda/Michael Kopsa as Shoka Hong
Toshiyuki Morikawa/ Michael Adamthwaite as Shuei Ran
Nobuyuki Hiyama/Andy Toth as Koyu Ri
Akemi Okamura/ Nicole Oliver as Shusui
Koji Ishii/ John Novak as Adviser Sho
Naoki Bandō/ Trever Devall as Enjun Sa
Mitsuru Ogata/ Dale Wilson as So Taifu
Eri Sendai/ Chantal Strand as Korin
Kentarou Itou/ Jason Simpson as Ensei Rō
Mitsuaki Madono/ Louis Chirillo as Reishin Hong
Kazuhiro Nakata/ Mark Oliver as Kijin Ko
Daisuke Namikura/ Reece Thompson as Eigetsu/Yogetsu To
Hidenobu Kiuchi/ Matthew Erickson as Ryuren Ran
Takehito Koyasu/ John Payne as Sakujun Sa
Kousuke Toriumi/ Kyle Rideout as Kokujun Sa
Rumi Shishido/ Natalie Walters as Shunki Sa
Saiunkoku is a country with eight powerful houses governed by one emperor. However the new leader Ryuki Shi cares not for his new role and is rumored to spend his days chasing after noblemen in his court. Enter Shurei Hong, a princess whose family has fallen upon hard times. Her dreams of becoming a government official are unattainable since she is a woman, but a twist of fate gives her the chance of a lifetime. If she agrees to become the emperor's consort and turn him into a respectable ruler, she will be greatly rewarded…
The Story of Saiunkoku by Sai Yukino centers around Shurei Hong, a young princess whose life long dream to become a government official is unattainable because she is a girl. To add insult to injury, despite being a princess, her household is rather poor so she does quite a few odd jobs to help out the family.
She lives with her father Shoka and Seiran, a young man that her family adopted when she was a child. One day, her household is visited by one of the Elders of the Kingdom, Adviser Sho and he has an offer for her: if she can make the current emperor a worthy emperor that can do his job, her and her family would be greatly rewarded. She accepts, but then realizes the other part of the deal was for her to become his consort. Nonetheless, she works hard to make Ryuki Shi, the current emperor all he can be and a worthy ruler.
Ryuki Shi is the young, somewhat naive, carefree emperor that doesn't really try to do his duties as emperor. To Shurei's surprise, in truth he's rather smart and skilled but lacked motivation. He meets Shurei and decides to become a bit more serious about his role emperor and in the meantime, falls in love with Shurei.
Another reason Shurei took up the offer is because she felt that this was a way to get closer to her unattainable dream: to become a government official. Even though she is more than qualified to become a government official, she cannot because of the laws of the land saying that girls may not take the exams to become government officials.
Her perseverance, intelligence, and passion for her dream gain the attention of not only the emperor, but the officials surrounding him including Koyu Ri, Shuei Ran, Kijin Kou and many others. Ryuki Shi makes it his priority to help her achieve her dream… and hopefully one day marry her as well.
The Story of Saiunkoku is a beautiful, sophisticated anime dealing with various important themes such as love, equality, trust, politics and perseverance.
"The Story of Saiunkoku" focuses on the following main characters:
Shurei Hong – Shurei Hong is the only daughter of Shoka Hong. Despite being a princess, her family is rather poor so she has been performing random jobs ever since she was very young. She is beautiful, intelligent, and says exactly what's on her mind. Because of her upbringing, she is also rather humbled despite being a princess and tries not to rely on others for too much help. One day, Adviser Sho appears at her home and makes her an offer: if she can help turn around the lazy emperor and make him into the great emperor he should be, her and her family will be financially rewarded. She doesn't hesitate to take the offer but then realizes that the role calls for her to be the emperor's consort. Despite that, she keeps that same attitude even when she is at the palace and that might be one of the major reasons that Ryuki really falls for her. Despite Ryuki falling for her, she doesn't really return his feelings, especially at first because she has so many responsibilities. Despite her not being able to attain her dream because of being a woman, it doesn't stop her from studying every day and doing her absolute best to help out the kingdom, even if it has to be through Ryuki.
Ryuki Shi – The young emperor of the kingdom. Shurei is sent to the palace as his consort and he falls in love with her. He seems rather helpless and rather unintelligent but in reality, he is rather strong and rather intelligent when he wants to be. He had a rough childhood being the youngest of six brothers and was the last in line to be considered to be the next emperor. He was constantly bullied by four of them, but one of his brothers, Seien, was always there to help him and be there by his side whenever he needed him and constantly saved him from his other brothers. One day, Seien was exiled and eventually, his other brothers fought each other for the throne and perished, leaving only Ryuki to become emperor. One of the major reasons he didn't want to become emperor was because he was hoping that one day that Seien would return and become the emperor because he thought he was much more worthy than him. When he meets Shurei, he feels drawn to her and becomes inspired to become a worthy emperor for his kingdom when he hears about her dreams to better the kingdom herself despite her limitations.
Seiran Si – Seiran is the adopted son of the Hong household that has been living with Shoka and Shurei ever since she was a child. He is like an older brother to Shurei and is there for her whenever she needs him. Because he was taken in so generously by the Hong family, he has made it his life long duty to repay their kindness by serving them. He is intelligent and is also a strong and skilled fighter. He has a mysterious past that is somehow tied with Ryuki.
Shuei Ran – Shuei Ran is the general of the Shaorin army. He is extremely skilled as a swordsman and has a smart mouth but a calm demeanor. He claims to be Koyu's best friend, but Koyu angrily denies it and he loves to tease him. Despite being a ladies man and having a rather care free attitude, he is very responsible when it comes to his duties as the emperor's guard.
Koyu Ri – Koyu Ri is the very young, yet highly intelligent government official who holds the title of Assistant Secretary of Civil Affairs. He was the youngest person to pass the official exams, passing at the age of sixteen. He is rather short tempered and the emperor infuriates him because he keeps wandering off without doing his duties. When he finally gets assigned to the emperor, he lays down the law and keeps on the emperor and makes sure his studies and his duties are done. Shuei is another person who gets on his nerve because he also doesn't seem to take his job seriously and he is always teased by Shuei because of his seriousness. Despite being a genius, he has absolutely no sense of direction and frequently gets lost in the palace and anywhere else when there's no one with him.
Shoka Hong – Shoka is Shurei's father and works in the archives at the palace. He is kind and seems rather mild mannered and a bit clutzy, but he has a secret side to him that even his daughter doesn't know.
Secondary Characters
Eigetsu/Yogetsu To – Eigetsu is a kind and sweet 13 year old boy that comes to the capital to take the final exams to become a government official. Despite his very young age, he is very smart and is able to place first in the national exams. Along with Shurei, they both overcome obstacles that come their way because of who they are and become close. Eigetsu cannot drink sake or even stand the smell of it. However, if he is forced to drink sake, he turns into a different person named Yogetsu, who is pretty much the very opposite of him…
Ensei Rō – Ensei first appears as a starving man outside of Shurei's house. It is later revealed that he has a shared past with Seiran and despite his shaggy looks, he has is quite intelligent and is involved with the government. He admires Shurei and helps her out in any way he can.
Ryuren Ran – Ryuren is the very eccentric younger brother of Shuei and is very strange. He wears very flashy clothes and sometimes tries to talk to people using his flute. His actions are sporadic and random for the most part which confuses and annoys everyone around him but he is a genius.
Advisor Sho – One of the three Elders of the kingdom who offers Shurei a reward if she is able to better the emperor. He is very wise and seems to be pulling the strings behind the scenes quite often. He holds a secret that no one knows about…
Enjun Sa – The second of the three Elders of the kingdom. He is very wise but has a secret agenda…
Sō-Taifū – The third of the three Elders of the kingdom. He is a war hero and is responsible for training Ryuki and Seinan in the art of the sword.
Shusui – Shusui is one of Shurei's ladies in waiting. She is very beautiful and does her job very well (besides sewing), but seems to be very skilled in other ways despite being a lady in waiting…
Korin – Korin is another one of Shurei's ladies in waiting. She seems very shy and loyal but is also very loyal to her adoptive father, Enjun Sa and would do anything for him…
Reishin Hong – Reishin Hong is the younger brother of Shoka and Shurei's uncle that she doesn't know about. He is in charge of the Civil/Public Administration Department and is Koyu's adoptive father. He is also very close friends with fellow official Kijin Ko and makes him all of his interesting masks…
Kijin Ko – Kijin Ko is the somewhat strange chief minister of the Department of Treasury and Finances. He is usually very strict, but shows a much kinder side when it comes to Shurei. He is never caught without a mask on his face which everyone assumes that he wears because he is horribly ugly but there seems to be more to him than he lets on…
Sakujun Sa – Sakujun Sa is the middle son of the three brothers who are of the royal family of the Sa province. He shares a past with Seiran and can be rather ruthless considering some of the actions he has taken…
Kokujun Sa – Kokujun Sa is the kind-hearted youngest brother out of the three brothers who are of the royal family of the Sa province. However, because he is so kind, he is viewed as weak from some.
Shunki Sa – Shunki is Enjun Sa's granddaughter. Because she has a direct relation to Enjun, she is hidden away to protect her from those who may go after her life. She lost her parents when she was young and they were killed from a seemingly unlikely source…
"The Story of Saiunkoku" features a total of 39 episodes on nine DVDs. Here is a spoiler-less summary of each episode:
DISC 1:
EPISODE 1- Every Good Deal Has a Catch – Shurei is offered a job worth 500 gold coins, but it's the last thing she expected…
EPISODE 2- A Frog in the Well Knows Not About the Ocean – Shurei tells Ryuki of the painful events from 8 years ago and tries to get him to know more about the world.
EPISODE 3- The Capable Falcon Hides Its Talons – Shurei finds out that Ryuki is not as stupid as he acts.
EPISODE 4- Treasure Buried is Treasure Wasted – Ryuki finds out a secret about Seiran.
EPISODE 5- A Genius Can't Better a Hardworking Man – Everyone meets Shuei's awkward brother, Ryuren.
DISC 2:
EPISODE 6- Lacking the Finishing Touch – Ryuki becomes more of a responsible emperor but Shurei is kidnapped.
EPISODE 7- He Who Swims a Lot Will Drown – Ryuki is desperate and will do anything to save Shurei.
EPISODE 8- To Borrow a Cat's Paw – Someone mysterious appears from Seiran's past.
EPISODE 9- A Journey of a Thousand Miles Begins with a Single Step – Shurei starts work in the outer courts but disguised as a boy.
EPISODE 10- Good Things Come to Those Who Wait – Everyone finds out who Ensei really is.
DISC 3:
EPISODE 11- There's No Medicine For Lovesickness – Shurei falls ill after falling into a cold river and people from the palace come to help.
EPISODE 12- Discretion is the Better Part of Valor – Shurei meets a shy young man named Eigetsu who seems to hold some secret.
EPISODE 13- An Unexpected Surprise – Eigetsu's secret is revealed and Shurei, Eigetsu, and Ryuren take the national exams.
EPISODE 14- Three Years on a Rock – Shurei and Eigetsu start their jobs as government officials but they face a lot of trials from the other new officials out of spite.
EPISODE 15- A Child Knows Not of His Parent's Feelings – Despite all of his success, there's still something Koyu longs for.
DISC 4:
EPISODE 16- There Are No Demons in this World – Shurei and Eigetsu's troubles keep mounting but they keep doing their best. Meanwhile a plan to get rid of Shurei and her sponser, Reishin go into effect.
EPISODE 17- Let Sleeping Dogs Lie – Kuro Hong sets his own plan into effect after hearing of Shurei's treatment.
EPISODE 18- Hiding One's Head But Not One's Bottom – Shurei is finally able to prove that she is truly worthy of being a government official.
EPISODE 19- Send Your Child on a Voyage – All of the new officials are given their new positions. Shurei and Eigetsu are both assigned to the Sa province.
DISC 5:
EPISODE 20- Flowers Blooming From Dead Trees – Seiran recalls his past and how he ended up with the Hong family.
EPISODE 21- The Wise Man Does Not Court Danger – Shurei finds out who was behind her kidnapping a year ago.
EPISODE 22- While There is Life, There is Hope – Korin joins Shurei and Eigetsu on their journey to the Sa province and they have 3 months to get there.
EPISODE 23- Companionship in Travel, Compassion in Life – Just when they are about to reach the Sa province, everyone but Shurei gets captured and Shurei must find a way to free them.
DISC 6:
EPISODE 24- Bolt Out of the Blue – The mastermind behind the kidnapping is revealed and the party is able to escape with the help of someone linked to the kidnapping.
EPISODE 25- An Accidental Resemblance – Everyone heads to Kinka without knowing about the others. Seiran and Ensei confront someone from their past.
EPISODE 26- Crows in a Moonless Night – Sojun finds out that Korin was captured instead of Shurei and is enraged.
EPISODE 27- The Prettier the Flower, the Higher the Branch – Shurei is finally reunited with the rest of her friends.
DISC 7:
EPISODE 28- It's Always Darkest Before the Dawn – Shurei and her party try to clear out the bandits in Kinka.
EPISODE 29- 1000 Years' Worth of Thoughts in a Single Day – Shurei and the others learn of a blockade on the Sa province capital, Koren and hurry over there.
EPISODE 30- Women Are Brave – Shurei is determined to get through the blockade no matter what to meet the 3 month deadline.
EPISODE 31- A Diamond in the Rough – Shurei decides to go to the selection ceremony despite the dangers that await her.
DISC 8:
EPISODE 32- A Woman's Word Is Her Bond – Shurei searches for Eiki and Kokujun in the Sa Palace.
EPISODE 33- No Use Crying Over Spilled Milk – The day of the Selection Ceremony for the new head of the Sa family finally arrives.
EPISODE 34- Fight Poison With Poison – Shurei and Shunki go to find Kokujun while Seiran confronts Sakujun.
EPISODE 35- Every Meeting Ends in Parting – Kokujun is officially named as head of the Sa family.
DISC 9:
EPISODE 36- All is Right in the World – Shurei and Eigetsu meet their assistant governer, Yushun Tei.
EPISODE 37- Tears From Eyes and Rain From Heaven – Shurei and Eigetsu finally safely become the governers of the Sa Province. Shurei dives into her work to get her mind off of something and Shurei and Seiran head back to Kiyo.
EPISODE 38- There Is No Today After Today – Shurei along with Seiran, Yushun, Kokujun, and Rin Sai get to Kiyo to attend New Year's Greetings to the Emperor celebration.
EPISODE 39- Fate is a Mysterious Yet Fascinating Thing – Shurei tries to hold a get together to reunite with all of her loved ones, but Ryuki isn't anywhere in sight…
VIDEO & AUDIO
"The Story of Saiunkoku" is presented in 16:9. The animation is high quality and the atmosphere as well as the character designs are very pretty.
For audio you have the option of either Japanese or English.  Both are in Japanese and English 2.0.
There are only English subtitles available.
SPECIAL FEATURES:
There are textless opening and textless ending options on disc 1 and 2. Otherwise there are Geneon previews available on each disc.
When watching the first episode of this series, I believe that some may get the idea that it is going to end up being an anime solely about a love story between Shurei and Ryuki… however the actual series strays far from that. Of course, the possible love story between Shurei and Ryuki are indeed a factor in this whole series, but most of the series centers around Shurei and her dream to become a government official and all of her trials and tribulations to attain that dream.
This anime surprisingly deals with alot of heavy issues such as discrimination because of age or sex. In fact, each episode corresponds with the proverb mentioned in the episode title, so each episode has some moral theme discussed. I think that was one of the parts of this anime that I enjoyed the most because I love kotowazas or proverbs. I thought that was smartly put together and entertaining.
This anime is for the most part is pretty serious, but blends in humor and action. The humor in this series can be silly, but is never too over the top. As for the action, the action is a bit more subtle so for those looking for a series full of fighting and action throughout, this series may not be for them. There is also romance involved in this series as well, but that is once again not the prominent theme of the series. However, I think the relationship between Shurei and Ryuki is absolutely charming. This is also a very character heavy series, but thankfully despite the many characters, it's not too overwhelming. Although somewhat remeniscient of "Fushigi Yuugi", the stories are very different and the only similarities might be that there are many important male characters surrounding one female lead character and that the stories take place in kingdoms with a lot of Chinese influences. Also, Shurei and Miaka are nothing alike.
This series mostly concentrates on Shurei's perseverance on attaining her dream: to become a government official and helping everyone that she can. Throughout the series, she keeps overcoming various obstacles and is able to make the impossible possible. Of course, she has assistance from those around her, but the reason many of them even help her out is because they are inspired by how hard she works on her own.
This series has an all-star Japanese cast including Houko Fukushima, Tomokazu Seki, Hikaru Midorikawa, Nobuyuki Hiyama, Toshiyuki Morikawa and Shuichi Ikeda just to name a few. The English cast did a great job in the dub as well.
I believe this would be a great series for a variety of audiences. This series is smart, charming, and has bits of humor mixed in. I believe that some female fans will look forward to seeing all of the nicely drawn male characters that surround Shurei in the series. Even though action is not one of the most prominent factors of this series, there is enough of it considering this story is about politics and war as well.
However, because this is such a sophisticated story and deals with alot of politics, it may be hard for younger audiences to understand everything. I believe the humor is enough that it can keep their attention if they were to watch it.
As you watch the series, you find yourself cheering Shurei on because of everything she has to go through and what she's willing to do just to attain her dream. Throughout the series she is able to make the impossible possible and even though the circumstances may be different in our lives, I know most of us can relate to wanting to attain an assumingly impossible dream.
I highly recommend this series and hope that others are able to enjoy it as much as I did.
MOVIE COMPANY: POLYGRAM FILMED ENTERTAINMENT
CAST:  Frances McDormand, William H. Macy, Steve Buscemi, Harve Presnell, Peter Stormare
DIRECTED BY:  Joel Coen
PRODUCED BY:  Ethan Coen
INTERNET MOVIE DATABASE URL: http://us.imdb.com/Title?0116282
TYPE OF MOVIE: Comedy, Thriller, Drama
DURATION:  1 hour and 38 minutes
Nominated for seven Oscars, including Best Picture, and winner of two (Actress and Original Screenplay), this "darkly amusing" (Los Angeles Times) thriller combines a "First-rate cast" (Variety), "a dazzling mix of mirth and malice" (Peter Travers, Rolling Stone) and an unusual kidnapping plot that unravels the Midwest like never before.
Jerry (William H. Macy), a small Minnesota town car salesman, is bursting at the seams with debt…but he's got a plan.  He's gonna hire two thugs (Steve Buscemi and Peter Stormare) to kidnap his wife in a scheme to collect a hefty ransom from his wealthy father-in-law.  It's gonna be a snap and nobody's gonna get hurt…until people start dying.  Enter Police Chief Marge Gunderson (Frances McDormand), a coffee-drinking, parka-wearing-and extremely pregnant-investigator who'll stop at nothing to get her man.  And if you think her small-time investigative skills will give the crooks a run for their ransom…you betcha!
DVD EXTRAS:
• Region 1 encoding (US and Canada only)
• Color, Widescreen
• Theatrical trailer(s)
• Full-screen and widescreen anamorphic formats
KNOWN DVD SECRET(S): None at this time
DVD REVIEW:

It has taken me four years to see this movie.  I always wanted to but never had the time.  Now that I have seen it and hear so much raves for the film, I'm sorry to disappoint people but I maybe one of the few that didn't enjoy this film tremendously.
This movie is put on the pedestal as one of the top 100 movies of all time.  Some critics put it in their top 10 movies of all time.  For me, I guess I give it credit for being a low budget movie done right.
It's not that I thought this was a bad movie because it's good.  It's just that, I thought it was a comedy.  DJ's were promoting this as a funny film about people in Minnesota and when I start seeing this as a dark thriller, whoah!  I wasn't prepared for it.
As for the storyline, I enjoyed Frances McDormand's acting.  Very well acted!  The others did a great job as well!  Especially Mr. Macy…  It's kind of sickening to think some people do what happened in the storyline..especially since this story is based on a true story…ugg..
The colors are brilliant in this movie, the menu has some cool motion effects but all the DVD comes with is a trailer and a "collectible booklet"…
Anyway, don't trust my review.  If thousands of people love it and I'm the only one who thinks it's a little above average, I guess it's worth checking out…but still..for me, it's not the greatest film I have ever seen.
THE MOVIE: B-
THE DVD EXTRAS:  D-
THE DVD OVERALL:  C
BUY THIS DVD: