Warabigaoka Monogatari by Himuro Saeko (A J!-ENT Manga Review)
March 30, 2009 by Michelle Tymon
---
---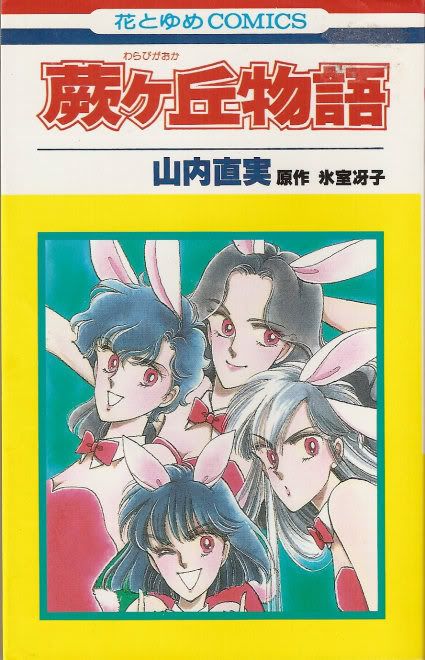 © Warabigaoka Monogatari image courtesy of HAKUSENSHA Inc.
MANGA TITLE: Warabigaoka Monogatari (蕨ヶ丘物語)
STORY BY: Himuro Saeko (氷室冴子)
ART BY: Yamauchi Naomi (山内直美)
FIRST PUBLISHED IN JAPAN: By Hakusensha on June 25th, 1986 (ISBN4-592-11803-0)
PAGES: 194 PAGES
Warabigaoka Monogatari is a single volume shojo manga, based on Himuro Saeko's novel by the same name. The volume includes 4 single chapter stories centering around the women of the Gondo family, the richest family and most powerful in Warabigaoka.
Warabigaoka Monogatari was first a novel by author Himuro Saeko, which was then turned into a manga soon after through Hana to Yume comics and artist Yamauchi Naomi. There are four chapters in the story: the Self-Titled chapter, the Light Mystery chapter, the Taisho Era Romance chapter, and the Love Comedy chapter. Each chapter can be read as stand alone stories, but all slightly tie in with each other because at least one of the main characters in each chapter are one of the women from the Gondo family. Even though you can read them seperately, if you read from the first chapter to the last, the overall picture of the Gondo family builds and you learn more and more about each of the main characters.
The Gondo family has been at the head of Warabigaoka for generations. There are four sisters in the current generation of the Gondo family (Nagako, Tsugiko, Machiko, Sueko), and their grandmother, Koume is the matriarch of the family and probably the most powerful person in Warabigaoka.
The first chapter stars Machiko, the third daughter of the Gondo family. She considers herself a pretty
normal high school girl, but her daily life deals with her principal chasing away any possible suitors because of orders from her grandmother. Because of this, any boy who even looks at her is chased away by the
principal so her dreams of finding a boyfriend are crushed. However, there is one boy who insists on
pursuing her; the only problem is he's younger, in junior high and a cry baby. Uemura Sanshiro is an
innocent boy who is head over heels in love with Gondo Machiko. However, Machiko has no interest in him
because he's too young, despite his daily attempt to get closer to her. One day Machiko finds out that she
may be at the head of the line to carry on her family name because of her two older sisters' actions that
make them unfit. Machiko dreads the possibility of herself having to carry on the family name and all the
responsibilities and the freedom that takes away, but Sanshiro might be the key…
The second chapter stars Iwasaki Mineko and Gondo Sueko, who is the 4th daughter of the Gondo family.
Iwasaki Mineko is a city girl who is forced to move to Warabigaoka because of her father's new job as the
principal of the junior high school she attends. She has a hard time adjusting to the country, and is
convinced that everyone hates her because of her coming from the city, especially her classmate Gondo
Sueko. She believes that Sueko acts and ringleader causing everyone to make fun of her and bully her. One day, Sueko tells her to meet her after school. Mineko is ready for a showdown with Sueko when she overhears two undercover police officers talking about going into the Gondo compound. She tells Sueko, who then takes her back to the Gondo compound to tell her grandmother. They put their differences aside when they realize that someone is trying to cause a scandal not only to bring down the Gondo family, but the scandal would involve Mineko's father as well.
The third chapter stars Gondo Koume, the current head of the Gondo family. Just like her grand
daughters, Koume was looking forward to freedom from her responsibilities as head of the household by
having a proper heir named in her place. However, with her grand daughters failing her left and right, her
chances at freedom seem to be fading. After hearing that one of her former crushes died of cancer, she
decides to go hunt down at least one of her seven remaining crushes that could be alive… before they all die on her. Convinced that she still has time and is still young, she sets on a small journey along with her friend to find one of her old loves.
The fourth and final chapter stars Gondo Tsugiko, the second daughter of the Gondo family. Tsugiko went
off to college away from home to gain a bit of freedom, and also hoping to keep it for good. Since the oldest sister, Nagako did something to disqualify herself from becoming the next in line to take on the family name, Tsugiko decides to do something as well. Tsugiko decides to "run off" with Younosuke, a student that goes to the same college as her. However, she barely knows him and he's not her type whatsoever. Despite how she thinks he looks (nerdy and unattractive), she surprisingly learns his reputation for being a playboy and takes a chance and asks him to run off with her to get hitched. As soon as her family back home hears of this, they would surely take her out of the running to carry on the family name since she'd be bringing shame upon the house by running away with someone. He agrees quite simply, to her surprise, but she takes full advantage of the situation. She soon realizes that she may not be the only one who has an agenda and not everything is as it looks.
Warabigaoka Monogatari is a very light read where you get to enjoy more than one genre of stories in just one volume. Despite being short and even though there isn't a very heavy, intense storyline, I think it's both well written and drawn very well. The art is definitely very shojo manga-ish with big eyes and chibis popping up here and there, but the attention to detail is still there and overall the art is nice. However, this did come out over 20 years ago so some readers can consider the art as dated, but that should not distract them from reading this manga. The characters are all entertaining, making the stories fun to read.
I think out of the four chapters, my favorite would have to be the Light Mystery chapter with Sueko and Mineko. Their interactions make the chapter fun and this chapter was the only one that wasn't completely centered on a love story, however I did also enjoy the first chapter with Machiko and Sanshiro. The only sister out of the four that never got her own chapter and you only hear about in each chapter is the oldest sister, Nagako. Instead, you get a chapter featuring their grandmother but I think it was a chapter that was needed so you get to see things from her point of view as well. It's interesting that even though each story was different (but connected through the characters), there was the theme of obtaining freedom throughout the whole book.
Sadly, I don't think this title is going to make it over for translation in the US, not to mention it's a hard title to find even in Japan because it's so old. I've included a link where you can buy used copies through amazon.co.jp but I doubt you'd be able to find a brand new copy of this manga. But if you're able to read Japanese and are looking for a quick and fun read, I highly recommend this title.
---
---
General Disclaimer:
J!-ENT has not received any compensation from the company for this post. J!-ENT has no material connection to the brands, products, or services that are mentioned in this post.

For Product Reviews:
For product reviews, J!-ENT has purchased the above product for review purposes or may have received one or more of the products or services mentioned above for free by the company which in no way affects our reviews, may it be positive or negative. We only recommend products or services we have tested/reviewed and believe will be good for our readers.

For Advertising:
Some of the links in our posts are "affiliate links." This means if you click on the link and purchase the item, J!-ENT will receive an affiliate commission.

J!-ENT is disclosing this in accordance with the Federal Trade Commission's 16 CFR, Part 255: "Guides Concerning the Use of Endorsements and Testimonials in Advertising."
---