Claymore 16 by Norihiro Yagi (A J!-Ent Manga Review)
August 20, 2010 by Michelle Tymon
---
---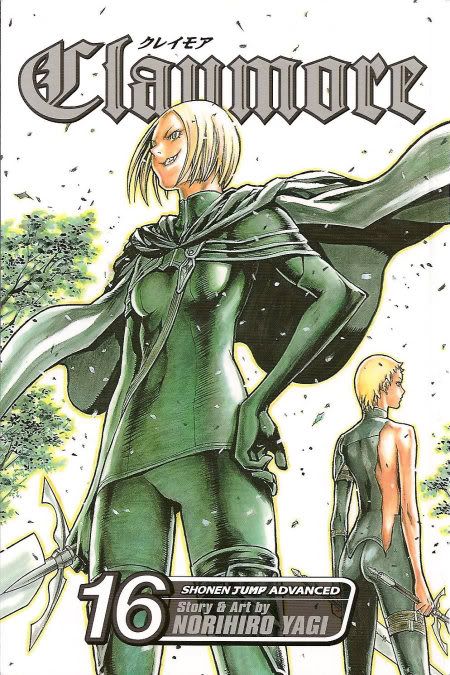 "Claymore 16′ is the exciting continuation of "The Lamentation of the Earth" saga. This dark fantasy is full of action and wonderful characters. A Must Read for "Claymore" fans!"
© Claymore image courtesy of Norihiro Yagi, Shueisha Inc., VIZ Media
MANGA TITLE: Claymore 16
STORY AND ART BY: Norihiro Yagi
FIRST PUBLISHED IN JAPAN: By Shueisha on May 1, 2009 (ISBN 978-4-08-874668-5)
PUBLISHED IN USA BY: VIZ Media
RATED: T+ for OLDER TEEN
PAGES: 202 PAGES
In a world where monsters called Yoma prey on humans and live among them in disguise, humanity's only hope is a new breed of warrior known as Claymores. Half human, half monster, these silver-eyed slayers possess supernatural strength but are condemned to fight their savage impulses-or lose their humanity completely.
After Miria's incredible revelations about the origins of the Yoma, the seven warriors split up to settle their affairs and say their goodbyes in preparation for the final battle against the Organization. Helen and Deneve fall in with a spirited young warrior of the current generation and soon find themselves confronting the Organization's latest, most terrible weapons.
Claymore is a manga that focuses on the Claymore Clare and her small band of Claymores who are now on their own after the Organization they worked for left them for dead. Claymores are warriors created by the Organization who are half human and half Yoma and are built so they can spot and fight Yomas that hide among the humans and plague the land.
In this particular volume, Clare and the other Claymores working with Miria split up and prepare for their final battle with the Organization. Helen and Deneve run into a rather powerful Claymore named Dietrich and run into the Awakened Being, Isley as well. As they are battling Isley, they run into the newest and most gruesome threat sent out by the Organization called Abyss Feeders. Abyss Feeders are creatures without a soul with just one motive: to devour Awakened Beings and kill anything else that may get in the way…
This particular volume concentrates on the following characters:
Clare: Clare is the main character of this story. She is one of the Claymores that was left for dead after the battle of the North along with a few others. She is on a mission to find Raki who was once her traveling partner that she was separated from 7 years ago. Currently, she is traveling with Cynthia and Yuma and they happen to run into Rubel.
Rubel: Rubel is a mysterious man in black that gave Clare her orders from the Organization when she was still in the Organization. He reappears in this volume and it is actually revealed that he is a spy working against the organization to take it down.
Helen: Helen is a rather hot-headed Claymore that usually leaps before looking. Her and Deneve are traveling together currently and just like Clare, she is one of the Claymores that was left for dead and is working with Miria.
Deneve: Deneve is a rather calm and serious Claymore that is currently traveling with Helen. She usually is the voice of reason of Helen… even though that might not always work either. Like the others, she is another Claymore that was left for dead and is now working with Miria. She has great regenerative abilities.
Dietrich: Dietrich is a current Generation Claymore that Helen and Deneve run into and help from an Awakened one. She is rather skilled and strong and is loyal to the Organization. However despite her loyalty, she is grateful towards Helen and Deneve for helping her and she assists them for a little while on their journey.
Cynthia: Cynthia is another Claymore working with Miria and is currently traveling with Clare.
Yuma: Yuma is another Claymore working with Miria and is currently traveling with Clare.
Isley: Isley is a very powerful Awakened Being that has decided to hide among the humans in the town that Helen and Deneve find, however he quickly reveals himself when the two warriors come before him. Their battle is quickly interrupted though by new weapons sent out by the Organization called Abyss Feeders…
Riful: Riful is another very powerful Awakened Being. She looks and acts like a child but is incredibly powerful. She lives in a castle with Dauf and are currently trying to awaken something that they found and she is trying to get the Claymore Renee to awaken it.
Dauf: Dauf is Riful's lover and lives in the castle with her. He is definitely more brauns over brains and follows Riful blindly.
Renee: Renee is currently the #6 in this generation of Claymores and is currently captured by Riful and Dauf to try to awaken a certain being.
"Claymore 16" features 6 chapters. Here is a spoiler-free breakdown of each chapter:
Scene 84: The Lamentation of the Earth, Part 2 – Clare is unexpectedly reunited with Rubel and Renee tries to figure out how to escape from Riful.
Scene 85: The Lamentation of the Earth, Part 3 – Helen and Deneve run into a Claymore named Dietrich.
Scene 86: The Lamentation of the Earth, Part 4 – Helen and Deneve run into Isley.
Scene 87: The Lamentation of the Earth, Part 5 – Helen and Deneve's battle with Isley continues.
Scene 88: The Lamentation of the Earth, Part 6 – Helen and Deneve's battle with Isley is interrupted by the Abyss Feeders.
Scene 89: The Lamentation of the Earth, Part 7 – The battle between Isley and the Abyss Feeders concludes…
"Claymore" is a wonderful fantasy action series full of great characters and an exciting story. If you're looking for a beautiful dark fantasy, "Claymore" would be an excellent choice. This is definitely a series for older readers though, since there is quite a bit of violence and some nudity. There is also quite a bit of the creepiness factor, especially in this volume with the Abyss Feeders.
This series is full of strong female characters, considering Claymores are mostly female. I believe that factor will attract both male and female audiences. It was definitely an appealing factor for me because I always look for strong female characters. Clare is a great leading character: strong, loyal and despite being a Claymore, still exhibits quite a bit of human emotions. A relationship I enjoy quite a bit is the relationship between Helen and Deneve. They are polar opposites, however that's also the reason why they compliment each other so much. Helen is quick-tempered and quick to act, mostly before thinking and Deneve is calm and serious, always thinking things through. There are a few strong male characters in the series though, like Isley and Dauf. Despite being the strong male character in the series, Isley's fate is challenged in this particular volume.
Since this is volume 16, I don't recommend just buying and reading this volume by itself. There are so many characters in "Claymore" and so much has happened by this volume that there is no point in just trying to read this volume. You will not understand anything that is going on. This particular volume concentrates a lot more on Helen, Deneve, and Dietrich rather than Clare, who only appears in the first chapter and a little bit in the second chapter of this volume.
As I mentioned, this series definitely has a creepiness factor. Between Riful and the Abyss Feeders in this volume, it's quite intense. Riful looks like a harmless little girl but is rather deadly and has dark intentions… which all in itself is creepy. The being she's trying to awaken is quite creepy too… I won't say what it is because it'd be a spoiler. The Abyss Feeders are probably one of the creepiest things I've ever seen. They look like female zombie creatures that are barely dressed and have their eyes and mouths sewn shut. Of course, they are definitely supposed to be creepy. This volume is full of creepy, yes… but it doesn't lack story or great characters.
At first, I wasn't much of a fan of Norihiro Yagi's art. I have had the first volume of "Claymore" for quite a while and didn't really care too much for the art then. I thought that the villagers had awkward looking faces, and I thought that the Claymores were all too long in the bodies (I'm ridiculously picky on weird things in art). However, by this volume, his art has vastly improved (just like many other manga artists, their art improves a great deal over volumes). The art has definitely grown on me. The amount of details that he puts in the environment is beautiful. Not to mention the amount of detail he puts into the individual designs of the Awakened Beings is amazing. Also the individual faces of all the Claymores are beautiful and to be honest, it's amazing that he's able to individualize each of the Claymores and think up so many different hairstyles for each (since each Claymore has silver eyes and light blondish hair). As I mentioned, there is nudity in the series but I don't think that it's used crudely or unneeded for the most part. However, that may be a minor detractor for some people. Overall, I hope people can appreciate the beauty in his art.
When I first spotted "Claymore" in Japan, the first thing it reminded me of was "Berserk", a manga series by Kentaro Miura. I thought the art styles were similar and both are dark fantasies. "Claymore" is definitely not as dark as "Berserk", but I believe that audiences that enjoy "Berserk" may enjoy "Claymore" quite a bit too.
"Claymore" is definitely a must-read if you enjoy action series. This series, and particularly this volume is full of non-stop action. I think this series would have a huge male fan base, but I hope girls enjoy it too. There isn't much romance in the series but as I mentioned earlier, there are so many powerful female characters that I hope would bring in a female audience as well. This volume of "Claymore" doesn't disappoint whatsoever and I highly recommend this volume if you have already read the rest of the series. It will definitely make you eager to read the continuation. Wonderful work!
---
---
General Disclaimer:
J!-ENT has not received any compensation from the company for this post. J!-ENT has no material connection to the brands, products, or services that are mentioned in this post.

For Product Reviews:
For product reviews, J!-ENT has purchased the above product for review purposes or may have received one or more of the products or services mentioned above for free by the company which in no way affects our reviews, may it be positive or negative. We only recommend products or services we have tested/reviewed and believe will be good for our readers.

For Advertising:
Some of the links in our posts are "affiliate links." This means if you click on the link and purchase the item, J!-ENT will receive an affiliate commission.

J!-ENT is disclosing this in accordance with the Federal Trade Commission's 16 CFR, Part 255: "Guides Concerning the Use of Endorsements and Testimonials in Advertising."
---