BLACK CAT VOL. 1 by Kentaro Yabuki (A J!-ENT Manga Review)
January 11, 2009 by Michelle Tymon
---
---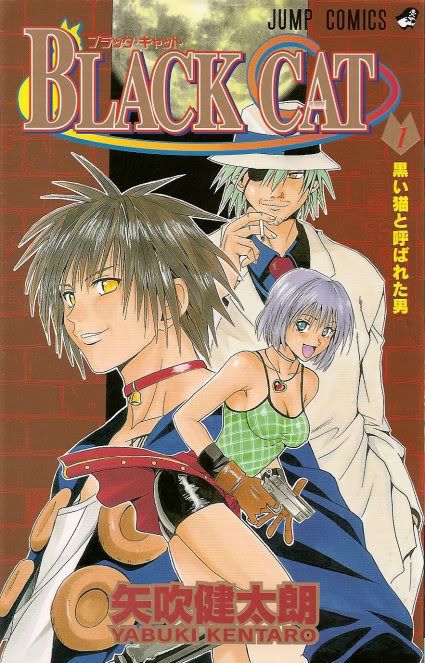 © Black Cat image courtesy of SHUEISHA Inc.
MANGA TITLE: Black Cat Vol. 01: The Man Called Black Cat
STORY AND ART BY: Kentaro Yabuki (矢吹健太郎)
FIRST PUBLISHED IN JAPAN: By Shueisha on January 11th, 2001 (ISBN4-08-873065-8)
PUBLISHED IN USA BY: VIZ Media, LLC.
RATED: T FOR OLDER TEENS
PAGES: 208 PAGES
Train Heartnet, also known as "Black Cat," was an infamous assassin for a secret organization called Chronos…until he abandoned that cold-blooded existence to live on his own terms as an easygoing bounty hunter. But is Train's past as far behind him as he thinks?
Black Cat is an action-packed series that has beautiful art, action, humor, and both characters and a story that are appealing to both male and female readers.
In the year 2000, a young manga artist named Kentaro Yabuki's series Black Cat was serialized in Weekly Shonen Jump in Japan. The series quickly gained popularity and in the end would have 20 volumes. In 2006, the series began publication in the US through VIZ Media.
The main story revolves around Train Heartnet, also known as Black Cat who was a former assassin turned Sweeper (a bounty hunter) who works with his partner, Sven Vollfied. They go from town to town "sweeping" for a living, collecting the money for their bounties to make a living. Train may seem like a very care-free and pretty silly character, but in reality he is quite skilled as a Sweeper. The series does an amazing job combining action and humor, making the series not too serious but not too silly at the same time. As a series, Black Cat ends up having many prominent characters, but the story mostly revolves around these four characters, all who appear in the first volume:
Train Heartnet: The main character of the story. He is currently working as a Sweeper with his partner Sven Vollfield. Train is a very skilled gunman, excelling in speed, strength, and marksmanship. He wears a bell around his neck and has a XIII tattooed on his chest, which matches with the XIII engraved into his gun. As revealed in the first volume, he used to be an assassin who worked for the organization, "Chronos" and was known to bring "bad luck" to those who crossed him. Two years ago, he left the organization to become a "stray" and was thought to be dead. Since then, he teamed up with Sven and has been sweeping for a living. He wears a bell around his neck to remind him of something from his past…
Sven Vollfied: Train's partner in the Sweeping business and a former agent. He is the slightly more serious and the cool one of the two and someone who prides himself in being a gentleman. Because he is a gentleman, when he meets Eve he finds that he can't leave her alone when she is lost and makes an instant bond with her. He is also very skilled as a Sweeper and randomly dabbles in making gadgets.
Rinslet Walker: Rinslet Walker is a world-class thief that has worked on both sides of the fence, working for both the government and the mob. She uses her charms to use men and to get what she wants. She teams up with Train and Sven to infiltrate Torneo's compound to get her next target.
Eve: A little girl who seems harmless at first sight, but is actually Torneo's personal bodyguard. She is actually a bio-weapon of Torneo's creation and can morph her body parts into various things such as knives, which is what she uses the most in volume one. Despite being made to be a weapon, inside she is a little girl who doesn't seem completely content with being a personal weapon. When Train first infiltrates Torneo's compound, she realizes that he smells like blood just like her. She leaves the compound looking for him but coincidentally runs into Sven instead, who treats her like a person instead of a weapon and shows her that there's more to the world than she ever knew.
The first volume acts like an introduction to the four main characters, but already puts the reader into the action.
Chapter 1: This chapter is an introduction to both Train and Sven and their daily lives as Sweepers. They are in a small down doing a sweeping job and they meet a man named Harry, who ends up being a bounty as well. Harry comes along peacefully but just asks for one last request, to see his wife and daughter that he hadn't seen for 7 years. Train accepts but it seems that Train's past isn't the only one coming back to haunt them…
Chapter 2: As Train and Sven are waiting to catch another one of their bounties, Train's past catches up with him in the form of an old colleague. The assassin from Chronos gives Train two options: come back peacefully with him to rejoin Chronos, or die…
Chapter 3: Train and Sven head back to one of their old hideouts and meet up with an old friend, Annette who runs the Café Cait Sith. While they're catching up, a mysterious young woman runs in asking for their help, as she is being chased by a group of thugs. Train first declines because he's hungry but then realizes that the group is causing a scene outside so he quickly takes care of them. It turns out that the group was hired by the young woman to cause a scene and so they confront her. The woman reveals herself as the world class thief, Rinslet Walker, and tells them that she has a job offer for them.
Chapter 4: Rinslet explains the job to Train and Sven. She wants them to do their job as Sweepers and get a man named Torneo, a famous weapons dealer and smuggler while she does her job and steals secret information from his lab. The two accept the job and Rinslet slowly realizes that Train and Sven may not be easy to control after all.
Chapter 5: The three meet up once again for Rinslet so they can discuss their plan to get into Torneo's compound. However, Train decides to go off on his own and get a look at the compound before they carry out their plan. While looking around on his own, he sees Torneo, a few of his henchmen, and a little blonde haired girl in the courtyard. Train soon realizes that the little girl isn't as harmless as she looks…
Chapter 6: Torneo sends his men after Train and Eve decides to follow him as well. Train causes a distraction and Eve ends up leaving the compound, thinking that he actually left when in reality he actually didn't leave and hid. Sven then coincidentally runs into her on the street and saves her from a thug.
Chapter 7: Eve realizes that she is lost and Sven tries to help her out. Eve sees the outside world for the first time and realizes that there is so much she doesn't know. As Sven tries to help her find her way home, they run into Torneo and things take a turn for the worst…
Chapter 8: In the last chapter of the volume, Train, Sven, and Rinslet regroup to infiltrate Torneo's compound to get their targets and save Eve.
The manga also includes pages where Yabuki explains the various terms used in the manga such as "Sweeper", and a page that explains exactly how Eve's power works. At the very end of the volume, there are a couple pages of silliness drawn by the assistant artists that work with Yabuki.
When I first originally read this series in Shonen Jump many years ago, the first thing that caught my attention was the beautiful art and interesting looking characters. The character designs are beautiful and I think the art appeals to both male and female readers. The backgrounds may be overlooked because of all of the action in the first volume but is full of detail as well. The details in the characters' clothes and in their weapons, especially Train's gun, is amazing too.
The story is exciting and action-packed. You learn bits and pieces of history of each of the characters and you want to learn more about them. Next to the beautiful art, the characters are a main attraction to this manga. Each of the main characters are interesting from Train being a former assassin to Eve being a little girl being forced to live as a bio-weapon. Train has a very lovable personality despite his past as an assassin. His silliness combined with his amazing skills as an assassin and sweeper makes him very intriguing. In the first volume, I think the next most intriguing character is Eve. You see a little girl who has lived her life following orders and has killed people, and you realize that she doesn't know how to be a normal little girl at all because of her life with Torneo, but you also get the feeling that she's not evil especially after her interaction with Sven when she gets lost.
Another great thing about this series is the fact that there are strong female characters. Rinslet and Eve even in the first volume show that they can definitely hold their own, which I think will appeal to female readers as well.
Black Cat is indeed an action-packed series, but it has a lot of fun and uses humor quite well. The balance of action and humor in this series is fantastic. Train himself, as I mentioned before, is a great balance of both. The characters of Black Cat are a strong part of what makes this series so interesting, but it doesn't take away from the actual storyline.
A random little thing I always had fun with reading this series is looking for the random little white cat that appears in most if not all of the chapters throughout the series.
Black Cat has been one of my favorites for years now and is always one of the first series I recommend to manga readers looking for a new series. As I mentioned earlier, art is one of the first things that attract me to a series. But of course, art only goes so far. If the story of a manga is boring, it loses its appeal even if the art is amazing. Thankfully, Black Cat doesn't disappoint at all and at the end of each volume, I think readers will find themselves wanting to know what happens next just like I did when I first read it. I find myself recommending the series to a diverse audience because this series has so much to offer to various readers.
Volume 1 acts just as an introduction to what readers can look forward to in the upcoming volumes so I hope that readers definitely pick up volume 2 and on. If they liked the first volume, they won't be disappointed.
---
---
General Disclaimer:
J!-ENT has not received any compensation from the company for this post. J!-ENT has no material connection to the brands, products, or services that are mentioned in this post.

For Product Reviews:
For product reviews, J!-ENT has purchased the above product for review purposes or may have received one or more of the products or services mentioned above for free by the company which in no way affects our reviews, may it be positive or negative. We only recommend products or services we have tested/reviewed and believe will be good for our readers.

For Advertising:
Some of the links in our posts are "affiliate links." This means if you click on the link and purchase the item, J!-ENT will receive an affiliate commission.

J!-ENT is disclosing this in accordance with the Federal Trade Commission's 16 CFR, Part 255: "Guides Concerning the Use of Endorsements and Testimonials in Advertising."
---