J!-ENT's Michelle Tymon interviews Ryo Horikawa
June 5, 2010 by Michelle Tymon
---
---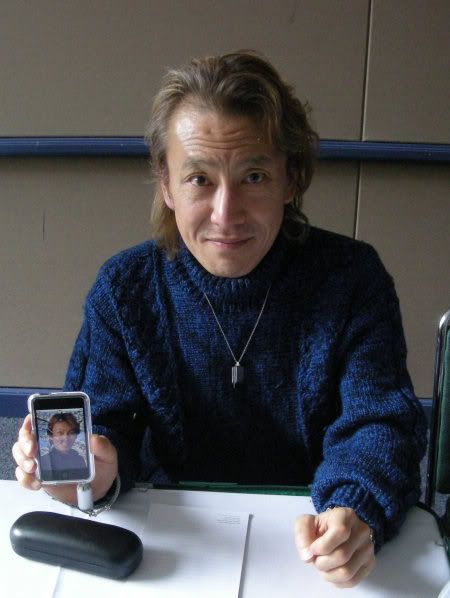 Ryo Horikawa holding up IAM Agency's iPhone application
Photos and Written by J!-Ent's Michelle Tymon

Anyone with any interest in Japanese anime and seiyuus should be familiar with the name Ryo Horikawa. If not, they most likely have heard his voice at least once. His extensive voice acting resume includes such roles as Kenta Hirono (Yume Senshi Wingman) Tadao Yokoshima (Ghost Sweeper Mikami), Takeshi Onimaru (Yaiba), Captain Falcon (Super Smash Bros. series), Reinhard (Legend of the Galactic Heroes),Natsu Tanimoto/Hermit (Kenichi The Mightiest Disciple), Heiji Hattori (Detective Conan), Andromeda Shun (Saint Seiya), and of course Vegeta from various "Dragon Ball" series.
Ryo Horikawa was born Makoto Horikawa in Osaka, Japan on February 1st 1958. Ryo Horikawa started acting when he was still a child. His debut as a seiyuu came in 1984 with "Yume Senshi Wingman" in which he got the leading role of Kenta Hirono through an audition. From then, he played various roles including the very kind-hearted Andromeda Shun from "Saint Seiya" and the very proud and cold hearted Vegeta from "Dragon Ball Z" as well as other "Dragon Ball" series. The roles that he plays are not limited to a certain type of character; he has played all kinds of roles and somehow manages to pull off each one. He's played very soft spoken characters to very arrogant and aggressive characters; he's played very serious roles as well as comedic roles too. In many of the roles he ends up playing the rival of the main character such as Vegeta (Dragon Ball Z, etc), Heiji Hattori (Detective Conan), and Hermit (Kenichi The Mightiest Disciple). Other than anime, he has also does dubbing from American shows and movies like "Thomas the Tank Engine" and "Dirty Harry 2". His acting includes a lot of stage acting which he still does today; he's also been in movies and he's also done voices for Tokusatsu series such as "Samurai Sentai Shinkenja".
Ryo Horikawa is indeed a very talented voice actor, but he is also an entrepreneur. Horikawa-san has his own companies called Aslead Company and IAM Agency as well as his own Seiyuu Acting School where he trains aspiring seiyuu. His school for seiyuu has multiple locations all throughout Japan. At the press conference, he showed off an iPhone/iPod Touch application that his company was making and he said that he wanted to release in the US as well. The application is an alarm clock that plays Vegeta's voice (and possibly his other roles and there seems to be possibilities to get other seiyuu's voices as well). He also has his own radio show on Pakedio AniRaji Channel.
A major project Horikawa-san has just done is a movie called "Asakusadou Suimutan". It was a 99 minute movie shot completely in one shot without any editing or cutting. The story is about Honoka, a girl who lost her mother when she was very young. She is now all grown up and has her own dream, to have a debut live with her band Dream Dolls Collection at the Oedo Band Session 2010. However, something was troubling her. May 5th 2010 is Honoka's 24th birthday and that is the age her mother died at and she has a fear that she may not be able to outlive her mother. Her relationship with her father is not a very good one on top of everything she's feeling. Her father Koutarou has his own band and is rather well known and they will be on the same stage with Honoka's own band. Honoka must try to outlive her mother and make her dream come true. The director of this movie is Kinshirou Ogino and other cast members include Princess Tenko, Shiho Takano, and Yuuki Itou. Horikawa-san said he would like to try to release the finished project in the US as well if he had a chance.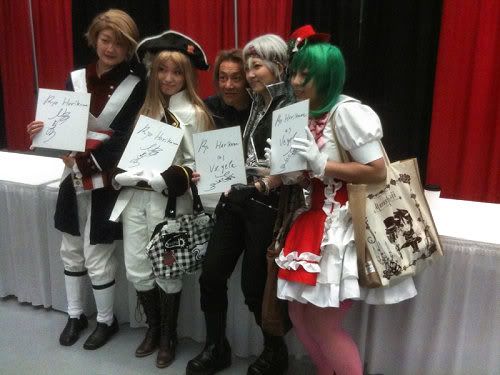 Ryo Horikawa's appearance at Sakura Con was announced rather late, just about a week before the convention so it might have been a surprise for many fans at the event. Because of his late announcement, there were only a few appearances with Horikawa-san at the event. On Friday, he had a press conference and Horikawa-san often stopped to take pictures with fans while walking around the convention. At his autograph signing on Saturday, he kindly signed multiple items for his fans, took pictures with them and even agreed to be shot on video acting out Vegeta and other characters he has done. On Sunday, he held a fan Q&A panel where he displayed his English skills, answering many fan questions in English. Mayumi Tanaka was also at this year's Sakura Con so fans were able to see two seiyuu stars together at one event.
With so much talent in various fields, it's no wonder that he is loved by so many fans all around the world and I'm sure fans in Seattle would love to see him again soon.
I had a chance to sit down with Horikawa-san at Sakura Con 2010 for an interview:
Interview Questions:
J!-ENT: Is this your first time in Seattle and is there anywhere that you'd like to go sight-seeing? I also noticed that you speak English very well. Could you tell us how you learned it?
Horikawa: Yes, it is. Seattle is actually a very special place for me. When I was young, an exchange student from Seattle was staying at my relative's house and she taught me to speak English and I taught her how to speak Japanese in exchange. So you could say that Seattle is a place of my dreams and I'm very happy to be here. As for places to go, I have quite a few places I'd like to go to. So far I got to walk around a little bit and I had some very delicious clam chowder. I hope people don't get the wrong idea about me when I say this, but since I love wine tasting, I would love to go somewhere that has great red wine.
J!-ENT: How are you enjoying Seattle and Sakura Con so far? Now that you've been here a couple of days, did you do any sight-seeing?
Horikawa: It's really fun. Everyone here is very passionate and kind here, the guests, staff, and the attendees. It's been very comfortable so far. I got to go do a little sight-seeing yesterday. I went to the Space Needle and the Sci-Fi Museum and they were both really fun. It was fun seeing the history of sci-fi and also seeing Jimi Hendrix's guitars as well as some history concerning musicians at Experience Music Project as well. I wanted to go the Lake Union too but it was a little cold. If it was a little warmer, I wanted to walk down by the water. I think it was on the second day we got here, we went to Pike Place Market and I loved going there too. It was right by the water and we got to eat some really good chowder. I've been having a great time even though it's just for a short time and I would like to stay longer in actuality.
J!-ENT: Did you know that Japanese anime was so big in the US?
Horikawa: I did hear of that, but I didn't know everyone was so passionate but it makes me very happy as an actor to see that and it makes me want to work harder on my end in creating wonderful characters.
J!-ENT: How do American anime fans and Japanese anime fans differ?
Horikawa: You know, I'm not really sure. I don't think they're that different to be honest. The passion that the fans feel here or in Japan, Europe or anywhere I think is the same.
J!-ENT: How did you get into voice acting?
Horikawa: Well, I started acting as a child. I got into voice acting with the anime, "Yume Senshi Wingman" and before I knew it, many years have passed with me doing this business. Overall I think that when you're playing a role, be it voice acting or playing someone on stage, I believe it's the same thing. You're breathing life into that role, be it through pictures or in person, or standing in front of a microphone or standing on stage.
J!-ENT: Are there any times in auditions that you went in for a certain role and instead got asked to play a different role?
Horikawa: Sometimes I get approached with roles that are very different from myself and I try to stay very open to that and lose any likes or dislikes I may initially feel and instead purely concentrate on what the character would feel or do. For example, if I was that character, what would I do in this situation or what would I feel in that situation, how would I move, etc. I try to take my first honest thoughts from the heart, so as a result I don't really think about this role would be a bit hard for me or this role would be easy for me.
J!-ENT: Could you tell me how you got your debut role as Kenta Hirono in "Yume Senshi Wingman"? Were you offered the role or did you go audition? With the roles that followed your debut, did you get those mostly due to auditions or were you offered the roles?
Horikawa: That was genuinely and simply due to an audition. Of course there were many people there auditioning for the role so I didn't think at all that I would get the role. But as an actor, I've done work on stage and TV so I thought I'd give this audition a shot as well. As I said, I didn't think at all that I would even get the role, so I did the role naturally without too much thought. Before I knew it, I was in the final auditions and I was told "you're the one" and I was like, "Really?". That was the start of my voice acting career. Towards the beginning, because I wasn't that well known yet most of my roles were due to auditions. Once my career advanced more, I was offered some roles as well.
J!-ENT: What would you say was your most difficult role to date?
Horikawa: That's a very difficult question. I think that any role is hard in its own way. Every role that I have done, I personally love. I get asked "What is your favorite role?" quite often, but I feel that if I didn't really love the role, I can't breathe life into the character and give them the soul they deserve. So every role that I've done is very precious to me.
J!-ENT: One of the most popular roles that you've played is Vegeta from the Dragon Ball series. Are there any characters you wish got more attention or popularity?
Horikawa: I've mentioned this before, but I love all of the characters I have done so I don't ever really feel like I like one character more than another. I'm not just saying that just to say it, I really do feel this way from the bottom of my heart. Of course I know that the people who are watching my characters are going to like one character over another character and I think that's just fine. But being on the side that acts out those characters, one of the American voice actors said this earlier as well but we're putting the souls into the characters we act out and that's our job and that's how I want to keep feeling in the future as well. However in the future I may find a character that I might like even more and I'm looking forward to that.
J!-ENT: You have worked with many other seiyuu. Do you have anyone you like working with a lot and are there any seiyuu that you hang out with outside of work?
Horikawa: Well usually in Japan after we're done with recording, all of us go out to dinner or lunch, not just the cast but the staff as well. So we do all get along outside of what programs we may be working on. I do feel that the relationships I've made at work are pretty deep ones. For example of course there's Mayumi Tanaka, Masako Nozawa, Toshio Furukawa, and Tohru Furuya… so yes, there are quite a few.
J!-ENT: Have you ever heard any of the dubbed versions of your characters and if so, what did you think?
Horikawa: Honestly, I have to say that I haven't heard any of them prior to today but I did get to hear a sample earlier and that was fun. I think the English dubs are good and I honestly want to try dubbing in English myself.
J!-ENT: If you were not in the seiyuu business, what do you think you'd be doing?
Horikawa:(Laughs) I wonder what I would have been doing. When I was a child, I really liked boats and I dreamed of being a submariner. Looking back on it now, I'm not really sure why but I liked submarines more than regular boats. It's a really stressful job, for example the US Navy. You have to be really tough not just physically but psychologically or I don't think you would last. I watched American TV shows involving the subject and movies for example "The Hunt for Red October" and "Crimson Tide" with Denzel Washington. I had a point in my life where I really admired people like the captains in those movies, with all of the responsibility they had to have to protect everyone. I don't think civilians really have the opportunity to ever be in a submarine but if I ever had the chance I would love to do so.
J!-ENT: Do you have any secret talents?
Horikawa: (Laughs) It's not exactly hidden but I guess we can make it a secret. It may not be a talent but one of my favorite things to do is wine tasting. It's not just drinking wine, but the communication that takes place with say friends or a girlfriend… family, etc. I enjoy being able to enjoy communication with another. So I go by myself, I go with friends… and also I do like to drink. When everyone around me is happy and having a good time while eating and drinking, I feel happy as well. That is also the energy I try to bring to work as well, when everyone around me is having a good time, I'm having a good time. Outside of work, I also enjoy jogging and walking. I like to walk around and of course it's good for your health. I do quite a bit of walking every day.
J!-ENT: At the press conference, you mentioned that you were working on a movie. Could you tell me a little more about the movie you're working on?
Horikawa: The Japanese title is "Asakusadou Suimutan". Asakusa is a part of Tokyo, "Dou" is referring to city hall and "suimutan" is a bit hard I believe to translate into English. "The Tale of my Sweet Dreams in Asakusa" is what I'm thinking about translating it into. This is a story about human conflict between a father and his daughter and the love that they ultimately have for each other despite their differences. The movie is going to be 99 minutes long, shot in one cut with no editing. So the camera is going to be running that whole time without any cutting and of course that is one of the challenges in this. Movies are usually shot in scenes, then edited and then put back together so it takes days to finish. Since the camera is going to be running for the whole 99 minutes, it's going to be done in one day but of course this in turn calls for a lot more concentration and it calls for a lot more work from us the actors and the staff. We've already started rehearsals and I think that that's going to be the hardest part, so if we don't keep doing rehearsals over and over and getting everything down perfectly it won't work. Of course while in rehearsals, there are times where we're all practicing separately but we're going to have to put everything together on May 5th when we're going to shoot. That's going to be extremely hard. Also for the 99 minutes, there's going to be music playing during some of the parts and those songs are going to act as cues as to where each of us are supposed to be during a certain part so rehearsal is extremely important. This is all going to be very difficult, but I believe that that's also what makes it worth doing and I'm excited to do it.
J!-ENT: Are you going to be releasing the movie in the US as well?
Horikawa: If possible, I would like to release it in the US and we are trying to take steps towards that. I believe the film will premiere around September in Japan and after that I would like to try to get the picture released in the US as well.
J!-ENT: You and Mayumi Tanaka have worked together quite a bit on the "Dragon Ball" series and you're both currently here at Sakura Con. Were you able to do anything like sight-seeing with Ms. Tanaka since you've been here?
Horikawa: I didn't get to go anywhere with her but the other night… (laughs) once again we're all really good friends. The other night we were in the party room and we were having fun and she was spinning plates, and her son is here as well so we were all hanging out. We didn't really get to go anywhere but we already see each other all the time so it's not that big of a deal.
J!-ENT: You were so kind to all of your fans that came to see you at your autograph signing here at Sakura Con. You signed multiple autographs, took pictures and even recorded videos for all the fans that came to see you. How did it feel to see so many fans outside of Japan admire your work so much?
Horikawa: I said this earlier but when those around me feel happy, I feel happy as well. They all seemed really happy and seeing that is very encouraging for me as well. Seeing all these fans that are happy with the work that I do, I feel that I need to work even harder with my roles and really put my heart into it so I can do an even better job. I am very thankful seeing that here, in Japan, anywhere.
J!-ENT: If we were to look in your MP3 and or CD Player right now, what would we find? Or simply, what is your favorite kind of music?
Horikawa: I'm not actually sure what I have in there right now but as for my favorite kind of music, well as I mentioned earlier, there's Jimi Hendrix and American music in general has always had an influence on the youth of Japan. I'm actually in a band right now and I really like rock music… let's see, I also like the Rolling Stones, The Beatles and classic rock.
J!-ENT: You mentioned an interest in guitars and that you were in a band. Do you play guitar?
Horikawa: No, I sadly do not play guitar. I can play the keyboard a little bit, but not enough to call myself a keyboardist. This randomly goes back to an earlier question of what I might have been doing if I wasn't an actor… maybe I would have been in JASDF (Japanese Air Self-Defense Force)… maybe not because I'm a bit weak. I might have been in the restaurant business as well.
J!-ENT: For every interview, we have a section called word play which I give you five words and you give me your definition for those words:
Horikawa: 1. Love: That's deep… My children and my family. When I say "my children", I mean my students. I run a school that specializes in classes for aspiring seiyuu.
2. Success: Keep on going, success is something that you keep striving for.
3. Seiyuu: Acting, to act.
4. Anime fans: I love them all.
5. Sakura-Con: Fantastic.
J!-ENT: Lastly, do you have a message for all of your fans all around the world?
Horikawa: I am very grateful. What I'm grateful for is to be able to meet all of these people who are so passionate and love not just my work but anime in general. All of this is a lot of encouragement for me to work harder and to keep doing this work. I think I'll be doing this job until I die, because I love this job and all the fans that are watching. I want to thank everyone for always watching and I hope that I can return again soon and see everyone again.
Ryo Horikawa's Official Blog: http://ameblo.jp/ryo-horikawa/
Ryo Horikawa's Old Official Blog: http://yaplog.jp/horikawa-ryo/
Ryo Horikawa's Aslead Company Website: http://www.aslead-voice.co.jp/index.html
Ryo Horikawa's I AM Agency Website: http://iamagency.jp/index.htm
Ryo Horikawa's Seiyuu School Website: http://www.iam.tv/index.html
Ryo Horikawa's Radio Show Website: http://www.pkdio.jp/
Ryo Horikawa Wikipedia Page: http://en.wikipedia.org/wiki/Ryo_Horikawa
Official site for "Asakusadou Suimutan": http://a-suimutan.com//
Official Blog for "Asakusadou Suimutan": http://suimutan.otaden.jp/
---
---
General Disclaimer:
J!-ENT has not received any compensation from the company for this post. J!-ENT has no material connection to the brands, products, or services that are mentioned in this post.

For Product Reviews:
For product reviews, J!-ENT has purchased the above product for review purposes or may have received one or more of the products or services mentioned above for free by the company which in no way affects our reviews, may it be positive or negative. We only recommend products or services we have tested/reviewed and believe will be good for our readers.

For Advertising:
Some of the links in our posts are "affiliate links." This means if you click on the link and purchase the item, J!-ENT will receive an affiliate commission.

J!-ENT is disclosing this in accordance with the Federal Trade Commission's 16 CFR, Part 255: "Guides Concerning the Use of Endorsements and Testimonials in Advertising."
---