School Rumble 2nd Semester – The Complete Collection (a J!-ent Anime DVD Review)
February 22, 2010 by Michelle Tymon
---
---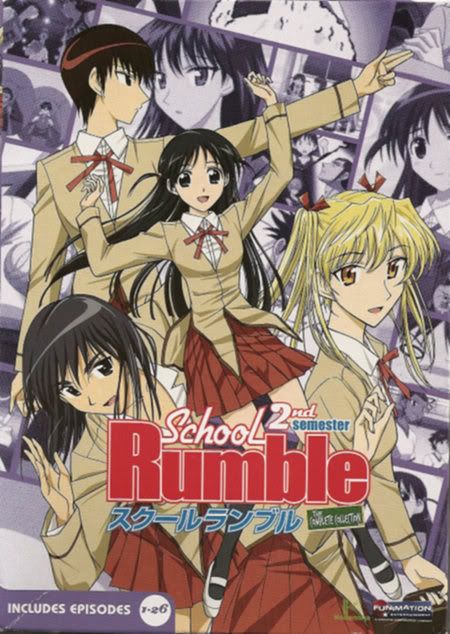 "School Rumble 2nd Semester" is a delightful love comedy full of hilarity and randomness! A super fun series that is a must see!
Image courtesy of © Jin Kobayashi/Kodansha Ltd, Marvelous Entertainment, SOTSU AGENCY, TV Tokyo. All Rights Reserved.
DVD TITLE: School Rumble 2nd Semester The Complete Collection
DURATION: 610 Minutes
DVD INFORMATION: 4:3, ENGLISH & JAPANESE STEREO
COMPANY: Studio COMET/FUNimation Entertainment
RATED: TV-MA
Release Date: September 1, 2009
Based on the Original Story/Manga by Jin Kobayashi
Direction by Takaomi Kanesaki
Music by Toshiyuki Omori
Character Composition by Hajime Watanabe
Anime Production by Studio COMET
Produced by Marvelous Entertainment & SOTSU AGENCY
Featuring the following voice talent:
Hiroki Takahashi/ Brandon Potter as Kenji Harima
Ami Koshimizu/ Luci Christian as Tenma Tsukamoto
Yui Horie/ Leah Clark as Eri Sawachika
Hitomi Nabatame/ Brina Palencia as Mikoto Suou
Kaori Shimizu/ Trina Nishimura as Akira Takano
Mamiko Noto/ Caitlin Glass as Yakumo Tsukamoto
Hiroki Konishi/ Eric Vale as Oji Karasuma
Shinji Kawada/ Chris Cason as Haruki Hanai
Daisuke Kishio/ David Trosko as Kyosuke Imadori
MAKO/ Carrie Savage as Karen Ichijo
Hiroki Yasumoto/ Travis Willingham as Masakazu Togo
Yuu Kobayashi/ Monica Rial as Lala Gonzalez
Nobuyuki Hiyama/ Jason Liebrecht as Harry McKenzie
We still have no idea what's really going on with this show, beyond the fact that the weirdness is piling up!
Curry-fiend Karasuma remains oblivious to Tenma's crush, and Harima still hasn't confessed his true feelings to Tenma. But hey, the thug's got an excuse since he's caught up with his comic career and knee-deep in a blizzard of deadlines! Meanwhile, the love triangles are ever-shifting thanks to wannabe cupids and runaway brides.
Even when you throw a bit of cyborg love, a shipwreck, and a fugitive re panda — seriously, that ain't even scratching the surface. You are encouraged to scratch the pig, though. He likes it! And something rumbles in the next to last episode, no matter what I say next.
School Rumble – The absolutely funniest show you'll ever see that's NOT about anything that rumbles… ever!"
"School Rumble 2nd Semester" is an excellent love comedy series about… everything and nothing all at once. How does that happen? Well, the series doesn't really have a solid plot but covers almost every possible cliche subject (as well as absolutely random ones) used in usual high school animes. And as the official summary says,it's definitely not about anything that rumbles.
The simple summary would be the male protagonist, Kenji Harima wants to profess his love to the oblivious (and not the brightest crayon in the box) Tenma Tsukamoto, while she wants to win the heart of the awkward Oji Karasuma (who happens to be a manga artist on the side) who's just as oblivious towards her feelings toward him. Throughout the series, there are a series of misunderstandings that lead to numerous love triangles and rivals standing in the way. The first part of the series deals with the class of 2-C trying to figure out what to do for the culture festival. That however somehow ends up with them conducting a battle royale (very similar to the movie "Battle Royale" as well…) to make their decision… Once the series gets into the middle of the season, there is a bit more of a steady story while they retain the absolute randomness.
The format of the series is the usual 30 minute (22ish without commercials) episode, but each episode is split up differently. Some episodes have something completely random happen before the opening song runs. Some episodes have random things happen right after the ending song (some of the time having nothing to do with the main episode).
"School Rumble Second Semester" is chaotic but super fun. Will Harima ever successfully be able to tell Tenma his true feelings for her and will she be out of her oblivious state long enough to realize what's going on…?
"School Rumble 2nd Semester" focuses on the following main characters:
Kenji Harima – Harima is the male protagonist of the series. He isn't very bright, but when it comes to his love for Tenma Tsukamoto there is no rival. He tries over and over to profess his love to Tenma, but his words and actions always lead to further misunderstandings and it doesn't help that Tenma is absolutely oblivious. Because of the misnderstandings he creates, he has others falling for him… but because he's as oblivious as Tenma, he has no idea… One of those relationships being with Yakumo, more so Tenma assumes that they are going out. He's terrible at school, but he decided to become a manga artist so that one day he can win the prize for the best new manga artist award and then finally build up the courage to profess his true feelings to Tenma.
Tenma Tsukamoto – Tenma would be the female protagonist of the series. She is for the most part a normal high school girl, but she is ridiculously oblivious. She is in love with the very awkward Karasuma (who is oblivious to her feelings as well). No one really understands why she's in love with Karasuma, but at the same time they don't really question it because of Tenma's awkwardness. Despite her weirdness and obliviousness, she is a very sweet girl deep down. She's extremely loyal to her friends and is very protective of her younger sister Yakumo. She is convinced that Harima and Yakumo are dating (which doesn't help Harima whatsoever…).
Eri Sawachika – Eri is from a very rich family and there are times that that is apparent, but for the most part Eri is a level-headed high school student. She is one of Tenma's best friends and is very loyal to her friends. She is very proud and can have an attitude at times, but deep down she's a good girl. Harima always refers to her as "rich girl" and thinks of her as a snooty self absorbed girl… which for her could be a bit hard considering she may or may not have feelings for him.
Mikoto Suou – Mikoto is another one of Tenma's best friends. She is a tomboy who excels at all forms of sports and is a martial artist (her house is also a dojo). Despite being a tomboy, she does show her girly side once in a while. Just like the other best friends, she is very loyal to Tenma. She is also known for her… well endowed chest… She loves to try to hook Eri and Harima up.
Akira Takano – Akira is also one of Tenma's best friends. She is very, very dry… she never smiles and she seems to know what everyone is truly feeling. But because of that she likes to manipulate things for her amusement (but never to hurt anyone). She has a mysterious side… and for some awkward reason she has an obsession with wearing animal/character costumes…
Yakumo Tsukamoto – Yakumo is Tenma's younger sister and is the polar opposite of her sister. She is smart, nice, responsible and is always trying to help those around her. She is possibly the most normal character throughout the series. She helps Harima out as his manga assistant, but this seems to bring on the misunderstanding they are dating. It's actually unknown(?) if she does actually have some feelings for Harima other than a friend… She takes care of her older sister and actually acts like the older sister out of the two…
Oji Karasuma – Is one of the most awkwardly weird characters throughout the series and is the object of Tenma's affection. On the side, he is a professional manga artist under a different name. He loves curry.
Haruki Hanai – He is the school representative of class 2-C. He loves Yakumo and whenever Harima mentions "Tsukamoto", he gets super defensive thinking he's referring to Yakumo instead of Tenma… which causes a never-ending rivalry with Harima.
Kyosuke Imadori – A good looking classmate of 2-C and is quite the pervert. He's always trying to touch Mikoto's chest and likes to pick on Ichijo, often resulting in a beating from Lala. However, he does show a cuter side at times when it comes to Ichijo.
Karen Ichijo – Karen Ichijo is one of the more timid girls of 2-C. She is in love with Imadori despite his pervertedness…
Masakazu Togo – Togo is one of the popular boys of class 2-D… However he is quite weird and is obsessed with seishun… and for some reason the American national anthem tends to play while he's around.
Lala Gonzalez – Lala is an exchange student from Mexico. She is ridiculously strong and is constantly beating the crap out of Imadori.
Harry McKenzie – Harry is the random blonde-haired exchange student that is rather popular with the girls…
"School Rumble 2nd Semester" features a total of 26 episodes on four DVDs. Here is a spoiler-less summary of each episode:
DISC 1:
EPISODE 1- Scramble Reloaded! Superstar Request! Scandalous Restart! – Harima wants to tell Tenma his feelings for her but fails miserably.
EPISODE 2- Strategies, Battlefields, Friends – The class is split in two teams on what they want to do a the culture festival, so they participate in a survival game to make the final decision.
EPISODE 3- Beautiful Beast vs. Beautiful Beast! God of War vs. God of Warfare! Teacher vs. Student! – The survival game continues…
EPISODE 4- Wild Ideas about the Play! Wild Ideas at the Bathhose! Wild Ideas about Rice Balls! – The class is still trying to figure out what to do for the culture festival. Harima unwittingly makes it sound like he likes another girl when he's trying to profess his feelings to Tenma.
EPISODE 5- Hostesses are Culture! Comics are Culture! Cake is also Culture! – The culture festival happens finally.
EPISODE 6- Sleeping Beast! Kiss Impossible! Finale! – The culture festival continues with a very interesting play.
EPISODE 7- Fight, Hunter! Fight, Eater! Fight, Part-Time Worker! – The class goes camping.
DISC 2:
EPISODE 8- Bam * Birth of a Girls' Basketball Club! Bam * If You Please! Bam * Swing Set of Tears! – The school creates a girls' basketball team.
EPISODE 9- Pass! Dribble! Shoot! – The girls' basketball team play against the outlaw basketball team..
EPISODE 10- Hee! Hee Hee! Hee Hee Hee! – Tenma decides to transfer to 2-D and her class try to get her back.
EPISODE 11- Napoleon, Between Life and Death… Nishimoto, Between Sex and Self-Control… Sara, Between Saintliness and Self – Sacrifice and love are discussed…
EPISODE 12- Perfect, Forbidden! Entry, Forbidden! Shorts, Forbidden! – Tenma's birthday is coming up and Harima wants to do something special for her but will things work out smoothly?
EPISODE 13- When I Turned Around, There He Was. In Karasuma's Name. All Mysteries Revealed! – Harima and Tenma see the ghost of Held-back sensei everywhere they go…
DISC 3:
EPISODE 14- At El Cado… In America (26f)… With America(26h). – Tenma's birthday is here and everyone celebrates.
EPISODE 15- A Man Shut Out, A Man Left Out, A Man Tested Out. – Harima gets his manga published and gets to live with Tenma for a week! What will go wrong?
EPISODE 16- I Don't Want to be Tied to Anyone, I Don't Want to Go to School or Home Anymore, Under the Dark Veil of Night. – Harima gets kicked out of the house by Tenma and ends up at Suou's dojo.
EPISODE 17- Eri's Escape, Harima's Lullaby, The False Bride. – Tenma tries to help Eri escape her arranged marriage proposal by stepping in for her.
EPISODE 18- The Sweet Trap of Work, The Sweet Trap of the Classroom, The Sweet Trap of Celebrity. – Tenma, Yakumo, and Sarah are in a pinch… and Santa comes to save them(?).
EPISODE 19- Here, There and Everywhere, Christmas! A Dash for Christmas! A Shattered Christmas! – Harima finally completes his manga to show to Tenma to convey his true feelings to her… will she get it?
EPISODE 20- More Than Friends… Less Than Lovers… Up Until Then. – School Rumble goes Sentai…
DISC 4:
EPISODE 21- This is School Rumble… It Really is School Rumble… It's School Rumble, I Tell You! – Mahou Shoujo Magical Mai comes true…?
EPISODE 22- First Dreams. Lion's Dance. New Year's. – It's New Year's… has Karasuma finally realized Tenma's feelings for him?
EPISODE 23- Dream Jumbo. Dream Jump. Dream, uh, Press. – Lala tries her hand at ice skating…
EPISODE 24- Southern Rainbow 2-C! Ya'akumo of the Mysterious Island! The Seven Seas! – Eri takes everyone in her class on a luxury cruise… and of course unexpected excitement awaits.
EPISODE 25- It's So Romantic, Harima! Get Publishd in Zinegama, Harima! Come on <3, Harima! – Tenma shows up at Harima's apartment all of the sudden…
EPISODE 26- . – Will Harima FINALLY be able to successfully profess his love to Tenma… or will something get in the way again?
VIDEO & AUDIO
"School Rumble 2nd Semester" is presented in 4:3 and is presented in English and Japanese stereo and there are English subtitles. The art and character designs are great in this series. The character designs I think would appeal to both male and female audiences. The art quality stays consistant throughout the whole series. The environments change throughout the whole series because the randomness of each episode, but it was pulled off wonderfully. In the episodes they make references to other animes and when that happens, they sometimes incorporate the art from those series with great accuracy. There is some awkwardly mediocre CG in some of the episodes, but it doesn't take away from the series at all. The voice acting, both Japanese and English are fantastic in this series. Each character's voice fit perfectly and the English version matched the Japanese version quite well.
SPECIAL FEATURES:
The special features on the discs are interviews with Tenma's voice actress, the creator of the series,textless opening and endings and FUNimation trailers.
"School Rumble 2nd Semester" is a hilarious series filled with great characters and absolute randomness. I found that it reminded me of both "Excel Saga" in its random themes throughout and also a bit of "Azumanga Daioh". One of the pitfalls that can happen in series that are ridiculously silly is that… It can be too silly and the audience may lose their interest after a while. Thankfully that is not the case with this series.
Despite the chaos, the series keeps the audience highly entertained with hilarious happenings. There is one constant throughout the series though: that being Tenma's pursuit to win Karasuma's heart even though he's oblivious and Harima trying to profess his love to Tenma and him failing miserably while she remains ridiculously oblivious. There is a huge cast of characters in this series, most of it consisting of the students of 2-C and then a couple of younger students and also a few members of 2-D. Like any other series with a lot of characters, the huge number of supporting characters is a bit overwhelming at first and it's hard to keep track of everyone, but after a few episodes it gets easier. The many characters ends up more as a positive than a negative in this series because everyone is interesting.
Because this is the second season of this series, the beginning starts with a slight summary of what had happened. I have not seen the first season… But I soon realized that it didn't really matter and I still enjoyed the series. As with any other series with multiple seasons though, I would recommend viewers to watch the first season first. As stated earlier, there are quite a few characters at first to keep track of, but after a while they all become quite distinguishable. Not only that, most of the characters are absolutely entertaining to watch.
I think my favorite part of the 2nd Semester is the mid part of the season where the random craziness calmed down just enough to keep a constant story going, concentrating a lot on Harima finally getting closer to being able to successfully profess his love to Tenma. My favorite character would probably have to be Yakumo because she is the most normal character out of the craziness… however Akira comes in a close second with her dryness and random obsession of wearing various costumes. Surprisingly, there are even rather touching moments out of nowhere (like in the final episode of the series involving the kids' story.) I also love the fact that there are so many parodies of other anime throughout (for example Sailor Moon/Card Captor Sakura, Initial D, and in episode 14 they make reference to about 5 different series) not to mention there's a sentai parody as well. They also made references to "Hissatsu! Shigotonin" AND "Saint Seiya" (two of my favorite things ever) which definitely gets points in my book. There's never a dull moment.
This may not be the best series for anime fans who want something serious, but I think anyone with at least a little sense of humor will find "School Rumble 2nd Semester" super fun and entertaining!
---
---
General Disclaimer:
J!-ENT has not received any compensation from the company for this post. J!-ENT has no material connection to the brands, products, or services that are mentioned in this post.

For Product Reviews:
For product reviews, J!-ENT has purchased the above product for review purposes or may have received one or more of the products or services mentioned above for free by the company which in no way affects our reviews, may it be positive or negative. We only recommend products or services we have tested/reviewed and believe will be good for our readers.

For Advertising:
Some of the links in our posts are "affiliate links." This means if you click on the link and purchase the item, J!-ENT will receive an affiliate commission.

J!-ENT is disclosing this in accordance with the Federal Trade Commission's 16 CFR, Part 255: "Guides Concerning the Use of Endorsements and Testimonials in Advertising."
---