KimiKiss – pure rouge Collection 1 (A J!-Ent Anime DVD Review)
October 7, 2010 by Michelle Tymon
---
---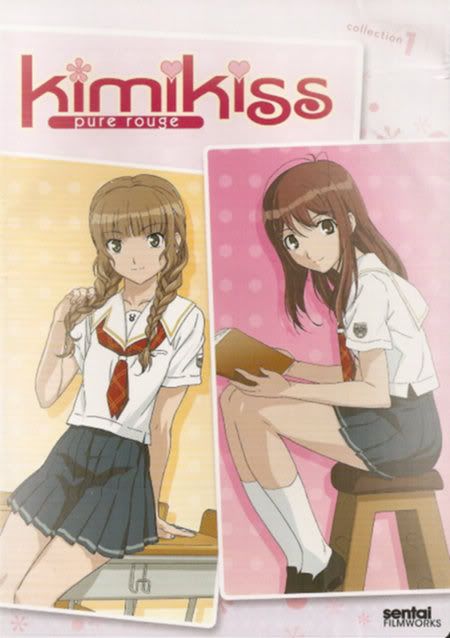 "A cute and funny love comedy. "KimiKiss – pure rouge Collection 1 will appeal to a variety of viewers."
Image courtesy of © Enterbrain, J.C. STAFF, "KimiKiss" Committee. All Rights Reserved.
DVD TITLE: KimiKiss – pure rouge Collection 1
DURATION: 325 Minutes
DVD INFORMATION: 16:9 WIDESCREEN, JAPANESE 2.0 STEREO
COMPANY: Sentai Filmworks
RATED: TV 14
Release Date: October 5th, 2010
Original Work by Enterbrain
Directed by Kenichi Kasai
Music by Hikaru Nanase, Masaru Yokoyama, Noriyuki Iwadare
Art Direction by Shinichiro Kobayashi
Character Design by Kazunori Iwakura
Produced by J.C. STAFF, "KimiKiss" Committee.
Featuring the following voice talent:
Satoshi Hino as Kouichi Sanada
Takahiro Mizushima as Kazuki Aihara
Haruna Ikezawa as Mao Mizusawa
Rie Tanaka as Eriko Futami
Ami Koshimizu as Yuumi Hoshino
Ryou Hirohashi as Asuka Sakino
Takahiro Sakurai as Eiji Kai
Sakura Nogawa as Nana Aihara
Jun Fukuyama as Akira Hiiragi
Mamiko Noto as Mitsuki Sijyo
Kaori Mizuhashi as Narumi Satonaka
Mai Nakahara as Megumi Kuryu
Ayako Kawasumi as Tomoko Kawada
Kouichi always thought of Mao as his little sister, but when he wakes up from a dream and she walks into his house, he doesn't even recognize her. It's probably because after living in France for several years, Mao is definitely not anyone's little sister anymore!
To further complicate things, Kouichi's mom has invited Mao to stay at their house while she attends the same high school as Kouichi and their mutual friend Kazuki. But given that Kouichi's been trying to build a relationship with Yuumi, the revelation that he's now sharing accommodations with a non-related girl is definitely going to cause some emotional waves – or maybe a tsunami by the time Kazuki's sister Nana, her best friend Narumi, and all the other kids at school get overly involved.
"KimiKiss – pure rouge Collection 1" is based off the dating simulation game by the same name and this collection has the first 13 episodes of the series. The major difference between the anime and the game would be that a set male protagonist exists (in the game, there is a male protagonist but the player can change the name of the character to his own name and the game changes depending on the player's actions).
The anime actually has two male protagonists: Kouichi Sanada and Kazuki Aihara (The default protagonist's name in the game happens to be Kouichi Aihara). As to be expected from an anime based on a dating sim for guys, there are a lot of girls in the series… lots (6 girls actually… so 3 for each? I kid, I kid…) Mao Mizusawa is one of those girls, and a childhood friend of Kouichi and Kazuki who went away to Paris a couple of years ago and just came back to Japan to spend her last year in high school in Japan instead of Paris. So what will this year hold for Kouichi, Kazuki, and Mao's love lives? Watch and find out.
"KimiKiss – pure rouge" focuses on the following main characters:
Kouichi Sanada – Kouichi is one of the two male protagonists in this series. He's pretty much a normal high school student who grew up with Kazuki and Mao. Mao goes away to Paris two years ago and shows up at his house and at first he doesn't recognize her, but as soon as he does, he finds out that she's going to be living at his house and going to his school while her parents are still in Paris. He sort of dreams of becoming a novelist. He has feelings for a girl named Yuumi Hoshino but has trouble talking to her at first. With the help of Mao, he's able to finally talk to her and starts building a relationship with her, but he may also have feelings for someone else…
Mao Mizusawa – Mao is somewhat the female protagonist of the series. She is a childhood friend of Kouichi and Kazuki and is a year older than the two. Two years ago, she moved away to Paris and just came back to Japan to complete her last year of high school there. She shows up at Kouichi's house, but he doesn't even recognize her at first and she randomly just barges in like it's her house. He finally realizes who she is and she reveals that she is staying there while she finishes her last year of high school since her parents are still in Paris. Her first few days at school are a little rough considering she's suffering from jet lag and forces Kouichi to stay up and play video games with her. She also meets a guy named Eiji Kai in her class who is first cold to her but soon those feelings change. However, there might be someone else she may have feelings for as well…
Kazuki Aihara – Kazuki is a friend of Kouichi and Mao and the older brother of Nana. He loves playing soccer and he is determined to find a girlfriend within the school year. By chance, he runs into Eriko Futami and he quickly develops some feelings for her… but he's uncertain how she feels about him.
Akira Hiiragi – Akira is a friend of Kouichi and Kazuki and forces them to be in his movie research club in which they are the only three members… For some reason, he has data on all of the girls who go to their school…
Nana Aihara – Nana is the younger sister of Kazuki who starts to also go to their school this year. She loves her green frog accessory named Iwao that she keeps on her bag. Her best friend is Narumi, who she meets at school who also has an obssession with frogs.
Yuumi Hoshino – Yuumi is Kouichi and Kazuki's classmate and is very quiet and very kind. She works in the school library. She has feelings towards Kouichi but she has trouble opening up to people, but soon it's apparent that the feelings may be mutual between her and Kouichi.
Eriko Futami – Eriko is an extremely introverted girl who has an IQ of 190. She is rather cold to others and usually just loiters on the roof or the science lab. She performs an "experiment" with Kazuki when he stumbles into the lab one day and she kisses him, leaving him confused. She says the experiment failed, but she eventually opens up to others including Kazuki. There seems to be something wrong with her taste buds.
Asuka Sakino – Asuka is an energetic girl in the soccer club along with Kazuki. Over time, she begins having feelings for Kazuki.
Mitsuki Sijyo – Mitsuki is a very rich girl who plays piano and excels in various other skills. Her life may seem privileged to other people, but in reality it may not be as great as it seems…
Narumi Satonaka – Narumi is Nana's classmate and they bond as soon as they meet because they both love frogs: she has a pink frog accessory named Julietta and apparently Julietta is Iwao's girlfriend. She loves udon and is an expert in making it (She also carries Julietta around in a udon strainer).
Eiji Kai – Eiji Kai is Mao's classmate and at first, he is quite and cold toward Mao. He plays the saxophone and at first he doesn't want to get along with Mao but he gradually opens up to her…
Megumi Kuryu – Megumi is in the same class as Kouichi and Kazuki and the self-appointed prefect and member of the disciplinary group.
Tomoko Kawada – Tomoko is a teacher at their school and Mao's homeroom teacher.
"KimiKiss – pure rouge Collection 1" features a total of 13 episodes on two DVDs. Here is a spoiler-less summary of each episode:
DISC 1:
#1- meet again – Mao comes back from France and back into the lives of Kouichi and Kazuki.
#2- cool beauty – Kazuki confronts Eriko about their kiss and what it meant.
#3- book mark – The group goes to karaoke and Mao tries to bring Kouichi and Yuumi closer.
#4- step in – Various relationships develop.
#5- jump up – Eiji and Mao go on a date and Kazuki and Eriko continue their experiment.
#6- each melancholy – The group holds a study session.
DISC 2:
#7- dear actress – The group tries to find the main actress for the script Kouichi wrote.
#8- close to you – Mao doesn't know what to after her and Eiji's last encounter.
#9- water girls – The group attends the school's swimming competition.
#10- miss tone – Mao has a weird dream involving Kouichi and Eiji…
#11- tear drops – The group goes to Mitsuki's mansion to try to find shooting locations for their movie.
#12- passing rain – Kouichi and Yuumi go on a date.
#13- crossroad – Yuumi has a secret.
VIDEO & AUDIO
"KimiKiss – pure rouge Collection 1" is presented in 16:9. The character designs are nice and I think that the art will appeal to various audiences. There aren't any ridiculously big boobs or excessive fan service in this series. I did notice that all the backgrounds seemed to be drawn/painted in a rough sketch type design… but it doesn't look cheap, it looks artistic.
They do also incorporate some CG in here and there. Like many other Sentai Filmworks releases, this series only has Japanese for the audio option, so for people looking for English dub, they will be disappointed. However, they got a great cast for this series including a lot of well known names including Rie Tanaka, Jun Fukuyama and Takahiro Sakurai. All of the voices fit the characters well and no one seemed out of place. The opening and ending themes are also cute and catchy.
SPECIAL FEATURES:
The only special features available on the discs are Sentai Filmwork Trailers, Clean Opening and Ending Animations, and DVD Credits.
I have to admit that while I'm watching this series, I can't help but feel that I'm watching a dating sim being played right in front of me (it is a dating sim, duh. I know.) KimiKiss is definitely a series for guys… but at the same time, it's not… The series is indeed based off of a dating sim, but the story elements are something that would attract a female audience as well.
KimiKiss has a good mix of romance and comedy without being too over the top romantic and doesn't have an excess amount of fan service. There is obviously some conflict, but it's not as dramatic as many other shojo series. So… it's pretty much a good mix.
I believe that it's because of the comedy and no over-the-topness that makes this series accessible to a much bigger audience. The love expressed in this series so far is more pure than fan service. I know that there's a bunch of girls in this series, but Mao is pretty much a protagonist as well so that also balances things out. Despite the huge amount of girls and the few guys in the series, it doesn't have the usual harem anime aspects where everyone is after one person like in "Love Hina" and "Tenchi! Muyo".
It's slightly weird because it almost seems that with Kouichi, Kazuki, and Mao put together you have one full main character. Kouichi and Kazuki are indeed split from the original protagonist, but in the anime, Kouichi definitely doesn't stand out too much, at least in the beginning. Mao is definitely a strong personality in the series and she is probably my favorite. She is straight forward, funny, and has many other
Romances in shojo mangas can get very malicious… this doesn't really have that aspect which is appealing to me. Any conflict that seems to happen doesn't happen because someone is trying to hurt someone else… it just happens out of circumstance. No craziness, which is nice.
Obviously, this is not an action series no matter how you look at it, so if that's what you're looking for, you're not gonna get it. This series is slightly reminiscent to other harem type anime like "Love Hina", "Tenchi! Muyo", and "Ai Yori Aoshi" so fans of those series I think would enjoy this one as well. You won't find much fan service though if that's what you're looking for. A series that I think is very similar to this one is a Shonen Jump series called "I"s" so for people who enjoyed that series, I think they'll enjoy this too.
To sum up everything, this series is funny and cute. It's based off a dating sim but the anime has a lot of aspects that would attract more girls than guys… but I think guys may enjoy it too considering there's tons of cute girls in the series. Not to mention the demographic for this is supposed to be shonen/seinen…
If you're looking for a funny and cute love comedy series, give "KimiKiss – pure rouge Collection 1" a try. You won't be disappointed.
---
---
General Disclaimer:
J!-ENT has not received any compensation from the company for this post. J!-ENT has no material connection to the brands, products, or services that are mentioned in this post.

For Product Reviews:
For product reviews, J!-ENT has purchased the above product for review purposes or may have received one or more of the products or services mentioned above for free by the company which in no way affects our reviews, may it be positive or negative. We only recommend products or services we have tested/reviewed and believe will be good for our readers.

For Advertising:
Some of the links in our posts are "affiliate links." This means if you click on the link and purchase the item, J!-ENT will receive an affiliate commission.

J!-ENT is disclosing this in accordance with the Federal Trade Commission's 16 CFR, Part 255: "Guides Concerning the Use of Endorsements and Testimonials in Advertising."
---