Glass Mask Collection 1 (A J!-Ent Anime DVD review)
April 20, 2010 by Michelle Tymon
---
---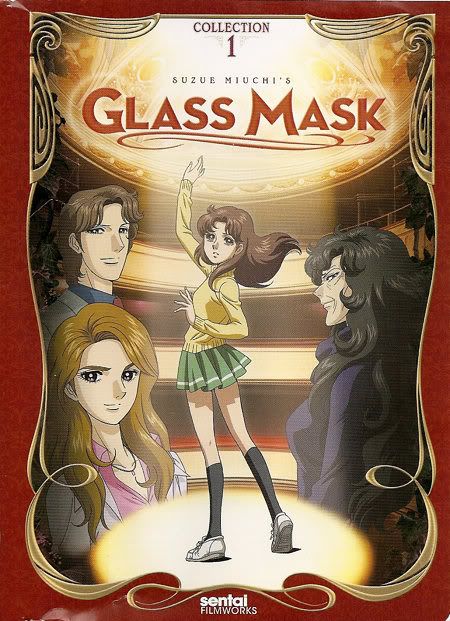 "Glass Mask DVD Collection 1″ is a wonderful story about two girls chasing the same dream while on two separate paths. Exciting and Heartful!"
Image courtesy of © Suzue Miuchi/Hakusensha Ltd, MEDIA NET, TMS ENTERTAINMENT, MASK OF GLASS Project. All Rights Reserved.
DVD TITLE: Glass Mask DVD Collection 1
DURATION: 26 Episodes (650 Minutes)
DVD INFORMATION: 16:9, Japanese 2.0
COMPANY: SENTAI FILMWORKS
RATED: 13+
Release Date: January 19, 2010
Original Story/Manga by Suzue Miuchi
Direction by Mamoru Hamatsu
Music by Tamiya Terashima
Character Design by Satoshi Hirayama
Produced by MEDIA NET, TMS ENTERTAINMENT LTD., MASK OF GLASS Project
Featuring the following voice talent:
Sanae Kobayashi as Maya Kitajima
Akiko Yajima as Ayumi Himekawa
Toshiko Fujita as Chigusa Kagetsuki
Toshiyuki Morikawa as Masumi Hayami
Jun Fukuyama as Yuu Sakurakouji
Tomoko Munakata as Haru Kitajima
Ayumi Kinoshita as Rei Aoki
Masako Katsuki as Utako Himekawa
Fumiko Origasa as Sayaka Minazuki
Yoko Honna as Mina Sawatari
Megumi Tokoguchi as Taiko Kasuga
Shinji Nakae as Genzou Kobayashi
Ryusuke Oobayashi as Hajime Onodera
"At 13 years old, Maya Kitajima seems destined to spend the rest of her life toiling in a crowded restaurant alongside her bitter and unstable mother. But when her incredible acting talent is discovered by the legendary diva Chigusa Tsukikage, Maya finds a new future filled with both golden opportunities and terrifying risks. For Ayumi Himekawa, success has always been assured, yet she longs to be recognized for her own talents and skills, not the family connections of her famous parents.
For both girls, the ultimate prize is the role of The Crimson Goddess in the play of the same name, a part created by Chigusa and now portrayed by Ayumi's mother. To achieve this goal, each must seek out and conquer every acting challenge, pushing the limits of their talent and endurance to the utmost, until they are worthy of the part… But for one to win, the other must fail!"
"Glass Mask" centers on Maya Kitajima, a somewhat clumsy but mostly normal teenage girl who lives with her mother. Her mother works at a Chinese restaurant and they both live there while working there. One thing that sets Maya aside from everyone else is her obsession with acting. Once she sees anything involving acting (plays, movies, TV dramas), her focus is 100% set on that. Of course, that brings issues like her becoming even more clumsy and messing up at work. One day, an old woman sees her acting out a scene in front of some kids and the old woman approaches her so suddenly that it startles her and she runs off.
Meanwhile, Maya's obsession with acting continues to get her in trouble with her mother and at work. Her mother only sees her obsession with acting as a nuisance and doesn't think her daughter can amount to anything. Soon enough, Maya gets the chance to prove herself. The old woman that approached her that one day happens to be a former famous actress named Chigusa Tsukikage. Tsukikage is looking for the next person to play the legendary role that she once did called the "Scarlet Angel" and she sees potential in Maya that no one else sees.
She offers to train Maya and bring out the true potential that she has within at any cost. Maya agrees and goes to train with her at her school against her mother's wishes. Maya is faced with many challenges with both shady people and countless obstacles but her passion for acting is stronger. She is indeed an amateur and is no taken seriously at first, but once she takes on a role on stage she becomes that person and amazes everyone.
One person immediately sees her potential other than Tsukikage and that is Ayumi Himekawa. Ayumi is the daughter of the famous actress Utako Himegawa, who was once the student of Tsukikage as well. Ayumi has her mother's looks as well as her acting skills and grew up in a privileged life. She is an acclaimed actress and everyone acknowledges her talents but she wants to become better.
She wants to be acknowledged solely for her talents rather than her family and her privileges. She instantly sees Maya's talents even before Maya and knows that she is her rival in the path of achieving the role of the Scarlet Angel. Their paths may be different with different obstacles, but their paths are also parallel and they are both doing everything they can to reach their dream: to become the next actress worthy of playing the Scarlet Angel.
Raw talent that has yet to be trained vs. genetic talent that has all the privileges it needs, who will win in the end?
"Glass Mask Collection 1" focuses on the following main characters:
Maya Kitajima – Maya is the protagonist of this anime. She lives with her mother at the Chinese restaurant that her mother works at and she helps out at. For the most part she's a normal girl, but if something involving a movie, play, or a drama crosses her eyes (pretty much anything involving acting) literally 100% of her attention goes to that. That condition makes her hopelessly clumsy and she makes a lot of mistakes at work which in turn makes her mother and her bosses angry. One day she encounters an older woman at the park. She saw Maya acting out something she saw performed and the old woman starts asking her questions, but her appearance scares Maya away. She later encounters that woman again and she gives her a chance to chase her passion for acting. Maya shows an unbelievable talent of being able to act out anything she sees perfectly from memory. Against her mother's wishes, she runs away to study acting with Tsukikage. She soon after meets Ayumi and admires her for her beauty and her acting skills. Despite being rivals with the same goal, she only has respect for her.
Ayumi Himekawa – Ayumi is an acting prodigy and is the same age as Maya. She is the daughter of Utako Himekawa who is a famous actress and once a student of Chigusa Tsukikage. She is an amazing actress but hates that people seem to credit that to the fact that she is the daughter of a famous actress and she grew up privileged. Because of this, she does everything she can to prove that her talent is due to just her talent and not anything else. She is first person other than Tsukikage to notice Maya's potential and instantly sees her as a rival. However, she has no malicious feelings towards her and instead respects her greatly and it just makes her work even harder to obtain her goal of becoming the Scarlet Angel before Maya.
Chigusa Tsukikage – Chigusa was once a famous actress and the only actress to play the legendary role of the "Scarlet Angel". However, an accident left her face scarred for life and she stopped acting. One day she comes across Maya and realizes she's the one she had been looking for, the one with a thousand faces and the one that could potentially be the next person to play the legendary Scarlet Angel. She takes Maya under her wing and does everything it takes to make her the best actress ever, no matter how cruel she may be. She opens a school to find the next Scarlet Angel and forms the Tsukikage Troupe.
Masumi Hayami – Hayami is a successful business man and the current head of Daito Entertainment. He wants the performance rights to the legendary "Scarlet Angel" at any cost. When he sees Maya perform as Beth from "Little Women" while having a high temperature, he starts feeling fond towards her and secretly sends her a bouquet of purple roses. While playing the villain throughout the series (at least in Maya's eyes) he is one of her biggest supporters and helps her grow.
Yuu Sakurakouji – Sakurakouji is an actor in the same acting troupe as Ayumi, Troupe Ondine. He falls for Maya ever since he first sees her when she was looking in on their lesson. He is handsome and nice and very supportive of Maya, however he hopes that one day she'll be able to put acting aside long enough to like him back.
Haru Kitajima – Haru is Maya's mother. She lives at the Chinese restaurant that she works at along with Maya. She doesn't really believe her daughter has much of a future and only takes her dreams as being oblivious. When Maya runs away from home to become an actress, she threatens to take her back at any cost, even hurting her. In the end she lets her daughter go to follow her dreams.
Rei Aoki – Rei is one of the girls in the Tsukikage troupe. She is the oldest and looks more handsome than pretty and is always mistaken for a handsome young man. She is very much like Maya's older sister and is always there to support her.
Utako Himekawa – Utako is a famous actress and Ayumi's mother. She is also a former student of Tsukikage and it is her dream to become the next actress to portray the Scarlet Angel.
Sayaka Minazuki – A member of the the Tsukikage Troupe. She first feels jealous of Maya, but soon sees how talented she is and respects her.
Mina Sawatari – Another member of the Tsukikage Troupe.
Taiko Kasuga – The last remaining member of the Tsukikage Troupe.
Genzou Kobayashi – Genzou is Tsukikage's butler. He doesn't speak much but helps Tsukikage out as well as Maya.
Hajime Onodera – One of the main antigonists of the series. He is the head of Troupe Ondine and wants the rights to make "The Scarlet Angel" but Tsukikage stands in his way so he does everything to take her down.
"Glass Mask Collection 1" features a total of 26 episodes on four DVDs. Here is a spoiler-less summary of each episode:
DISC 1:
EPISODE 1- The Girl with a Thousand Masks – Maya Kitajima loves the theatre and acting so much, that everything else doesn't matter which gets her into trouble.
EPISODE 2- Vivi's Mask – Chigusa Tsukikage sees something in Maya that no one else sees.
EPISODE 3- The Escaped Bird – Maya plays a role in the school play that is meant for ridicule, but she instead moves the crowd.
EPISODE 4- The Staircase of Ambition – Maya's mother tries to take her back home at any cost.
EPISODE 5- Very Few Lines – Maya and Ayumi face off for the first time.
EPISODE 6- My Beth – Maya is offered the role as Beth in "Little Women", but is having a hard time grasping the role.
DISC 2:
EPISODE 7- The Purple Rose – Maya gives herself a high fever to be able to perform the role of Beth realistically.
EPISODE 8- Walking in the Wind – There is a scandal posted about Tsukikage so the Tsukikage troupe must enter an acting contest to prove their worth.
EPISODE 9- A New Midori – The Tsukikage troupe find out that Troupe Ondine is doing the same play as they are, which starts to bring some doubt.
EPISODE 10- Takekurabe: the Two Midoris – Both troupes do their rendition of "Takekurabe".
EPISODE 11- Spring Storm – Both acting groups prepare for the nationals and someone tries to sabotage Troupe Tsukikage.
EPISODE 12- One-Person Act – Because of the sabotage, Maya is forced to go on stage by herself.
DISC 3:
EPISODE 13- Perennial as the Grass – Because of the sabotage, Troupe Tsukikage is forced to disband.
EPISODE 14- Rivals for Life – Maya and Ayumi work even harder to become the candidate to play the Scarlet Angel.
EPISODE 15- The Trap – Maya and Ayumi's paths are once again parallel yet separate as they do what they need to do to become better actresses.
EPISODE 16- The Upstager – Maya is offered the role of Catherine from "Wuthering Heights".
EPISODE 17- Wuthering Heights – Maya does a great job acting out Catherine from "Wuthering Heights" but she may have done too well of a job…
EPISODE 18- The Role of a Doll – Maya must do her hardest role yet, she must play a lifeless doll.
EPISODE 19- Mask Removed – Maya finds out her mother is missing and her worries makes her accidentally take off her mask on stage…
DISC 4:
EPISODE 20- The Changed Script – Maya and Ayumi share the stage for the first time under weird circumstances.
EPISODE 21- An Exercise of Passion – Maya and Ayumi do everything it takes to take on the role of Helen Keller.
EPISODE 22- The Miracle Worker — Last Audition – Will Maya be able to take the role of Helen Keller or will it be Ayumi?
EPISODE 23- The Two Helens – Maya and Ayumi are both selected as Helen and they both play the role completely differently.
EPISODE 24- The Glorious Labyrinth – Maya and Ayumi are both up for best supporting actress.
EPISODE 25- Brilliance of the Heavens – Maya can't get used to acting for TV… and possibly falls in love.
EPISODE 26- The Menacing Shadow – Strange thing start happening on the set of Maya's show, endangering her life.
VIDEO & AUDIO
"Glass Mask" is presented in 16:9 and in Japanese 2.0 audio with English subtitles. The art and character designs are very much stylized with the shoujo manga style. The original started in 1976 and yet in the 2005 version, it doesn't seem dated at all. The animation is high quality and pretty to look at and the backgrounds and atmosphere of the series is gorgeous. The only audio is Japanese 2.0 with English subtitles. The voice acting in this series is superb especially considering this series has a lot of acting within the roles themselves, the role of Maya is rather demanding but Sanae Kobayashi did an amazing job. Akiko Yajima also does an amazing job portraying Ayumi Himekawa as well.
SPECIAL FEATURES:
For Special Features, there are only Clean Opening and Ending Animations and Trailers.
"Glass Mask", or "Garasu no Kamen" is one of the longest running and most well known Shoujo mangas ever. It started to be serialized in 1976 and it's still running today. It has all the aspects of a shoujo manga: drama, love, drama, shoujo art, drama, rivalry, drama… did I mention drama?
What will you get from this? That pretty much most people are two-faced, underhanded and want nothing more than to bring you down. Or at least, if you're Maya that's what you'll have to endure. Then again, I guess that's pretty accurate when the cast is mostly girls (I'm a girl, I know this).
Of course, that is not what this story is solely about. The main story is Maya and Ayumi's separate yet parallel paths to become the the next actress to play the Scarlet Angel. Much more importantly, you will see a story of two girls doing everything they can to achieve their life long dream.
Maya and Ayumi's relationship/rivalry is compelling. Pretty much this rivalry is a match of pure, natural talent that needs to be trained vs. genetic talent that has had every privilege needed to become the best. Their paths are so different but so parallel. They have to go through different obstacles but they are after the same goal.
One of the strongest points of this series is that you feel like you want to cheer Maya on despite all of the shadiness and hardships she has to endure. Maya is rather ridiculous at times, but she is pure and her ambition is admirable. On top of that, her relationship and rivalry between Ayumi is pure and I think that is what I like about this series the most. They both strive to be the best but both face different challenges to reach the same goal. It's refreshing to see that their relationship is a rivalry, but they respect each other so much which is nice considering the amount of shady people and events throughout the story around them. Another nice relationship to watch is that of Maya and Masumi.
Maya is bitter towards Masumi, because he is indeed responsible for a lot of the trouble that Maya and her troupe endure, but while playing the villain, he's making her stronger and also he's her number one fan that is always sending her the purple roses without her knowing. The pace of the series is steady and as a viewer, you do want to know what happens next. Also, considering how old the original story is, it doesn't seem dated and I think it was well adapted for the newer generation.
There are a few negatives as well. I think the major one for me is the overwhelming amount of drama. I keep mentioning shadiness because it really was overwhelming for me. Starting off with the first episode, pretty much every episode has at least one overly shady character or scenario. Of course, there are indeed shady people in the world but it seems in this series they have all piled on Maya to the point for me that it seems too unbelievable. But, I know this is normal for a lot of shoujo manga. With that being said, the fact that this is so blatantly a shoujo manga may detract viewers (mostly male viewers).
There's nothing wrong with shoujo manga but the same can be said with a shonen manga when it's blatantly marketed for boys vs girls. Another negative for this release would have to be the absence of an English dub track. I personally like to watch anime in the original Japanese, but there are many people who prefer the English dub now. There are some weird technical mistakes in the series. For example, in the opening animation, the title of the series is called "The Mask of Glass" yet on the DVD cover and everywhere else, it's called "Glass Mask" as well as "Kurenai Tennyo" being referred as both the "Scarlet Angel" and "Crimson Goddess". Both are correct translations but it can be seen as inconsistent.
Also, viewers should keep in mind that this is only the first half of the 2005 series, so it doesn't really have a conclusion just yet.
Despite my "Wow, really?" moments, I think that the relationship between Maya and Ayumi make up for it. This is a great series for shoujo manga lovers, not to mention this is an absolute classic. I believe that anyone that has at least once in their life chased a dream can enjoy this series at least a little bit. This might not be a series that everyone (especially guys) can enjoy (because there is no action… a lot of drama though) but I hope people will give it a chance because if anything, it's refreshing to see a relationship and rivalry like the one Maya and Ayumi have.
---
---
General Disclaimer:
J!-ENT has not received any compensation from the company for this post. J!-ENT has no material connection to the brands, products, or services that are mentioned in this post.

For Product Reviews:
For product reviews, J!-ENT has purchased the above product for review purposes or may have received one or more of the products or services mentioned above for free by the company which in no way affects our reviews, may it be positive or negative. We only recommend products or services we have tested/reviewed and believe will be good for our readers.

For Advertising:
Some of the links in our posts are "affiliate links." This means if you click on the link and purchase the item, J!-ENT will receive an affiliate commission.

J!-ENT is disclosing this in accordance with the Federal Trade Commission's 16 CFR, Part 255: "Guides Concerning the Use of Endorsements and Testimonials in Advertising."
---