DRAGON BALL Z: THE HISTORY OF TRUNKS (a J!-ENT Anime DVD Review)
September 15, 2009 by Michelle Tymon
---
---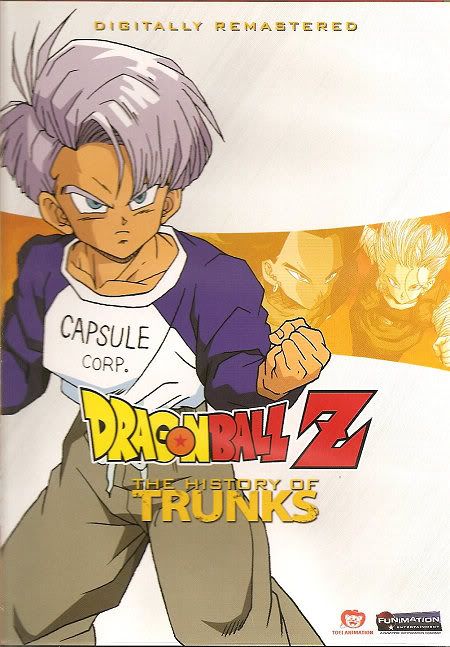 DRAGON BALL Z: THE HISTORY OF TRUNKS is a wonderful special episode of the legendary Dragon Ball Z series, showing the dire future that Future Trunks grew up in, the future that Goku has died.
Image courtesy of © Akira Toriyama, BIRD STUDIO/SHUEISHA, TOEI Animation Co., Ltd., Japan. All Rights Reserved.
DVD TITLE: DRAGON BALL Z: THE HISTORY OF TRUNKS
DURATION: 48 Minutes
DVD INFORMATION: 16:9, English 5.1 Dolby Surround Sound, Japanese Mono
COMPANY: TOEI ANIMATION/FUNimation Entertainment
RATED: TV PG
Release Date: September 15, 2009
Based on the manga by Toriyama Akira
Directed by Daisuke Nishio
Music by Shunsuke Kikuchi
Character Design by Minoru Maeda
Anime Production by TOEI ANIMATION
Featuring the following voice talent:
Joji Yanami / Kyle Hebert as Narrator
Takeshi Kusao / Eric Vale as Trunks
Hiromi Tsuru / Tiffany Vollmer as Bulma
Masako Nozawa / Dameon Clarke as Gohan
Shigeru Nakahara / Chuck Huber as Android #17
Miki Itou / Meredith McCoy as Android #18
Kōhei Miyauchi / Mike McFarland as Master Roshi
Naoki Tatsuta / Bradford Jackson as Oolong
Naoko Watanabe / Cynthia Cranz as Chi-Chi
Naoko Watanabe / Monika Antonelli as Puar
Daisuke Gōri / Kyle Hebert as Ox-King
Goku is dead, victim of a deadly virus. Last of the Z Warriors to pass, the Super Saiyan's death has left the Earth far more vulnerable than ever before. With no one left to protect the planet, Androids 17 and 18 arrive to terrorize the great cities, plunging all into darkness where the inhabitants cower in fear. Is there no hope left in this apocalyptic horror? Is this the end?
Goku's son, Gohan, is now a man, and with an extraordinary young teenager named Trunks by his side, the two determine to face off against the threat. But as tragedy follows upon tragedy, the world around Trunks is fast collapsing and there seems no check to the evil of the Androids.
This is the story of the future that never was.
Dragon Ball Z fans are finally able to see the past of one of the most popular characters of the series, Trunks.
The story takes place in an alternate future, the future in which "Future Trunks" came from, where Goku is dead. The story takes place 13 years after Goku's death, where Android 17 and 18 have killed off most of the Z warriors and have plagued the world with their destruction. Much different from the past that Trunks went back to, and the time line that is the main story where both Androids, especially 18 showed they had a heart.
In this horrible future where the whole world is in ruins, the only ones that stand a chance are Gohan and Trunks. Gohan becomes a teacher to Trunks and after years of training, they go up against the Androids only to have more tragedy come into their lives. The only spec of hope is that Goku might have not been the only Super Saiyan powerful enough to defeat them after all…
"DRAGON BALL Z: THE HISTORY OF TRUNKS" focuses on the following characters:
Trunks – Trunks is the mysterious young man that appeared in front of the Z warriors one day, saying he was from the future. The story takes place in his future, a very dark future. The story starts when he is a baby and Son Goku dies, leaving the world in ruins because of Android 17 and 18. Trunks grows up in this horrible future along with his mother, Bulma and his mentor, Son Gohan. Being the son of the Prince of the Saiyans, Vegeta, he always wonders what his father was like since he never really had a chance to meet him. The majority of the story takes place when Trunks is in his preteen and teen years. He is very proud (just like his father), but he also has a strong sense of justice and is very caring.
Bulma – Bulma has been a prominent character in the Dragon Ball universe ever since the first episode. She is now older, and the mother of Trunks. She has calmed down quite a bit, but still acts as the ray of hope even in this horrible future. She constantly is working on a time machine in hopes that it can be used to help Goku before his tragic end, and to change this horrible future that they are now in.
Son Gohan – Son Gohan, the son of the legendary Son Goku, is the only Z warrior left. He is not the cute little boy anymore, but one of the only hopes left for the world against the Androids. He acts as Trunks' mentor in fighting. He is now able to turn Super Saiyan like his father, and tries to help Trunks do the same so they may stand a chance against the Androids and defeat them once and for all.
Android 17 and 18 – The male and female android duo that was created by Dr. Gero to defeat Son Goku. However, Son Goku was dead by the time they were awaken so instead they decided to destroy everything else in their path. They are almost invincible in strength and have no compassion for anything. They take what they want and destroy everything else and are the ones responsible for the chaotic future that Trunks lives in.
VIDEO & AUDIO
The colors and quality of the video is definitely cleaned up and pretty considering this originally aired almost 20 years ago. The picture looked absolutely gorgeous. If you watch the English dub, the sound is in stereo and surround sound, but if you watch it in the Japanese audio, it is in the original mono. The mono can be a plus or minus… the minus being I had to turn up the volume quite a bit on my DVD player, but a very big plus for me is being able to watch it with how I remember it. The mono sound actually is quite nostalgic to me, so I didn't mind.
SPECIAL FEATURES:
There are no special features on this disc, however there are some FUNimation trailers.
Despite how much of a DBZ fan I am, this was the first time I have actually seen this special all the way through. I have been watching Dragon Ball and Dragon Ball Z since I was a child in Japan when the original episodes were airing. But because I was in the States when this special aired, I didn't get to see it but at the time, Shonen Jump released anime-manga (Where they took scenes from the actual anime and made it into a manga) books of their theatrical releases and specials, so I got to know the story of this specials in that manner. I had seen bits and pieces of this special on TV but in the English dub so I didn't want to really watch it at the time (I actually don't mind the Dragon Ball Z dub, I am just too attached to the original Japanese voice actors, especially for this series).
Trunks is one of the most popular characters in the Dragon Ball Z universe. When he first appeared, he was surrounded in mystery and it's great to see what happened in his past. (because by the time the main time line progresses, the future has changed.) It's a sad story because you learn what happens to all of the main characters and you get to see a much different version of Son Gohan. The villains, Android 17 and 18 are also pretty different than the main time line versions. They are much more heartless and show no mercy for anyone. Everything that Trunks has to go through in this special is rather emotional, but it is very much worth watching and it fills in gaps for the main time line.
This release is great for so many reasons: an awesome story, the awesome picture quality, and it's a great price. I highly recommend this DVD for any DBZ fan. I can also recommend this film for those not as familiar with the Dragon Ball/Dragon Ball Z universe because it is a great film, but I would advise watching or at least knowing the main story of the series or there will be a lot of spoilers or just sheer confusion.
Great action, great emotion, and a great film!
---
---
General Disclaimer:
J!-ENT has not received any compensation from the company for this post. J!-ENT has no material connection to the brands, products, or services that are mentioned in this post.

For Product Reviews:
For product reviews, J!-ENT has purchased the above product for review purposes or may have received one or more of the products or services mentioned above for free by the company which in no way affects our reviews, may it be positive or negative. We only recommend products or services we have tested/reviewed and believe will be good for our readers.

For Advertising:
Some of the links in our posts are "affiliate links." This means if you click on the link and purchase the item, J!-ENT will receive an affiliate commission.

J!-ENT is disclosing this in accordance with the Federal Trade Commission's 16 CFR, Part 255: "Guides Concerning the Use of Endorsements and Testimonials in Advertising."
---