DRAGON BALL Z: BARDOCK THE FATHER OF GOKU (A J!-ENT Anime DVD Review)
September 22, 2009 by Michelle Tymon
---
---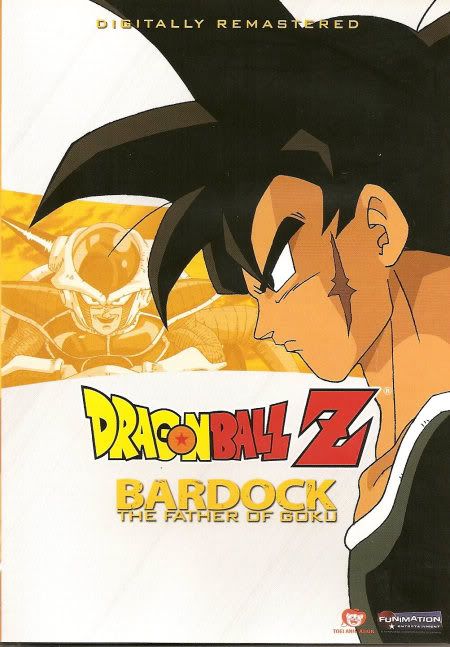 "DRAGON BALL Z: BARDOCK THE FATHER OF GOKU is a great prequel special to the whole Dragon Ball and Dragon Ball series that concentrates on the Father of Goku, Bardock."
Image courtesy of © Akira Toriyama, BIRD STUDIO/SHUEISHA, TOEI Animation Co., Ltd., Japan. All Rights Reserved.
DVD TITLE: DRAGON BALL Z: BARDOCK THE FATHER OF GOKU
DURATION: 48 Minutes
DVD INFORMATION: 16:9, English 5.1 Dolby Surround Sound, Japanese Mono
COMPANY: TOEI ANIMATION/FUNimation Entertainment
RATED: TV PG
Release Date: September 15, 2009
Based on the manga by Toriyama Akira
Directed by Daisuke Nishio
Music by Shunsuke Kikuchi
Character Design by Minoru Maeda
Anime Production by TOEI ANIMATION
Featuring the following Japanese voice talent:
Masako Nozawa as Bardock and Son Goku
Kazuyuki Sogabe as Toma
Yūko Mita as Seripa
Takeshi Watabe as Panbukin
Kozo Shioya as Totepo
Ryuusei Nakao as Frieza
Sho Hayami as Zarbon
Yukitoshi Hori as Dodoria
Banjō Ginga as Toro
Kinpei Azusa as Son Gohan
Ryo Horikawa as Vegeta
Shozo Iizuka as Nappa
Joji Yanami as Narrator
Featuring the following English voice talent:
Sonny Strait
Linda Young
Christopher Sabat
Chris Forbis
Stephanie Nadolny
Sean Schemmel
Mike McFarland
John Burgmeier
Bart Meyer
Ceyli Delgadillo
Chris Rager
Chuck Huber
Dale D. Kelly
Dameon Clarke
Justin Cook
Kyle Herbert
Mark Britten
Before there was Goku, there lived his father Bardock. A low-class Saiyan soldier under the command of Frieza, Bardock is attacked by the last of an alien race they are employed in destroying. Healing on his home planet of Vegeta, Bardock discovers he has been blessed with the ability to see into the future.
But the blessing soon becomes a curse, as the Saiyan finds himself haunted by visions: The tragic extermination of his own race and the destruction of their beloved planet, all at the hands of Frieza. Bardock sets off on nightmarish race with fate to avert the impending disaster. But as his strength fails and despair sets in, hope will be found in one last vision.
This is the story of Bardock, the father of Goku.
In this special that is a prequel to Dragon Ball, we get to see into Goku and Vegeta's past and we are introduced to Goku's father, Bardock. We get to see what Planet Vegeta was like and how the Saiyans lived before the terror named Frieza doomed their planet. The main story centers around Bardock, a lower class Saiyan who ends up challenging Frieza.
The Saiyans were a ruthless, violent, and very proud race. They only live to fight and destroy and "caring" is the last word to describe them. They worked under Frieza, who put them to good use, taking over planets for him, but they have no idea of the tragedy that is about to happen to this proud race because of their allegiance to Frieza.
After completely massacring the inhabitants of another planet, Bardock is randomly attacked by one of the survivors and is given the power to see the future, and the cursed future that awaits the Saiyans.
While he's recovering from the injuries he sustained in battle, Bardock starts having visions of the future, including the future of his son, Kakarrot (aka Goku), and the horrible future that awaits his planet. At first, he ignores the visions and goes to catch up with his crew who went to destroy another planet. What greets him is the beginning of the cruel fate that awaits his race, and his one last fateful fight.
"DRAGON BALL Z: BARDOCK THE FATHER OF GOKU" focuses on the following characters:
Bardock – One of the many lower class Saiyans. Overall he lacks emotion, even when his son Kakarot is born, he doesn't care. On a certain mission where he and his men were sent to destroy another planet, he was attacked by one of the survivors that "cursed" him with the power of seeing the future. After the attack, he starts having strange visions of the grim future of his planet and of his son and his future.
Toma/Tora – The tall member of Bardock's crew. Bardock later uses Toma's armband as his red headband.
Seripa/Fasha – The female member of Bardock's crew and one of the few female Saiyans we ever see.
Panbupkin/Shugesh – The overweight member of Bardock's crew.
Borgos/Totepo – The muscular member of Bardock's crew.
Prince Vegeta – The prince of the Saiyans. Despite him only being a child, he is extremely proud and ruthless. He cares about nothing other than becoming more powerful.
Nappa – One of the higher ranking Saiyans that serves as Vegeta's aide.
Frieza – One of the most powerful and ruthless beings in the universe. He has taken over and has destroyed many planets. The Saiyans serve him and have helped with ridding many of the planets and their inhabitants. Despite the Saiyans pledging their allegiance to him, he has a grim fate awaiting them and their planet.
Zarbon – The highest ranking among Frieza's officials.
Dodoria – Another one of Freiza's high ranking officials. He has a big part in the tragic fate awaiting the Saiyans.
VIDEO & AUDIO
Just like the "History of Trunks" DVD, the colors and quality of the video in this DVD are definitely cleaned up and pretty considering this originally aired almost 20 years ago. The picture looked great. If you watch the English dub, the sound is in stereo and surround sound, but if you watch it in the Japanese audio, it is in the original mono. The mono can be a plus or minus… the minus being I had to turn up the volume quite a bit on my DVD player, but a very big plus for me is being able to watch it with how I remember it. The mono sound actually is quite nostalgic to me, so I didn't mind.
For those who watch the English dub, there are different character names and there is an entirely different soundtrack including music done by Sum 41, American Hi-Fi, and Saliva. However, you also have the option of watching it in the English dub with the original Japanese music as well.
SPECIAL FEATURES:
There are no special features on this disc, however there are some FUNimation trailers.
Just like the "History of Trunks" DVD, despite how much of a DBZ fan I am, this was the first time I have actually seen this special all the way through. I have been watching Dragon Ball and Dragon Ball Z since I was a child in Japan when the original episodes were airing. I already knew what happens in this special, but it was great to finally be able to see it in its entirety.
Unlike the usual flow of the DBZ series, this is a rather serious episode. There isn't much humor in this special. However humor may not have fit in because of this special being about Saiyans, who aren't very funny to begin with. Even though we finally see other Saiyans, it really was just for a brief moment so that may be my only complaint. But at the same time that's totally understandable since the story is about Bardock. It was really interesting to see how the Saiyans are toward each other vs. how humans interact with each other.
One of the cool things about this special is you actually get to see a female Saiyan, even if it's for a little while. It's also cool to see how Bardock's trademark red headband turns red. It's also great to see a glimpse of the Saiyans' past, and you get to see why Vegeta is how he is and you get to finally see Bardock in action since in the series you only catch glimpses of him.
This would be a film I would recommend to Dragon Ball Z fans without a doubt. But for those who don't know very much about the series, they may want to hold off on watching this until they know a lot more about the series as there are spoilers and the film may be confusing without prior knowledge of the series.
Overall this is a great film. A little more serious than other Dragon Ball Z films but I would still highly recommend it.
---
---
General Disclaimer:
J!-ENT has not received any compensation from the company for this post. J!-ENT has no material connection to the brands, products, or services that are mentioned in this post.

For Product Reviews:
For product reviews, J!-ENT has purchased the above product for review purposes or may have received one or more of the products or services mentioned above for free by the company which in no way affects our reviews, may it be positive or negative. We only recommend products or services we have tested/reviewed and believe will be good for our readers.

For Advertising:
Some of the links in our posts are "affiliate links." This means if you click on the link and purchase the item, J!-ENT will receive an affiliate commission.

J!-ENT is disclosing this in accordance with the Federal Trade Commission's 16 CFR, Part 255: "Guides Concerning the Use of Endorsements and Testimonials in Advertising."
---