Darker Than Black DVD 6 (A J!-Ent Anime DVD Review)
March 9, 2010 by Michelle Tymon
---
---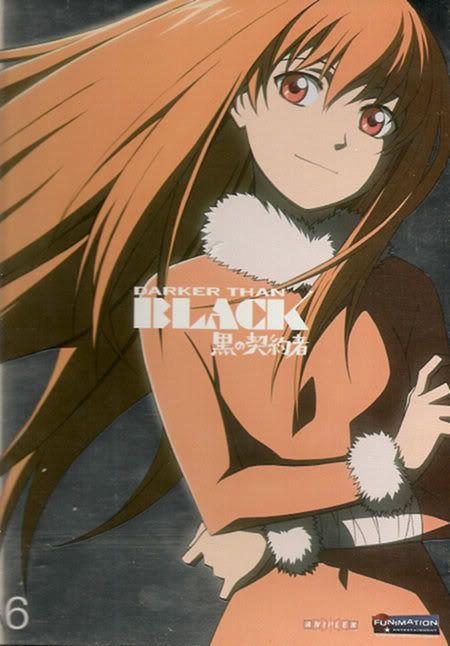 "Darker Than Black DVD 6 is the amazing conclusion to a wonderful and dark action series. A must-see!"
Image courtesy of © BONES/Tensai Okamura/DTB Committee. All Rights Reserved.
DVD TITLE: Darker Than Black DVD 6
DURATION: 100 Minutes
DVD INFORMATION: 16:9 WIDESCREEN, ENGLISH 5.1 DOLBY DIGITAL SURROUND SOUND, JAPANESE STEREO
COMPANY: BONES/ANIPLEX/FUNimation Entertainment
RATED: TV-MA
Release Date: August 11th, 2009
Original Story by BONES/Tensai Okamura
Directed by Tensai Okamura
Music by Yoko Kanno
Music Production by Toshiaki Ota (Border Line)/Keiichi Tonomura (Sony Music Entertainment)
Art Direction by Takashi Aoi (Green)
Original Character Design by Yuji Iwahara
Character Design by Shotaro Suga
Produced by Hiroo Maruyama (MBS)/Ryo Ohyama (Aniplex)/Yoshihiro Oyabu (BONES)/Osamu Hosokawa (Hakuhodo DY)
Featuring the following voice talent:
Hidenobu Kiuchi/ Jason Liebecht as Hei
Misato Fukuen/ Brina Palencia as Yin
Ikuya Sawaki/ Kent Williams as Mao
Masaru Ikeda/ John Swasey as Huang
Nana Mizuki/ Kate Oxley as Misaki Kirihara
Tomoko Kawakami/ Laura Bailey as Amber
Shinichiro Miki/ Chuck Huber as Eric Nishijima
Kaori Nazuka/ Larissa Wolcott as Pai
Yasunori Matsumoto/ Brandon Potter as Gai Kurasawa
Emiri Kato/ Brittney Karboski as Kiko Kayanuma
Yuna Inamura/ Leah Clark as Mayu Otsuka
"A NEW AND DEADLY BREED of covert agent walks the streets. Known as Contractors, these assassins and spies wield bizarre supernatural powers to carry out the dirty work of others. One among these operatives is more mysterious than the rest — The masked killer BK201, the Black Reaper.
The mysteries of his violent past have been revealed, but the future is still in question. Something big is on the horizon for those who dwell in the shadows. As the spotted sun rises over Hell's Gate, the clock ticks toward imminent destruction. The final battle in the war between humanity and the Contractors has begun. Should the Black Reaper survive, reality will be his to mold."
"Darker Than Black – Kuro no Keiyakusha" is a dark, action mystery series that takes place in Tokyo in an unspecified time but seemingly a not so distant future. An inscrutable and abnormal area called the Hell's Gate appeared in Tokyo and in result, it altered the sky and changed the landscape. The original stars as we knew them, disappeared and were replaced with false stars. At the same time, a number of people with supernatural powers appeared in correspondence to the fake stars. Contractors, as their title suggests, must do something in return for their power. The tasks the Contractors must perform after using their powers vary for trivial little tasks (ie: having to kiss someone, having to smoke) to much more harsh ones (ie: aging, becoming younger, harming one self). They also lose their humanity at the cost of using their powers and because they lack emotions, various government organizations all around the world starting training and hiring them as spies.
One particular organization is known as the Syndicate. The main character, Hei, aka The Black Reaper, and his team work for the Syndicate. They carry out various missions which mainly involve disposing of other Contractors. While going on these missions, Hei realizes that everything is not as black and white as it seems and even though he is a Contractor, he starts to act on his emotions rather than his orders…
In this last volume, all of the questions that Hei as well as the viewers have are finally answered.
This particular volume, "Darker Than Black DVD 6" contains the last 4 episodes of the first season of "Darker Than Black".
"Darker Than Black DVD 6" focuses on the following main characters:
Hei (Black) – Hei is the main character of the story and he is the Contractor known as the Black Reaper with the star code BK201. He works for the Syndicate and works with 3 others in his team: Yin, Mao, and Huang. His cover is a Chinese exchange student named Li Shengshun who is known to be rather responsible and kind. He is extremely skilled at what he does as a Contractor, but unlike most Contractors, he seems to also act on his emotions. While he is working for the Syndicate, he is looking for clues on what happened to his sister, Pai, in South America along with all of the other people who disappeared at Heaven's Gate. Despite his cool exterior and slim but built physique, he eats enough to feed a small army…
Yin (Silver) – Yin is a member of Hei's team. She is the Doll of the team. Dolls are emotionless spiritual mediums, therefore you don't ever see her show any sort of emotion. Her job in the team is to track and eavesdrop using water. She sends her observer spirits through water so she needs to be around water and what they're tracking or investigating needs to have presence of water as well. She has the exterior of a teenage girl with silver hair (hence the name) and her history suggests that she may have had a normal life before…
Mao (Cat) – Mao, as his name suggests, is literally a cat. He is a Contractor and his power is to be able to switch bodies with animals. The only issue is his price for his power was his own body. He usually acts as the distraction and gathers intel for the team. He is literally a talking cat so if he's not watching what he's doing, he can bring unwanted attention to himself.
Huang (Yellow) – Huang is the only human in Hei's team and is pretty much the field supervisor. He gets the orders from the Syndicate and makes sure that they are carried out no matter what. He doesn't seem to like Contractors or Dolls, calling them freaks but the more he is around his team his view may be changing.
Misaki Kirihara – Misaki is the chief of Section 4 of the Tokyo Metropolitan Police Department who is investigating Contractors. She is very dedicated in her job and has a very strong sense of justice (which carries into her personal life as well). She is able to see Contractors as people rather than things and really only concentrates on if someone has done something wrong or not, not if they are a Contractor or human. She is fair, caring, but a little dense at times. She has an interest in BK201 and has been tracking him for some time.
Amber – Amber is the first Contractor that appeared. She once worked for not only the Syndicate, but for MI6 under the codename February. She disappeared along with Hei's younger sister Pai, as well as many others during the incident in South America. She re-emerges in front of Hei as the leader of Evening Primrose, a small group of Contractors going against the Syndicate. Hei pursues her for answers on what happened to her sister an believes that she is responsible for it. Amber's powers deal with being able to control time to an extent. She seems to also be the antagonist of the series, but she may be something more…
Eric Nishijima – Nishijima is the leader of Pandora and acts as the antagonist at the end of the series.
Pai – Pai is Hei's younger sister that disappeared with many others with many others at the Heaven's Gate incident. Hei has been searching for clues on what exactly happened to her, but she may be closer than he realizes…
Gai Kurasawa – A private detective that Hei and his team run into from time to time. He does a series of odd jobs for money.
Kiko Kayanuma – Kiko is the pink-haired otaku girl that works for Kurasawa Gai. She would rather be doing otaku things than helping Kurasawa out… regardless she helps him out at times.
Mayu Otsuka – Mayu works at Section 4 with Misaki. She plays a big part in the last episode and is an otaku who writes anime and manga fanfiction.
"Darker Than Black DVD 6" features a total of 4 episodes. Here is a spoiler-less summary of each episode:
DVD 6:
EPISODE 23- God is In His Heaven… – The one night a year where the old stars may be visible arrives…
EPISODE 24- Meteor Shower… – The End Game starts for both Evening Primrose and Pandora, resulting in a meteor shower…
EPISODE 25- Does the Reaper Dream of Darkness Darker Than Black? – Will the Contractors disappear at the sake of humanity… or does another end await?
EPISODE 26- Beneath Cherry Blossoms in Full Bloom… – A bonus episode that's a pleasant little side story.
VIDEO & AUDIO
"Darker Than Black" is presented in 16:9. The production work in this series is absolutely wonderful. The character designs and artwork don't falter once throughout the whole series. The whole series for the most part is a bit on the dark side (not just in story, but the colors used), but that is to fit the mood of the story. Some CG is used but it doesn't detract from the rest of the animation but it's subtle that it doesn't stand out either.
For audio, you have the option of either Japanese or English. The Japanese cast is absolutely flawless. They got amazing seiyuu for each role and I didn't feel that any character's voice felt out of place. The English version works great as well, they did a great job matching the original voices and the pronunciations were done well. FUNimation usually takes some liberties with the translations in the dubbed version (if you ever watched a FUNimation series in dub with the Japanese set of subtitles you'll know what I mean…) but it's done rather well and doesn't take away from the original script.
There are only English subtitles available.
SPECIAL FEATURES:
Special Features on this disc include: Episode 26 Commentary (with the American director, recording engineer, and Mao's English Voice Actor), Production Artwork, Textless Songs, and Trailers.
"Darker Than Black – Kuro no Keiyakusha" is a superb series and this DVD includes the final three episodes and one bonus episode of the series. There are many mysteries throughout this series and everything gets answered in this final volume.
The series overall is rather serious with humor snuck into most of the episodes. The chemistry of dark, seriousness, comedy, and action work wonderfully in this series. The series never becomes too silly and the humor that comes into play acts more like a breath of fresh air. If you think about it, there's a talking cat… also, the reoccurring characters Kurasawa and Kiko also act as comic relief throughout the series and make an appearance in the final volume as well right before the end game.
The story is deep and has a lot of underlying themes that are presented throughout the series up until the last volume. Without spoiling things that happen in the last volume, I thought the ending was handled very well and the viewers will not be disappointed. Contractors are supposed to act solely on reason, but throughout the series and especially in this last volume, you see that the Contractors start to act on emotions as well, just like humans. By the last volume, you see the evolution of all of the characters: humans, Contractors, and even Dolls who are not supposed to have any emotion.
Hei is a great protagonist. He's ridiculously strong and skilled, mysterious, cool… and has the appetite of a small army. Despite being a Contractor, he acts on his emotions which makes him rather different from the other Contractors. He is definitely not the full-on "I serve to preserve justice at all costs" hero, which makes him even more worth watching. Misaki, who is the one who strives for justice (but is still genuine towards anyone) contrasts quite a bit with Hei, but it's great to see their interaction. In the end, they sort of want the same thing and we also get to see significant interaction between her and Li in the last volume which was nice to see.
This is a series that you definitely do not want to skip around episodes on. There is a lot of terminology that exists in this series such as Contractors, Dolls, Heaven's Gate, Hell's Gate, Pandora, etc. This is not a series where you can just pick up a random DVD and start watching and understand what's going on so I highly recommend watching it from the beginning. It is definitely worth it.
Fans of such series as the "Ghost in the Shell – Stand Alone Complex" series (which is slightly similar in the seriousness with subtle humor) or even "Full Metal Alchemist" (which does a great job of combining a heavy storyline with extremely funny parts like this one) will probably enjoy this series.
I highly recommend this series to anyone who enjoys anime series that are a bit more on the darker side but still has some funny elements tucked in. This series quickly became one of my favorites and the last volume does not disappoint whatsoever. "Darker Than Black DVD 6" is a must-see!
---
---
General Disclaimer:
J!-ENT has not received any compensation from the company for this post. J!-ENT has no material connection to the brands, products, or services that are mentioned in this post.

For Product Reviews:
For product reviews, J!-ENT has purchased the above product for review purposes or may have received one or more of the products or services mentioned above for free by the company which in no way affects our reviews, may it be positive or negative. We only recommend products or services we have tested/reviewed and believe will be good for our readers.

For Advertising:
Some of the links in our posts are "affiliate links." This means if you click on the link and purchase the item, J!-ENT will receive an affiliate commission.

J!-ENT is disclosing this in accordance with the Federal Trade Commission's 16 CFR, Part 255: "Guides Concerning the Use of Endorsements and Testimonials in Advertising."
---